Samantha and I had a family focussed UK trip in July but (I) made sure to tick off some bucket list car geek activities. Sam was a willing companion though.
First up, the British Car Museum at Gaydon is a cornucopia of examples of British Motor Industry failures and missed opportunities with some outstanding prototypes, concepts and the few success stories like the Mini, Land Rover and a couple of nice Jaguars. Needs at least 1/2 a day and the scones are nice.
Next up was F1 Silverstone Practice Day on the Friday. It's much better on TV. The cars are very fast, not as noisy as they used to be and very boring to watch from one place. Glad I went but wouldn't go again. Best part was spotting an Aston Martin Valkyrie in the traffic jam to get in. Brave person driving a $7m car in traffic. No scones, but the Kebab with fries in it was interesting.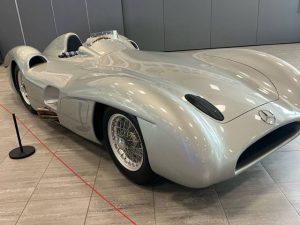 A trip to Brooklands Museum in conjunction with Mercedes World was well worth it. If you like bicycles, motorcycles, vintage race cars and aircraft, allow a 1/2 day. It's the venue of the original British Grand Prix and the birthplace of the British Aviation Industry. The volunteers are incredibly knowledgeable and generous with their time. Being able to see the Concorde and Napier-Railton Special was incredible. No scones were eaten.
Across the car park to Mercedes World. A combination of New/Used Car dealership, Museum with some very significant cars, and driving experiences, it has something for anyone with petrol in their veins. The building is quite special but the driving experiences on offer are better than anything at Hampton Downs and far better value. Even people without licences can try driving near new Mercedes. A class, EQ, G Class and AMG GT cars are on offer, all with instructors.
Sam and I had 30 minutes each in the G Class around the off-road course. Designed to showcase the G400 capabilities and to teach some basic 4WD skills, the course features water, boulders, angled slopes, steep inclines and, most concerning, steep descents. I went around as a passenger with Sam driving and her vocabulary is a lot more extensive than I had previously thought. It was a lot of fun.
But the main course for me was 30 minutes with an instructor in the AMG C63S on the test track. Wet handling control, followed by full acceleration and braking with and without electronic aids then onto the track for full on speed circuits. Normally the session is finished off with the wet skid pan but it was out of use. The C63 proved to be a great companion, it wasn't as intimidating as I expected, and the amount of power made it a lot of fun. The inst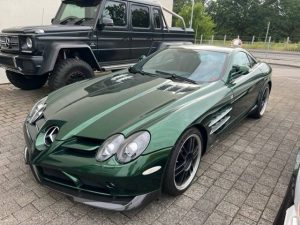 ructor, who is in the middle of building herself a 1000hp Camaro drift car, was excellent as well. The food was up to Mercedes standards.
Last car event, or so Sam hoped (it was), was Goodwood Festival of Speed. Wow! It's huge! It's a hill climb on steroids accompanied by massive pit areas, new car displays and driving experiences, large exhibitor spaces with all things cars, a small but very exclusive concours de elegance, Red Arrows air display plus more. Manufacturers show and launch concepts and new models here. It's all very accessible to the paying public. You can touch the cars, talk to the drivers and crew. A must do. Held over 4 days, it sells out but all days are equally good. Too many car highlights to list, every hyper-car was there but a standout was the 1962 Ferrari 250GTO. Considered by many experts to be the best and most beautiful Ferrari ever, the last one sold went for US$70m in 2018. We had a good pizza followed by the obligatory Jam Donut. This is a must if you are in England in July. The Goodwood Revival in September is supposed to be even better but more focussed on pre-70s classics.
If you are considering going to Wimbledon, Goodwood, the F1 or the Ashes for the first time while you are in England and not on an unlimited budget, get in touch. The scale of all of them is nothing like we have in NZ. We made a lot of rookie mistakes, especially around parking and what to see in the venues to maximise the stay. But all are very much worth it!
Richard Foulkes
July 2023