It is Saturday 22 July and another road trip. We met at our normal rendezvous BP Drury at 8:30. Weather looked a bit iffy with a chill in the air. The brave folk with convertibles had their warm coats and scarfs and beanies on. Around 18 cars were at the BP. Trevor was taking the "Big Blue" for an outing and our newest member Paul joined us in his SLK.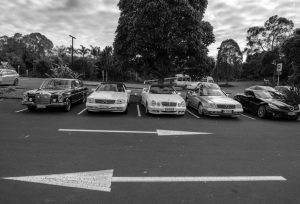 It was time for the briefing for the 9 o'clock start. Trevor had selected an interesting route. We were told that it was not race and to meet in Te Aroha at 10:30 where we will be meeting the Midlands MBC. Remember, it is not race! Some of us obviously did not get the memo. Then it was off down SH1 with some cars in convoy. Mike was traveling with me in my little red A250 and, yes, his SL is in good running order.
We left SH1 at Tahuna off ramp and the weather was looking good. The roads Trev chose were nice flowing roads with some long straights. We arrived at John Raynor's place around 10:30 and the front lawn was populated by Midland's cars.
Who would think this unassuming building has such an impressive car collection
John and Dia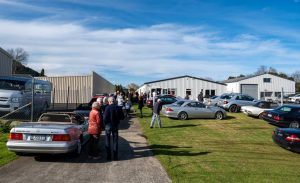 ne greeted us warmly and tea, coffee and biscuits were laid out inside the shed. John gave us interesting details about his cars and how he got them. One of the interesting stories was that someone was once smuggled out off East Germany hidden under the Isetta Bubble Car.
It was great to meet the Midlands MBC. They are warm and friendly and only too happy to talk cars.
John Raynor's cars
John and Diane have an impressive car collection including a 1937 Packard 8 Convertible, Lincoln Zephyr V12, Cadillac Series 62 Coupe, Fiat Topolino, BMW Isetta Bubble Car, Citroen 2CV, Late Model Maserati, Bentley Continental, Corvette C8 (mid-engine) New Honda Civic Type R, Retro 1996 Toyota Classic (based on wartime staff car) and Micro Daihatsu pick up.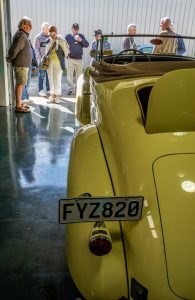 The pride of the collection is the 1937 Packard 8. It has an 'Art Deco' design and has featured in Art Deco events in Napier. It has a 319.2 cu in (5.2 L) L-head inline eight.
Then it was off to the Old Valley Forge for a nice lunch and drinks. First there was an issue with some of the cars getting stuck in the soft grass bringing us memories of the Bogkhana. This time we did not have the G-Wagon. Fortunately, Midlands had a ML for the towing duties. The Café was warned about the size of our group, so they had plenty of staff to serve us.
Many thanks to John and Diane for hosting us and showing his beautiful cars, for Graham for organizing the visit and Trevor for his route planning. Looking forward to the next road trip.
Pree Lecamwasam
Click here to view more photos on our Gallery page.