My, hasn't the year zoomed by!
Talking of "zo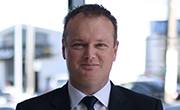 omed", in November we were fortunate enough to have a guest speaker, North Shore Mercedes-Benz Managing Director Craig Innes, who gave a Zoom presentation on their new state-of-the-art facility being built on Fred Thomas Drive, Takapuna. This dealership will be the first of its kind in New Zealand, built to a new style of Mercedes-Benz architecture known as MAR2020. The new dealership is due to open in July 2022 .
What's on offer is impressive. A purpose-built facility that is designed around the customer and their requirements in automotive excellence.  All brought to life with modern technology, to help with the selection process.
On completion of the presentation Craig offered an invite to the Auckland Mercedes Club to be at the opening. We reciprocated with the offer to provide some club cars to promote the grand opening.

Craig also offered to be part of future zoom meetings where we get to pick his brains on all things Mercedes.
We look forward to an enhanced future relationship between Mercedes club members and the North Shore Mercedes dealership.
For those interested, I highly recommend the excellent YouTube documentary – The Streamliner Case – Mercedes-Benz original – https://youtu.be/OZXRAQw9kyE.  A brilliantly put together documentary.
Chris Haliday