With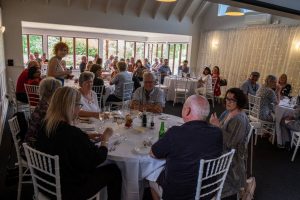 so many events having been cancelled during the year, we were really looking forward to this one … it really did feel like Christmas to an Aucklander.
The arrival time for the club's Christmas lunch at Gracehill Vineyard Estate in rural Kumeu was set for midday.  We arrived at 11.40am, early we thought, to find quite a few members had arrived before us, eager no doubt for some post-lockdown socialising.  The Santa Run participants drove into the carpark shortly thereafter, their vehicles and occupants impressively adorned for the occasion.
As we made our way to the venue entrance, our COVID vaccination passes were scanned and we were greeted at the door by staff serving canapés.  The bar rapidly became the centre of attraction and the first point of contact with existing members not seen for far too long and newer members not met before.  When everyone finally found themselves seated, Barbara, with microphone in hand, welcomed us all and then switched into roving reporter mode, firstly calling for a hands-up by new members to introduce themselves and their vehicles.
Next, the longest-standing member of the club in the room, Brian Hood, was acknowledged.  Brian's de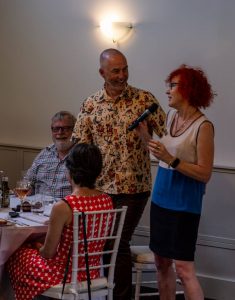 scription of his new Mercedes as his best ever was met with a resonating "ooooOOOOooh!", and he then admitted to the unique distinction of being the only member able to claim to have had two wives listed in the membership points table – at the same time!
Barbara then asked for those who didn't drive a Mercedes to the venue to identify themselves.  The Volvo P1800 of saintly renown in the carpark was claimed by Geoff Bogue, who was promptly forgiven due to the vehicle's sleek elegance.  Mike Peters confessed to bringing a Japanese 'Mercedes' owing to his genuine one awaiting a part, and then Graeme Collie, who had arrived in his MGB, stated with a straight face that the initials were short for 'MG-Benz' which evoked roars of laughter.
The lunch commenced and the standard of Gracehill's cuisine and presentation was to be complimented.  Following dessert, the MB handbag owners' association (made that bit up), Janine, Deepa, Sue and Barbara, took the opportunity to line up for a photo shoot, bags to the fore.  Although the weather forecast was for isolated showers, the day turned out warm and sunny.  With 68 people attending, it was one of the largest Christmas functions the club has held and the first event for Gracehill following the Level 4 lockdown in August.  They did a wonderful job … a great day with great company for a lovely lunch in a very pleasant setting …. and a big thanks goes to Mike Peters for arranging the event.
Jennifer Todd



The winners and runner up awards for the Santa Run 2021:
Best dressed Car – Lindsay Younger
Runner up – Sue Iles
Best Dressed Lady – Janine Jeffrey
Runner up – Sue Iles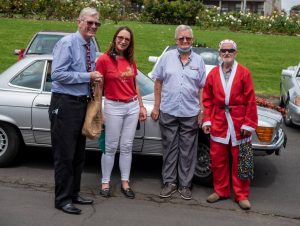 Best Dressed Man – Ron Studman
Runner up – Steve Burrow