The Top Down Tour, now in its seventh year, is one of the most popular events in the club's calendar. It proved to be so again t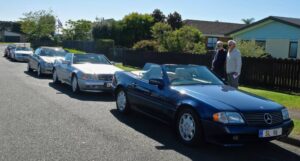 his year.
Twenty eight Mercs, one imposter and more than fifty people turned up at BP Southern Motorway on a gloriously fine autumn Sunday morning. It was great to see so many new members come along and also six members and three cars from the Midlands club.
One of the Auckland club members, who shall remain nameless (at least briefly) must have had a hard night as he and his lovely wife turned up in a Porsche. Now it is not easy to mistake a sleek black Porsche Boxster for a rather larger silver Mercedes ML, but somehow he managed it! Great to see you again Bill and Teena.
After a quick briefing and the handing out of route directions and questionnaires, we all took the onramp to the motorway and headed south before quickly exiting at Bombay. We were heading towards ever-growing Pokeno along picturesque back roads, one of them rather colourfully called Razorback Rd. Pokeno is more a metropolis than a village these days.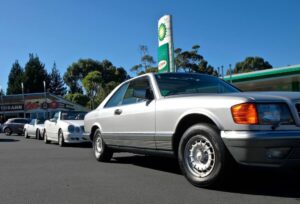 On we drove under a cloudless blue sky, passing Tuakau and Buckland before skirting around the centre of Pukekohe. Once past Puke we were tail-end Charlie in a convoy of six convertible Mercs: R107, R129, R129, R230, R129 and then Barb and I in our R107. Grazing farmland had now given way to acres and acres of fertile Pukekohe earth. Here and there tractors ploughed the fields preparing the rich earth for its next crop. Previously ploughed and planted fields were already sprouting vibrant green crops. Every so often an unploughed field appeared with cattle grazing on its lush green grass, the warm sunlight catching colourful autumn leafed trees thus lending a golden iridescence to the scene. Overhead a pale waning moon looked down. This is what car club runs are all about.
Further on we passed the tiny village of Mauku, a place I never knew existed let alone have driven through. We bypassed Patumahoe and headed towards Waiau Pa, along the way catching glimpses of the most southerly reaches of the Manukau Harbour and in the distance, steam pouring from the Glenbrook Steel Mill chimneys. Waiau Pa Rd becomes Clarks Beach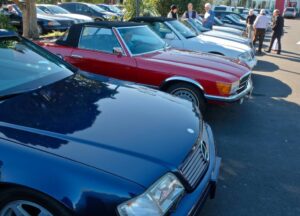 Rd which is good because Clarks Beach is our destination for lunch so we know for sure we're on the right track. Where Clarks Beach Rd veers left to become Torkar Rd there is a small park immediately ahead. Through the park's pohutukawa trees and over the distant Hillsborough shoreline of the Manukau Harbour you catch a peek of the Sky Tower, all of 32 kms away as the crow flies or nearly double that by road. But less than 1 km down the road we reached Chin Wags restaurant, our final destination and the venue for what turned out to be a scrumptious lunch.
During lunch prizes were handed out, upcoming events highlighted and new members made introductory speeches to the group.
The weather stayed warm and sunny all day and soon it was time to head home. For us it meant a long drive back to the Waitakere Ranges and the hills of Waiatarua which we now call home. The beautiful weather made it a totally enjoyable end to a brilliant day.
Huge thanks to Daryl and Janine Jeffery for putting together such a grand day out.
Click here to view more photos on our Gallery page.
Greg Lokes.