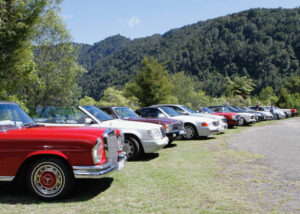 In my mind I have rechristened this the "Bang-on-time" rally.
It was my own fault. I did not check the start time until leaving Auckland at 8:45am. I thought the start was 11am but the notes did specify 10:30am.
After a good clear trip, I arrived at Hamilton Gardens entrance lane at 10:29am in time to see the first of a line-up of Mercedes cars pulling out of the carpark in front of me and coming back up the lane. Daryl yelled to just join on so I turned around and joined in the convoy about midway behind a lovely looking and sounding maroon SL500.
The next period was keeping in touch with the convoy until we got to C&R (Ross Bros' car and heavy museum) near Cambridge where we were able to squeeze in and park up the 26+ car convoy.
What an awesome place with Bathurst race cars, restored cars,a barn-find Aston Martin Lagonda, a John Cooper mini, bikes, a boat, a massive heavy machinery shed including the biggest
bulldozer I have seen, and a workshop where 3 cars were being restored/customized. It was great to hear some stories about the Ross family and the guys working on the cars were happy to chat about their work.
Then it was off to the Good Union Pub in Cambridge bang on time for our pre-ordered lunch and a chance to sit, chat, and meet some people.
A nice easy journey in convoy on the quieter roads to Morrinsville was next to check out the herd of 61 fibreglass and individually painted cows sprinkled through the town.  We gathered at the RSA for afternoon tea/coffee/scones/muffins and a talk from the towns "herd master".
The clouds were looming as we got to the RSA so all the SL tops that were down went up.  This was lucky as the heavens opened to a full half hour of torrential and horizontal rain and hail when it was time to leave. Some of us waited it out, playing a game of pool, while others braved the elements and departed for Hamilton to get ready for dinner at the Cosmopolitan club in Claudelands.  When I left I noted that it was a very localised weather event as the roads to Hamilton were dry.
On Day 2 we met for a briefing about our big day to Rotorua at the allotted hour at the Heartla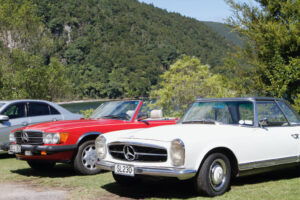 nd motel. There were some detailed instructions about turning left and left again to go around the motel and then going through several roundabouts to get out of Hamilton on the way to the first stop at MercWorxs.
I am sure most of us forgot those as we fired up the engines, set tops down for the lovely sunny conditions, and restored our blood/petrol fume saturation levels relying on the last instruction from Mike (or was it Daryl?) to "follow me!!!".  Gosh!  There are a lot of massive (and new to me) roundabouts on the way out of Hamilton along the route we took west past the airport before heading east.  Some of us ended up taking the direct route down SH1!
It was a bit sad to see the MercWorxs car graveyard, but great for those who could look for rare bits for the older cars and set up a return visit with more time.
At the morning tea at the Enchanted Café in Tirau more cars joined us from Tauranga, adding to the 3 cars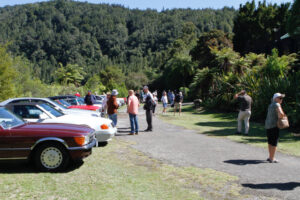 from Christchurch, cars from Manawatu, New Plymouth, Waikato, and Auckland areas.  I noticed some members were driving different cars from the day before.
The convoy drive to Lake Okataina lodge via the north shore of Lake Rotorua was great, as was the buffet lunch and the weather, and a good chance to actually look at and talk about some of the cars in the convoy.
From Lakes Lodge there was a trip down to the informative Redwoods Tree walk and return to Hamilton (Tauranga for some). Most of us found the slow route out of Rotorua through the extensive roadworks.
Dinner was held at The Helm Bar after Day 2 of the Americas cup yacht racing.
Day 3 was another big day.  Following another briefing bang on time (ish), many of the details were forgotten (again) as we headed for the Waikino Station Café for morning tea.  This was after a tour of more of Hamilton's finest roundabouts (1 of which got the full 360 degree experience before choosing the correct exit, apologies to those following).  We then moved on for a look at Waihi's "Big Hole in the Ground".
This was followed by a photo-op and convoy reset at the "L&P" bottle in Paeroa, lunch at The Old Forge Kitchen in Te Aroha, and another photo-op for the R107's in the carpark.  We finally tightened up a loose battery connection on one car after finding that John had cunningly packed what looked like his whole workshop of tools (minus the 2 post hoist) into Sharon's boot.
Then we went up the road to see the awesome creativity of the art works at Adrian Worsley's steel sculpture workshop. Some of us might have got a bit of workshop and collection of "useful bits" envy, and others realised (sort of with a short half-life) that their other half's garages and sheds may not be that full of stuff after all.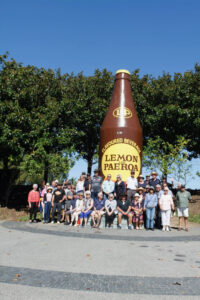 On the way back to Hamilton we visited a small private car collection at Morrinsville [the private garage of Dick Marshall] containing a magnificent collection of 28+ American, European, and British cars including a Daimler Dart V8, several models of Ford Thunderbirds, some Ford Sunliners, a Nash Metropolitan, some Impalas and more.  No Mercedes!
Someone commented that since the garage is full that would be the limiter on the collection, only to be informed that there was another bigger "shed" which was empty so lots of room for expansion.
Free drive back to Hamilton to watch more America's cup racing before dinner at The Speights Ale house.
On the last day there was no early morning briefing so plenty of time to pack up and check-out of the motels before a meet up at the Ingham Prestige showroom for morning tea/coffee and farewell before heading home or for some, continuing to see other bits of the North Island.
Returning to Auckland, the road was closed off just north of Te Rapa and we had to take a diversion as there been an accident.  It pays to remember to be careful out there (as they used to say each day on the old "Hill St Blues" television programme).
I was also treated to a low level flypast of a handful of WW2 planes as I passed Meremere.
Anyone out there with a few cats should enlist the masterful skills of Mike as he herded and corralled the 26+ cars into various forms of order as we crisscrossed the Waikato over the 4 days.
Many thanks to Mike & Lorna and Daryl & Janine for a magnificent rally and I hope they managed to get a few less hectic days during the following week.
Ken West