It was fantastic to be able to attend the 2021 Brit & Euro Classic Car show at Sir Lloyd Elsmore Par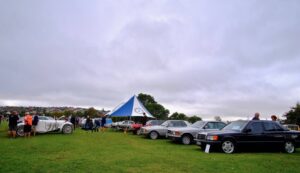 k in April as there was a real possibility the postponement in March, because of Auckland's fourth lockdown, could have resulted in no show at all for 2021.
Thankfully Sunday the 11th April worked for most people concerned and it certainly didn't seem to affect the number of vehicles on display!
After a very wet and windy Saturday and a pretty dodgy weather forecast for Sunday it looked like it may be a stormy show day. Driving from the Shore to Pakuranga on Sunday morning didn't bode well as there were dark clouds and drizzle all the way there.
All Mercedes-Benz cars were scheduled to arrive between 9-9.15am on the day so I thought I'd get there a little bit early (8.45).  It looked like I had timed my run perfectly, as I arrived at the same time as Chris in his immaculate white cabriolet. When we arrived at the Mercedes-Benz Club spot there were already over 15 cars there and the club marquee was being put up!
Even the early arrivals weren't early enough to prevent the BMW E30 club taking up some of our allocated patch, however. As more Mercedes cars arrived, the E30's had to move to make room for our growing number of cars.
Manoeuvring our cars in the now very tight space was made even more interesting by the wet grass and the long clippings sitting on top of it (apparently the park had only been mowed a few days prior) but we soon had the cars sorted into one row each of pre-1990 and post-1990 cars, ready for voting in the two people's choice awards.
It was a great turnout of Mercedes-Benz vehicles (we even had a Mercedes-Benz campervan/transporter with a Mercedes-Benz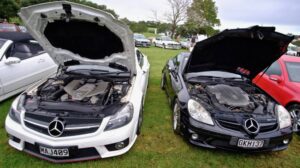 racecar on a trailer behind it) and I counted at least 30 cars from both members and the public in our display.
The weather started to fine up during the morning and those of us with convertible roofs decided to take the risk and lower them for display. No sooner had we done that, there was a light shower of rain pass over! Typical. There were some nervous looks exchanged between us but luckily it was very light, only lasted a few minutes and the weather cleared into a warm and sunny day.
The representation of our marque didn't stop at our own club area. A few Mercedes were spotted in the public car display area and the Ellerslie Car Show Concours Master Class winning 1966 230 SL was featured in the new "Brit & Euro Revival Display" showcase.
We even managed to get a shout-out for the club from the East FM radio caravan broadcasting from the Show.
The rest of the day was spent wandering around the entire show and finding some real highlights from other British and European marques. Everything from vintage cars and motorbikes to the latest customised, wrapped and lowered modern cars were on display. My personal favourites were the immaculate silver Ford Capri GT Mk2 in the public display area (the spitting image of my first car!), the Lancia Group B rally cars, and the odd-ball cars like the NZ-made Heron sports cars, the bonkers space-framed Fiat X1/9, the X-Pack Ford Escorts and the one-off stainless steel bodied vintage special. Talking to owners of the cars on display and seeing their passion for their own cars affirms that maybe I'm not the only car freak around…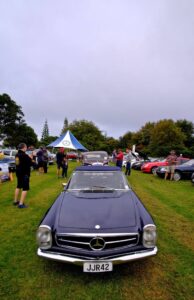 A fly past of several Warbirds vintage aircraft just after lunchtime was pretty cool too.
Not to mention the overall class and quality of the Mercedes-Benzes on display! As always, the club marquee provided shelter and some friendly faces so you could take a break before going out to see what you had missed on the first walk-around the park.
This was my second time at the show and it's great to bring along your own car and be part of the experience. Bring On the 2022 Brit Euro as I'm sure it will be bigger and better than ever next year!
Click here to view more photos on our Gallery page.
Mike Peters