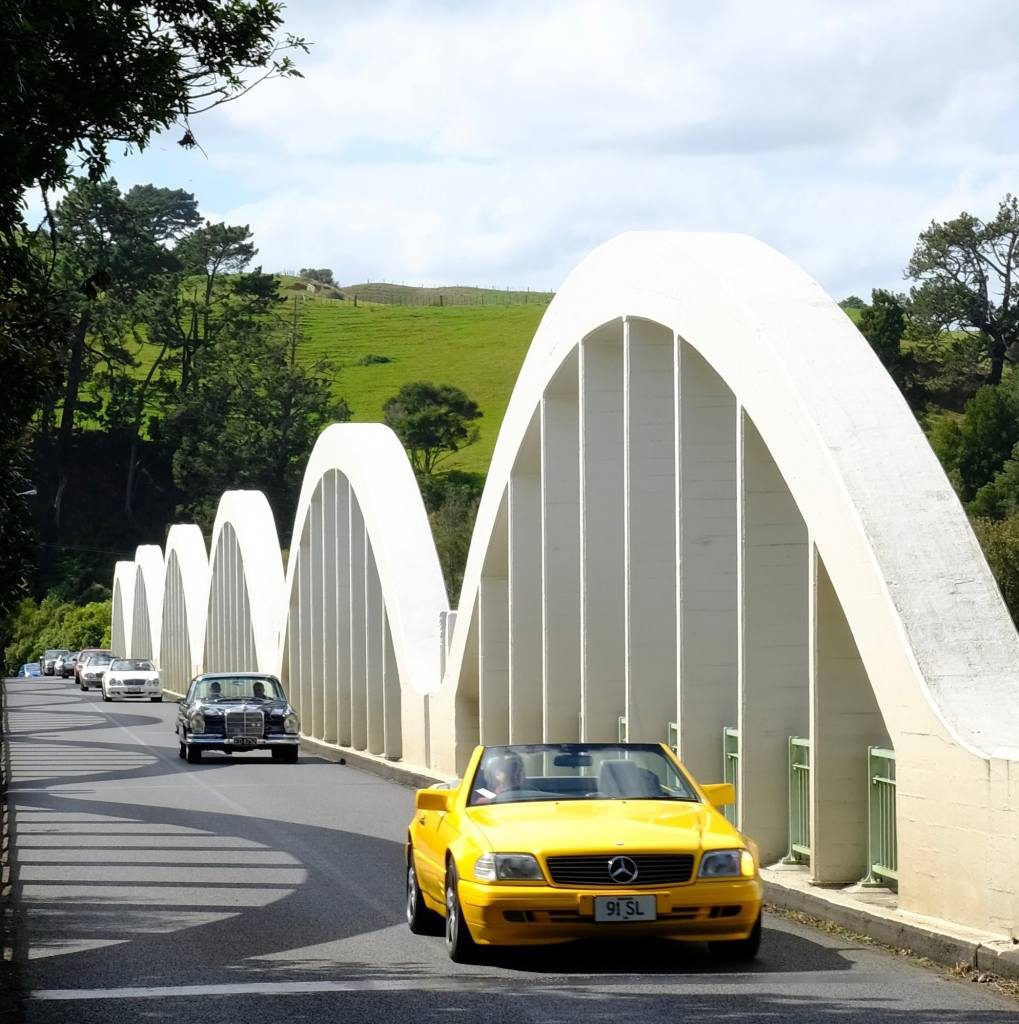 Motoring in to the Red Shed near Drury one passes through a Sunday Market where distinctly out of date shoes are on sale at $12 per pair and pot plants urgently in need of water are drooping in their plastic pots. Never fear! The brave members of the Auckland Mercedes-Benz Club took all this in their stride and motored on to a reserved glen in the midst of native bush. By the time Kath and I reached this secluded destination there were a goodly selection of Stuttgart's finest parked neatly awaiting their owner's pleasure.
The sunlight dappling through the trees had put the members in a fine state of mind and all were ready for the annual Top Down Run organised (as always) by Greg and Barbara. The plan was to tour through the back roads of rural South Auckland going in to the Waikato and then returning over the Tuakau bridge to the Red Shed where a substantial luncheon would be available.
However, no one felt able to attack this plan without a freshly brewed coffee from the Red Shed espresso station. So standing around clutching super-hot coffee cups we examined the field for today's run. 19 cars in all, 11 topless, with a sprinkling of pillarless hardtops, sunroofs and other dubious claims to qualifying as a top down car. Your genuine topless attracted bonus points while the others were able to negotiate some points depending on the degree of toplessness that you could persuade the Secretary to accept. Our car, a 230CE, had all windows down, no pillars and sunroof open, and (in my opinion) was so close to topless that you would not notice; the scrutineers failed to agree with this opinion.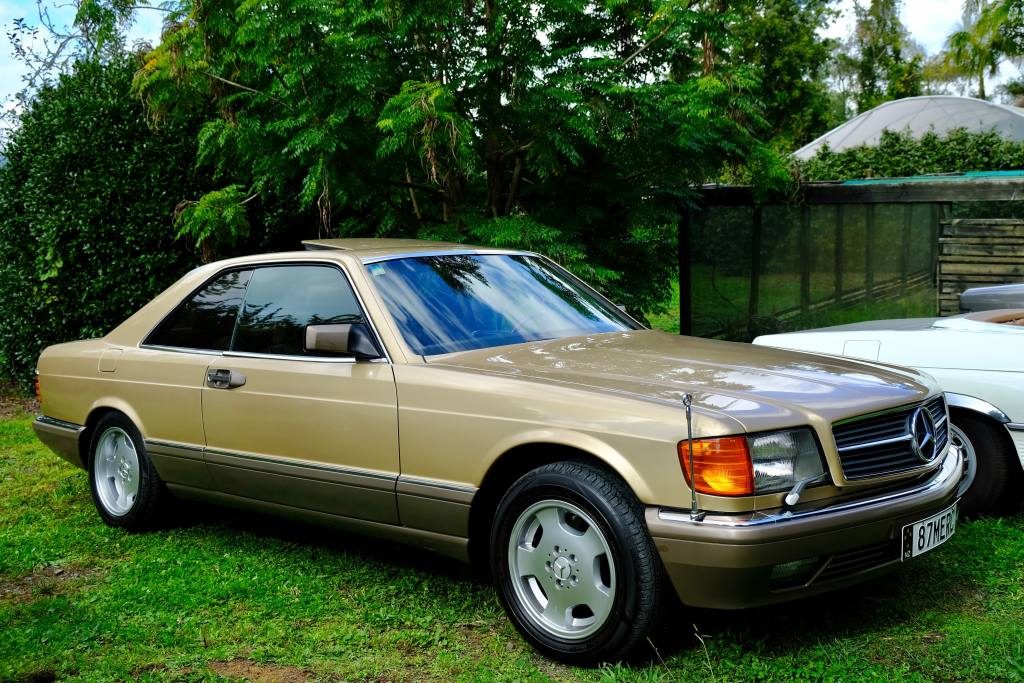 Rob Hanson's 500SEC was introduced to us for the first time. This handsome model stands out in any crowd but when presented in faultless gleaming gold paintwork it was immediately judged 'King for the Day'. Watching this left steer vehicle glide along the road on a perfect sunny day was enough to transport you to Benz Nirvana.
We were lucky enough to have two passengers namely, Mr & Mrs Bray. This was useful from my point of view as the driver, because all three passengers were obviously closely related to Stirling Moss and were able to provide me with information on accelerator depression, brake depression, tips on how to operate the steering wheel, when to make left and right turns, objects to avoid and correct locations for parking. After the first 500m of the journey it was found that various essential objects were in the boot and it was necessary to stop and obtain them. During this procedure the rest of the fleet drove past with smug looks on their faces. Then various windows that were down needed to be up and other windows that were up needed to be down. The vehicle is equipped with electric windows in the front and manual windows in the rear. The rear window on the driver's side does not like human intervention and needs to be carefully coaxed to the up position and then about 90 seconds later flops down to a half open, half closed position where it will reside for the rest of the day.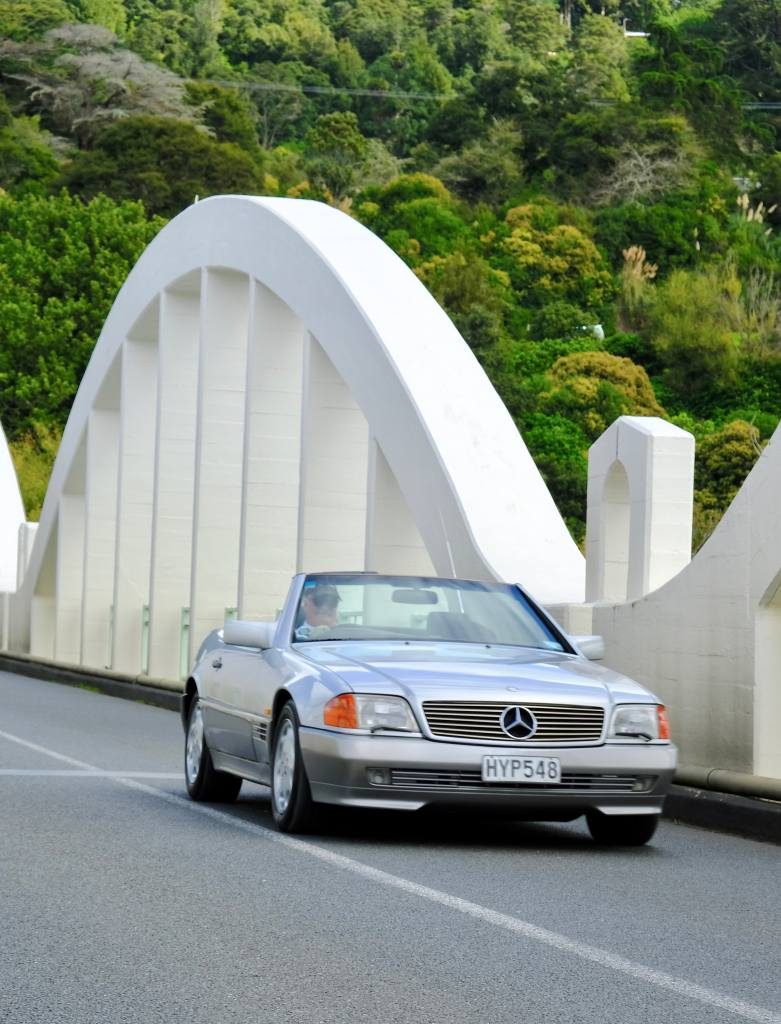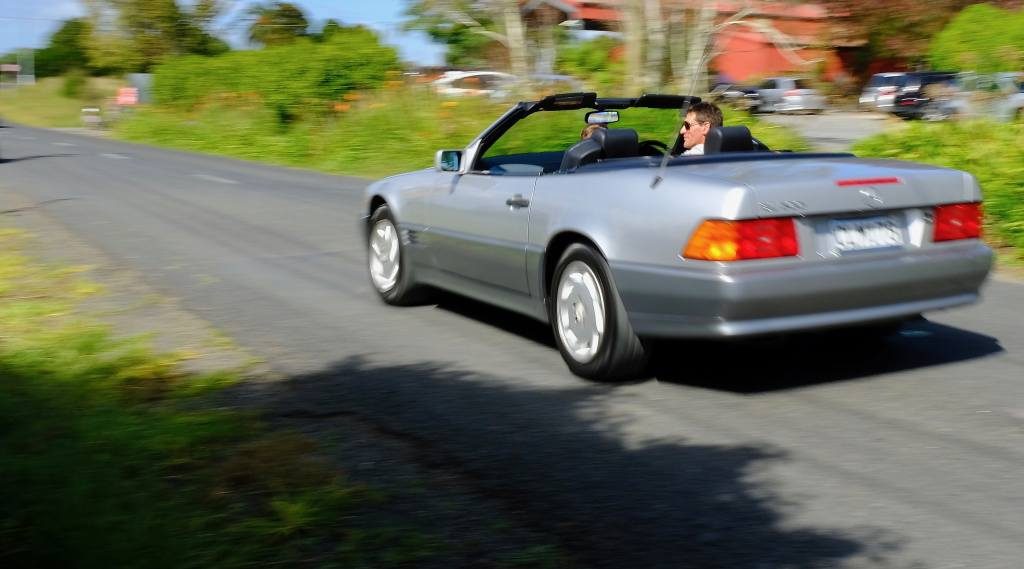 We cruised through Drury heading for Ponga Road on the outskirts of Papakura, rising steeply through native bush and rugged farmland. A right turn (signalled by Mr Bray) at the end of Ponga Road had us heading towards the rather remote village of Hunua, where unexpectedly an Indian restaurant was located but we avoided the temptation to stop. Mr Bray then signalled another right turn into a narrow road that expired after only a few metres. We retraced our steps (no comment from the driver who has committed far worse sins in his time). By now we were in to rolling rural country sometimes known as 'The Smiling Hills' and heading towards Ararimu and then the lofty village of Bombay.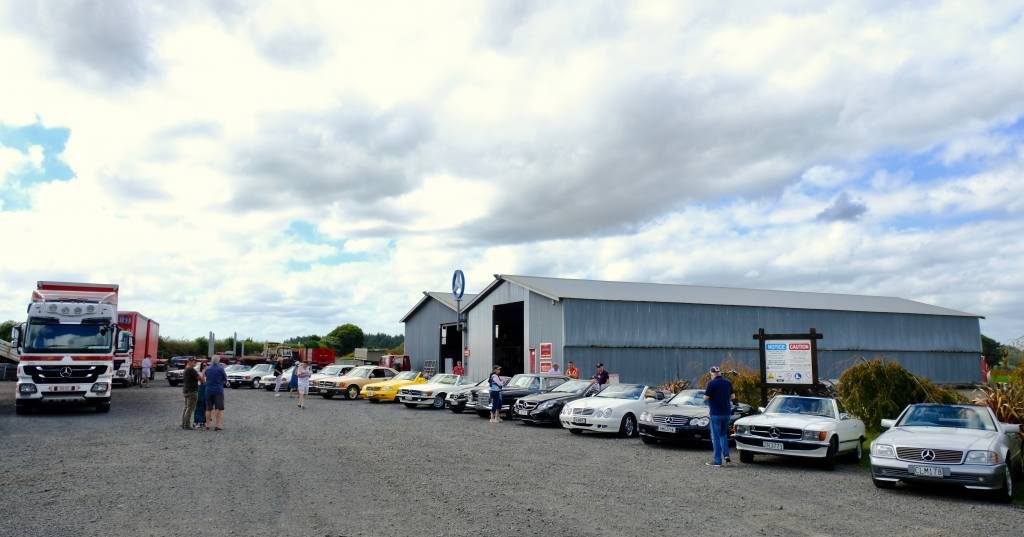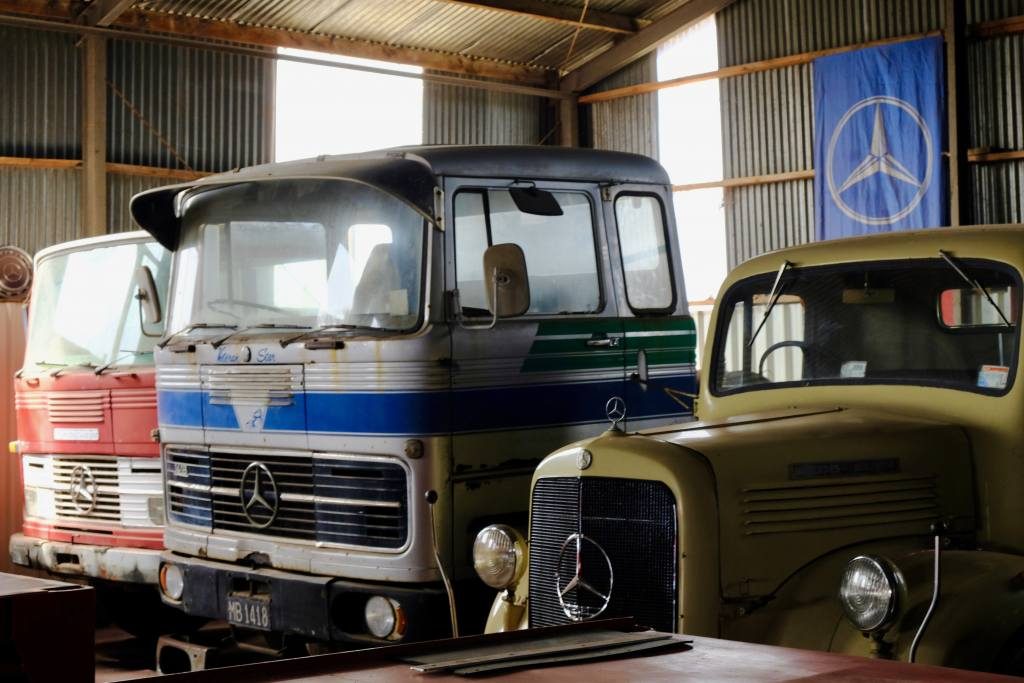 We descended down Razorback Road before crossing over the top of the southern motorway bound for Tuakau and Stuart Howard's immaculate trucking depot. The front of the main garage is crested by a massive three pointed star surrounded by a circle of Prussian blue. Inside, Benz trucks of many sizes and vintages are precisely lined up and most of them are engaged in daily transport. The star turn was a brand new Actross K2651; this enormous truck was entered by climbing a series of ladders and steps before emerging into the driver's cab which resembled the top of the control tower at the airport. The view through the windshield presents vistas stretching miles in to the distance with no obstructions from other road users.
Leaving Tuakau we headed for the Waikato River and the multi-arched bridge which was well known at the time of the Crewe murders. Halfway over the bridge a shadowy figure emerged from the opposite side of the roadway and it turned out to be Greg with his camera. A short stop at a parking area near the bridge preceded all cars turning and heading back to the Red Shed through Tuakau, Buckland and Pukekohe East.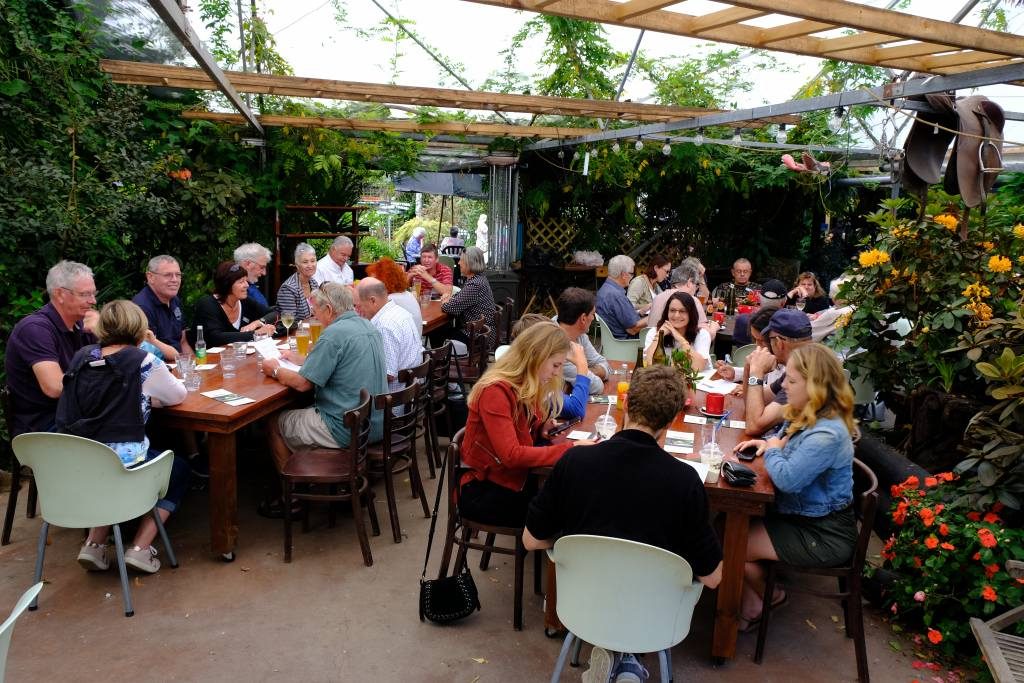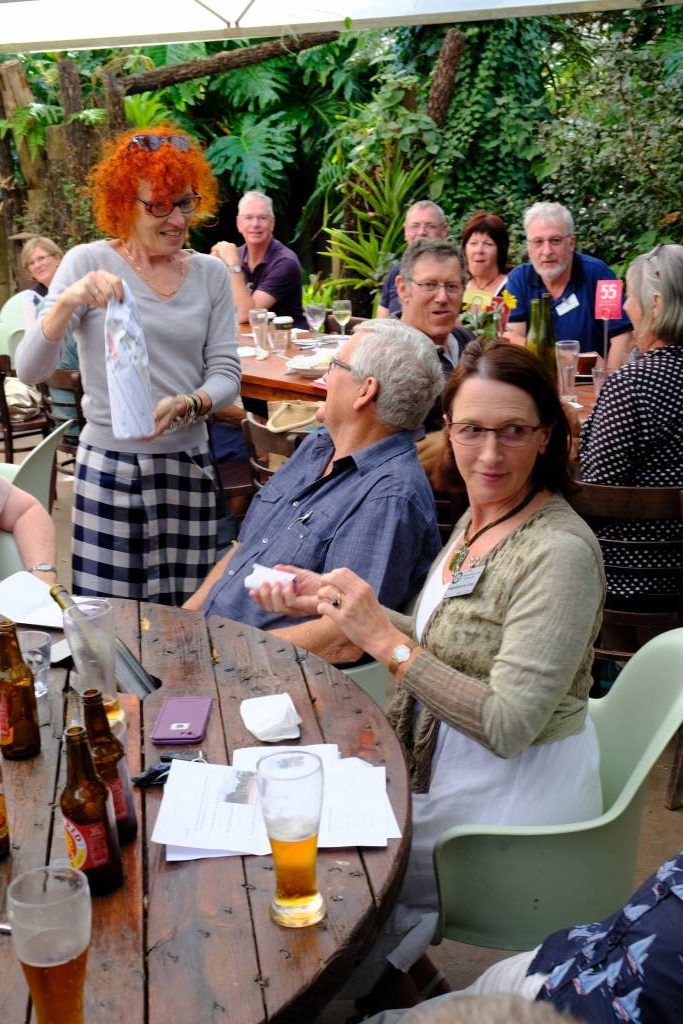 Lunch was good and served in prompt manner while we answered questions to a written examination about the trip. Unsurprisingly Angelique & Chris won first prize and equally unsurprisingly Brian & Lynn were runners up. A number of protests were dismissed with the curt advice that "the judge's decision is final". A special welcome was extended to new members Jonathon & Susan Warren, Stephen Groeneveld, and Fernando Bottari (from South America and other exotic climes). Also to Rob Hanson who had driven all the way from Russell to attend. One older member announced that she needed a scan. This turned out to be senior citizens afternoon nap, a sentiment which was applauded by one or two like feeling persons.
Special thanks to the organisers Greg and Barbara, and to Stuart Howard at the transport company.
David Winn
Click here to view more photos on our Gallery page.