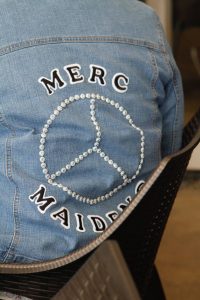 A small group of us ladies have a WhatsApp group set up and named the "Merc Maidens" by our famous handbag queen, Sue.
During lockdown I realised this was the perfect name for the Ladies to proudly wear on our backs. After much thought and contemplation I sent out the challenge to my fellow Merc Maidens.
The challenge was accepted and jackets created with sewing machines, needles, glue and irons. Bling was added, then discarded as new and wonderful ideas evolved. All jackets are different with our individual personalities stamped on the material.
The jackets were debuted at the annual Top Down tour with more appearing during following events as the ladies got their creative juices flowing.
There has been some discussion with our English language expert, Mr Winn, as to if whether "Maiden" is the appropriate noun. The definition of maiden is "an unmarried or young woman.
I think we al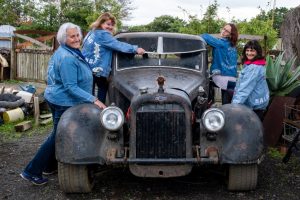 l fit in this description in some form or other, so we will continue with this alliteration.
So ladies, go out and create. Men feel free to join in with your own design.
Janine Jeffrey