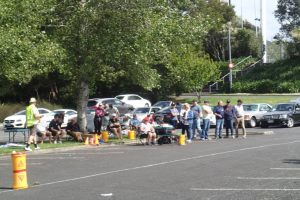 A big hi out to all Merc members new and old.
The 6th November brought about another outing for the club's members to enjoy.
It was a day to have fun and test our slow (and not so slow) driving skills.
We met at Albany stadium carpark at 9.30 sharp to find out what the club organisers had in store for us.
Although it was a windy day the forecast showers stayed away making conditions fabulous for what was in store for us.
Mike and his team of helpers had planned some really fun and out of the ordinary skill tests for the 17 who chose to take them on.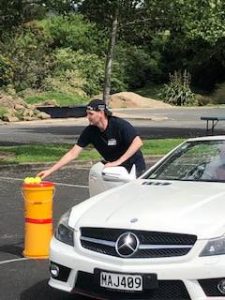 There were 3 separate tasks ahead of us.
Firstly, at each end of the carpark were tall buckets, with 4 tennis balls on the bucket at one end and an open bucket at the other end, with the plan being to round the course picking up a ball at one end and dropping it into the bucket at the other end, with time penalties for not getting balls in at the other end at each round.
Now the contest began in earnest, with most choosing to accept ball placing penalties for speed, just throwing balls at the bucket on passing. Arthur decided it was quicker to drive up and reverse back, a cunning plan that was executed very well. He managed to get a couple of balls in as well, as did a couple of other drivers who slowed to reach over or stopped and got out to be more accurate.
Watching and participating in this was hilarious, with laughter and cheering flowing freely.
Part 2 was a bit more sedate but equally taxing – trying to park as close to a pole in one movement without electronic help, with the best being 3 centimetres, a fine effort indeed.
Part 3 was back to the longer course, a customary slalom course, but with a twist.
Once navigating the slalom cones to reach the far end of the course, you were to back between two cones resting against the kerb. Then either you or a passenger got out and rounded the car before jumping in and proceeding back through the course to set a winning time.
Well, as you can imagine, we had burnouts, traction loss and my hero Deepa trashed at least two cones (yay! I hate cones). Angelique was first choice runner for most, showing great running speed and, I must say, a lot faster than Chris. He was one of two runners for the big blue's team, which for a huge car was quite nimble around the course. Some of the runners had legs hanging precariously outside open passenger doors as impatient drivers looked for a quick getaway.
Once again raucous laughter and cheers abounded!!!
The preliminary winners of each section were given prizes, but once the totals were added up and placed in order, the winner overall was:
1st Rod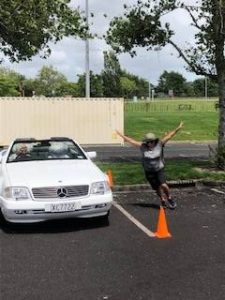 Philson
2nd Francois de Jager
3rd Lindsay Younger
Congratulations!
Those who attended were treated to a very enjoyable, memorable day. Thanks to our hard working committee and helpers for this special event, which I will remember for a long time. Report to come.
Lindsay Younger
Check out the full results here.
Click here to view more photos on our Gallery page.