The weather was looking good, but where are they all??  It was 9.00am already as the members from three cars parked in a busy BP Drury carpark pondered this question.  They can't all still be at home watching the All Blacks match, surely!  After checking that we were at the correct departure point, we finally spotted Trevor, with his clipboard, emerging from the parking area behind the truck park, looking for us!  Aha, so that's where they all were!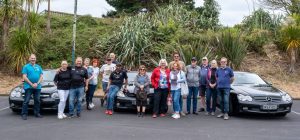 Greg was on hand to take photos – let's line up the three black SLs for a shot – err, can you move your white V12 SL, thanks Arthur … slightly in the shot there.  After receiving our trip instruction sheets, Trevor ushers a member from each vehicle to his car boot which is filled with goody bags.  Brilliant, thanks Trev.
The traffic was relatively light as we headed off, with the convertible drivers taking full advantage of the fine weather.  Upon reaching Otorohanga, we parked near the railway station and headed to The Thirsty Weta Bar and Eatery to meet up with Midland Club members and to order our lunches which, compared to Auckland café offerings, were fairly large.  Won't need much for dinner then …
After lunch, Janine and Sue drove off to check out a Christmas shop en route to New Plymouth, while the rest of us took a diversion to Midland Club member Neville Davison's property a short drive away to check out his amazing collection of Mercs, tractors and memorabilia, including quilts made by his late wife.  One end of the shed was two-storied and filled with, in Neville's words, "Women's Things".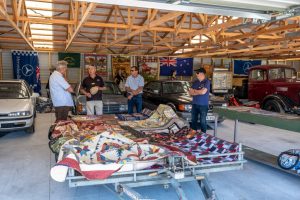 However, it was also an interesting and eclectic collection of household and other items from earlier times.  Neville's collection of vehicles is still growing, so we think he probably needs to build another shed.  Many thanks, Neville, we enjoyed the stopover.
Arriving in New Plymouth and checking in at the Devon Hotel, we all eventually gathered in the lounge bar.  Janine showed us a clip of the animated Santa she'd purchased that afternoon, which raised some concerns (and laughter) … er, what is Santa doing with that candy cane exactly?  While some dined in-house, at least a dozen of us headed off to a nearby Thai restaurant for dinner where we enjoyed a lovely meal.
On Sunday morning, with the fabulous weather still holding, we departed the Devon in convoy shortly before 10.00am and drove to the purpose-built Hillsborough Holden Museum.  We had an hour in which to view New Zealand's largest private collection of Holdens and memorabilia, view the Bathurst-themed mini putt golf course, and stop in at the on-site café for a drink and bite to eat.  Definitely a worthwhile place to visit for a wander down memory lane.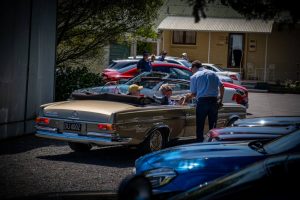 Hitting the road again, the convoy continued along the scenic coastal drive to Wanganui where we all dispersed for lunch at everyone's own choice of venue.  Okay, so one of us in our car didn't read the full instructions and so we were unaware there was a meet-up departure point after lunch.  It appears it's quite easy to hide a lot of Mercedes in this town (a little déjà vu moment there), but we finally spotted two Mercs heading in the right direction and followed them for the drive to Ohakune … unaware that most of the others were still at the meet-up point and yet to depart.
However, we all managed to arrive at the Powderhorn Chateau in fairly quick succession.  After checking-in, about of ten of us took little time to descend to the indoor heated pool for a relaxing soak, with drinks delivered from the bar (Cheers!), and to chat about the day's events.  We laughed about the fact that some of us had rooms with Harry Potter cupboards … completely empty but large enough for a bed.  That evening's dinner in the Powderhorn's busy bar/restaurant was our last chance to socialise as everyone would be departing in the morning at their own pace.
Much interest was shown in the Powderhorn owner's Mercedes GD soft-top pick-up truck parked out the back.  It appeared to have not moved since its WOF expired in 2021, evidenced by the extensive cobwebs not only on the wheels, but also inside.  A rumour emanating from a Midland Club member suggested that Neville might be looking to secure it for his collection – well, he'll definitively need a new shed then!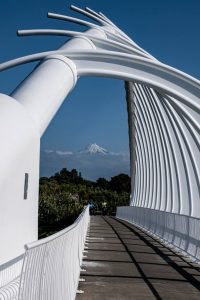 Whilst most members drove home the next day, some, including us, opted to stay a night in Taupo for a more leisurely end to the long weekend.
It was a great way to spend a Labour weekend driving our lovely Mercs, especially with the warm and sunny weather, the congenial company, and aided by Trevor's superb organisation.  The roads were good with only a few construction hold-ups.  Some members took planned, or unplanned, diversions along the way, some got a little lost at times despite the excellent written directions, but we had a marvellous time which ended all too soon, and we did manage to catch a short glimpse of the snow-capped mountains along the way.
Jennifer Todd and Tim Wood
Click here to view more photos on our Gallery page.