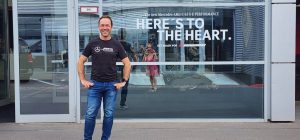 My wife and I recently sold the remaining shares in our business and we were fortunate enough to be able to take a four month sabbatical and travel around Europe with our two teenage children. When I told a German friend of mine about our planned trip, he said: "You have to go to the AMG factory in Affalterbach!". I am the proud owner of a 2017 Mercedes-Benz AMG GT S and apparently every owner of an AMG can get a free (great word for a Dutchman), private tour through the factory to see where the engine of their car was made. We were planning on going to Vienna anyway so driving back to the Netherlands, where our family lives, we pretty much passed Stuttgart (at least that's what I told our children, who are not into cars at all) so we might as well visit the AMG factory, right…?.
We booked a nice AirBnB in Stuttgart and from there left in the morning for the 30 minute drive to Affalterbach, which is just North of Stuttgart. Once we left the exit from the motorway, we all wondered whether we'd taken the right exit as you basically drive on a rural road for about 10 minutes before arriving in Affalterbach. We headed straight to the visitor center, where our tour guide was welcoming us. He looked like a surfer with his long blond hair and immediately made us feel welcome and special. We noticed a Dutch flag waving on the building and he mentioned they do that for every visitor coming over. This is such a nice touch, though we would have preferred a New Zealand flag but they do it based on your passport details, which we had to send them in advance.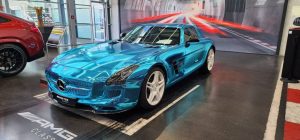 We were shown around the showroom, which had some very nice shiny AMGs, including a blue all electric AMG SLS. Owning that I would miss the roar of the V8 but it looked stunning and bright. From the showroom it was a short walk over to the factory, which is just up the road. The entrance of the factory is set up like a museum, with some amazing, historic AMG engines. From there we went onto the factory floor, where we weren't allowed to take any photos.
There we could really see the "one man, one engine" principle at work (though there are 4 female engineers). The place looked more like a surgery than an engine factory. It's spotless. Every person there works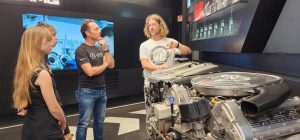 on one engine having their own personal tool cart and there are no robots involved with these. It takes about 2 to 3 hours to complete one engine and most engineers assemble two a day, though if they are midway completing an engine, they simply put a cover on it and continue their work during their next shift.
On the next floor they were building the new 4 cylinder hybrid engines (E Performance), which are also put together by hand but little robot carts drive the parts to the mechanics instead of the mechanics moving around the floor. It looked very futuristic for sure.
During the tour we also got to meet (and shake hands with) the famous Michael Kübler. This guy is a bit like an AMG superstar and he has his own private space, separate from the other engineers. He was just working on an AMG V12 engine powering the Pagani, which takes him about two days to complete. It looked like a very complex and expensive Lego Technic set.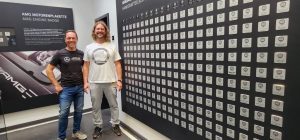 From there we were taken to the wall with all the plaques of the current engineers (around 250). Every engine built by hand in this factory receives a personal plaque from the engineer who built it. The one who built mine was regretfully no longer working there. If he had been, they would have introduced me to him as they do with any AMG owner with an engine with a plaque. Just remember to take a photo of yours when you go to the factory as it's another great personal touch.
We thought that was it with the tour but our guide told us he had a special treat and we walked over the HWA Racelab, where the really fast versions of my GT are being built. HWA is named after Hans-Werner Aufrecht, and it creates Mercedes-AMG racecars. Again, we regretfully weren't allowed to take photos but plenty can be found online.
We got to see one of the last Mercedes-AMG GT Track Series being loaded into a truck for shipping. Only 55 of these were built and they are either going to collectors or people who drive them on weekends around a track. A sheer thing of beauty that makes my car look pretty plain and boring, though at least that can be driven on a normal road.
The whole tour took about two hours and if you have an AMG and ever get the change to go to Germany, I can highly recommend booking this tour or a driving experience with AMG in Affalterbach.
Cornelius Boertjens