As I wrote this report, I took the opportunity to reflect on the past years' club activities and what makes an event truly special.
Behind the scenes the club committee works to attract members to events that provide interest and enjoyment. It is a balancing act to improve on the ever popular events and to come up with new ones. The most popular events are the top down tour, grass gymkhana, scavenger hunt and garage raids. For me the Christmas party is the best. It is a time when people come together ready to celebrate and a festive mood abounds with good conversation, food and wine at a fine venue.
The festivities for some started at the Parnell Rose gardens with the Santa Run. There was a great turnout of cars adorned with special Christmas sparkle. Prizes were awarded for the best car, runner up car and best dress up.
There was a funny moment during the Santa Run when a certain Mercedes ceased to proceed, calling on Santa and his helpers for assistance to get back on the road. It must have been such a comical sight with Santa and a couple of elves working under the bonnet on the side of the road. Not a sight you would see every day and so it attracted its fair s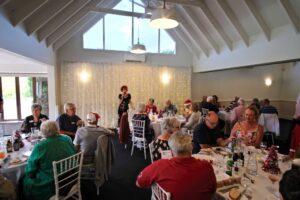 hare of toots. With some Christmas magic we were on our way and arrived on time to enjoy the Christmas cheer at the Gracehill Vineyard in Kumeu.
A big thanks to our members for supporting the club and the committee for working hard to make the club a success. Let's look forward to making 2021 a great club year!
Click here to view more photos on our Gallery page.
Chris Haliday