A picnic at the cement works n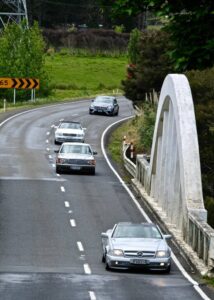 ear Warkworth gave Daryl and I an excuse to take a break from packing up the house so we were hoping for sunshine and more sunshine. The last time we had swum there the cobalt in my knees would have turned a startling blue due to the cold.
The Mahurangi Cement Works was opened in the 1880's and manufactured Portland cement. The cement was used in the Queen Street sewer and other Auckland construction projects and was shipped to Auckland from the wharf on the Mahurangi River.
Unfortunately the morning brought rain and a chilly wind. This obviously didn't stop members wanting to join an interesting drive followed by a picnic at a location not many had ventured to before with nine cars joining us at Pier Z.
Daryl had organised this run as a very casual meet, greet, drive and picnic so his directions were brief. Not surprisingly Mr Bray had to ask the obvious: "How far is quite a way?"
Heading up to Warkworth via SH16 is always a beautiful and interesting drive. Wineries, small towns, farms and magnificent sculptures were our entertainment.One or two of us spotted the ladies decorating their home with Christmas lights while wearing their elf hats.
The rain had stopped and the sun was out by the time we arrived at the Mahurangi Cement works. Immediately Daryl regretted not listening to my suggestion that he should bring his togs. Picnics were unpacked and devoured as we were all hungry.
The works were closed in 1929 and now the whole complex makes a picturesque ruin next to the cold clear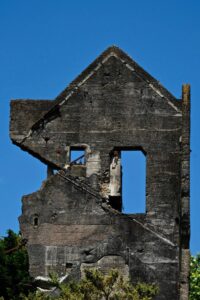 lake formed by the flooded quarry. Some brave kids were swimming but no Mercedes owners ventured into the cold lake.
I have read reports about apparitions moving amongst the stones, odd lights, and screams coming from deep within the ruins. I didn't share this on the day nor did I hear or see anything frightening. I would have been the first back in my car if I had.
Following our picnic lunch and general conversation we all headed back to our homes, leaving Greg ready to jump the fence with his camera to investigate the ruins.
You will need to ask him if any he came across any paranormal activity and if he did maybe a return night time run should be arranged.
Click here to view more photos on our Gallery page.
Janine Jeffery