MEANWHILE  BACK  IN  THE  JUNGLE
"Saturday 27 February, 4.30, Parnell Rose Gardens, no need to book, just turn up". That's what the notice from the indefatigable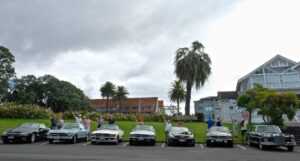 Barbara said and so Kath & I set off early so that we would not be last to arrive at the Rose Gardens. We arrived about 4.20 to find that the ever capable Greg had neatly parked 8 cars in a pristine row which would have pleased the M-B management back in Stuttgart. Nearly all the cars were roadsters except our 1982 230CE coupe and Ken William's 1966 250SE coupe. All the vehicles were beautifully prepared and a credit to any M-B club anywhere in the world.
Why were we there? Where were we going? About one hour's driving would takes us northwest to Piha beach; scene of "Piha Rescue" on TVNZ. The idea was to dine at the Piha Surf Club and then watch the sun set just after 8.00pm while standing on the famous beach.
Departure time was 1700 so we had half an hour to examine the gleaming cars, have a chat and a catch up and then be briefed on the orders of the evening.
Just a word on the cars: All cars were superb with two real standouts. New member Penny Webster presented her 1966 230SL Pagoda for the first time at a club event. This car had just won both the Masterclass  and the People's Choice Award at Ellerslie just a few days previously (see separate article elsewhere). I was immediately drawn to this car because of its colour and light, bright appearance. Most of the Benz cars we see in NZ are painted in reds, dark blues, black, silvers and various shades of white

and cream. Striking colours that emphasise gloss, dynamic appearance and maybe suitable to the feelings of their predominantly male owners. This car would have looked at home in Monet's Garden in France and maybe the great man would have enjoyed matching his pallet to the soft tones of the 230SL. The Pagoda has been painted in an official M-B colour known as Horizon Blue, this was not the original colour but the choice of this delicate shade has proved to be an absolute masterstroke. The minute you see the car you are drawn towards it and you realise what a  refined design the Pagoda is when compared to so many other cars in the M-B stable. The highly polished glasswork and the pale interior all added to the overall impression of something special.
Also catching the eye was Ken's big dark blue 250SE a complete contrast to the Pagoda. I have seen this car many times before but it looked especially good on this evening with all its windows wound down and sumptuous cream leather showing discretely above the doors. Hop in to it and you see the extensive interior woodwork has all been replaced with polished rosewood. Wood all across the dash and on the doors, fabulous! Lift the bonnet and a very workmanlike piece of Teutonic metal greets you, no attempt is made to gild the lilly by using chrome and bright metal, just one huge motor with plenty of space surrounding it. This is definitely a Gentleman's Car and Old World Mercedes-Benz personified.
Time to leave. It was decided that the cars would proceed in slow convoy towards Piha. An easy drive along the NW Motorway then through  Auckland suburbia before we started to climb towards Titirangi. The more we climbed the thicker the  bush became and it was easy to imagine that we might be in a tropical highland of Africa. Suddenly there is a jungle clearing and the ramshackle village of Titirangi is basking in late afternoon sunlight and bars, restaurants and gathering places are packed with people and the faint sound of jungle drums is everywhere. On we go past Lopdell House which is gradually being eaten up by the jungle but stalwartly remains looking totally out of place in this small corner of Auckland.
There is a long descent down to Piha, the road is narrow and ends on the beach just outside the Surf Club. We all troop in to find a friendly welcome, reasonable prices and a big table with umbrellas looking towards the sand. The food arrived in no set order with hungry punters claiming that whatever was in the waiter's hands belonged to them. Eventually everybody got something, some were pleased some were not so pleased but nobody cared, we were having a good time.
With the sun approaching the horizon our brave band moved to the beach and watched quietly.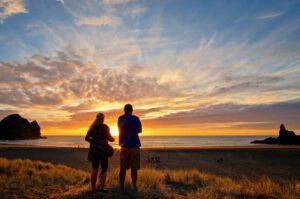 Time for the return journey. My 1982 car has headlights that put out the number of lumens normally associated with birthday cake candles. However no need to worry as a huge red full moon suddenly pushed its rays through the jungle, wonderful sight and completely un-expected – Good Old Barb had arranged this as a special treat.
Meanwhile back in the jungle the good citizens of Titirangi had switched on a galaxy of lights and she was all go in town tonight. In seconds we were back in the bush again and the radio announced that Jacinda was about to make a special announcement. Oh No. Yes another lockdown for lucky Aucklanders; what a way to end a perfect outing.
Click here to view more photos on our Gallery page.
David Winn.