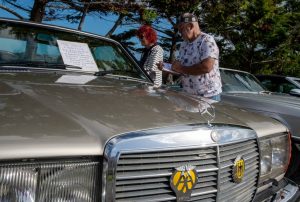 Our combined event at the North Shore Vintage Car Club kicked off with a Show & Shine at 9.30am.
When we arrived at 9ish, there were already at least 10 cars parked in a row (all reversed in neatly!) and all were looking very clean, polished and shiny.
The morning was great in terms of having the sun out to show our cars to their best advantage, although the early arrivals did have a short sprinkling of rain to contend with.
Before we knew it, the car park was filling up with some gleaming cars and we realised this was going to be a hotly contested event – as well it should be as there were trophies up for grabs which will be presented at our annual club prize giving in August.
There were 19 cars ready to be judged in total – most washed, cleaned, polished, waxed and buffed to a high quality. This may be a close-run thing!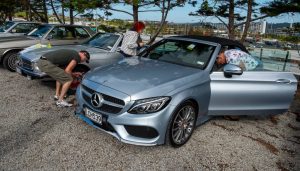 I do say "most" as there was one participant who decided that doing donuts on the field allocated to our Dust & Dirt competition (scheduled for later that morning) prior to being judged was much more fun. That may have resulted in them losing a few points for getting grass and dust everywhere…
The Show & Shine had 4 judges, each marking one of 4 areas – paint, interior, wheels, & glass for their shine & cleanliness. 20 points maximum were awarded per area, all adding up to a total score out of 80.
We had two classes:
Classic (pre-1990)
Modern (1990 onwards)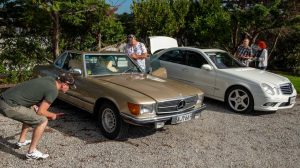 As I had volunteered to be one of the judges (what was I thinking???!!!) our team gathered, chose our categories, grabbed our judging sheets and started to examine each car. Some owners preferred to watch the judging team check out their rides, whereas others kept their distance (possibly too nervous to watch!). Nevertheless, there was a lot of interest from all those who attended.
We did have a few late arrivals but in the spirit of giving everyone a fair chance we judged them as well – deciding that if anyone arrived after we had finished judging the last car they will miss out.
It was obvious that everyone who had entered the Show N Shine had spent a fair few hours in the days before our event preparing their pride and joy and it showed in the quality of what was presented.
After judging and scoring each car (and the panel of judges discussing the merits of the contents of glove boxes and whether or not wheel rims should be cleaned on the inside) we had our top scored cars – and it was indeed a close-run competition with the winners of each category only being separated by 2 points!
Congratulations to Russell (Modern – 74 points) and Garry (Classic – 72 points) as our 2022 Show & Shine winners.
Some of us proceeded to follow the earlier example and submit our gleaming and pampered rides to the rigors of a gymkhana on a grassy and dusty field, but that's another story…
The complete list of results are listed below.
Mike Peters
Click here to view photos on our Gallery page.