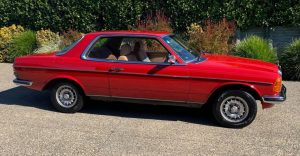 1982 Mercedes Benz W123 230CE
Specifications:
Mercedes Benz 230CE 123 series, offered by Mercedes between 1976 – 1986, with 29,858 units being produced.
The M102.980 engine has a 95.5mm (3.76in) bore and 80.25mm (3.16 in) stroke. The 2,299cc engine weighs 118kg (260lb) and uses K-Jetronic fuel injection. Power output is 100kw (134bhp).
Recently I met with Mercedes Benz Club – Auckland members, David and Kath Winn, who own this beautiful Signal Red 1982 Mercedes Benz 230CE.
They have been members of the Auckland Club since 2007. Their car was imported from the United Kingdom in June 1988. It came with a 2300cc petrol 4cyl engine and a 4 speed auto transmission.
I asked David how they came to own the 230CE and how long they have had it.
David said ….."It belonged to another club member, Ken Williams, and I saw it and fell in love with it. I offered to buy it on several occasions and finally won Ken over about 5 years ago. I had always admired the perfect lines of the two door CE and that colour combination was what convinced me I had to own it."
David drives it on a regular basis for short trips around town and on club outings. It was recently seen at the Gymkhana being put through its paces on the grass and it performed very well.
CE Coupes have become very popular collectible classics lately, and we are lucky to have several in the club.
Rod Philson