February 13th 2022 is the date of the Ellerslie Classic Car show. The show has been running for 50 years and this show will be the 51st. That's pretty impressive!
At the heart of the show is the Concours d'Elegance – the only independently judged event in New Zealand. Winning cars sometimes go offshore and compete well in events like the Pebble Beach Concours d'Elegance, an event that is almost invitation only. At the heart of the Ellerslie Concours competition is the Teams Shield, the winner of which becomes the host club for the following year.
Mercedes-Benz Club Auckland has been involved in Ellerslie for several decades, our first team entry was in 1978 and we were placed 3rd. We come 4th nearly every year through the '80's. After that we became smarter and only entered when we had a good chance. We won in 1999, came 2nd in 2004 and won again in 2005. Our next win came in 2018 with Garry's two matching 1957 300SL Roadsters. This is the point when I became involved with the Ellerslie Committee, joining Garry who had been involved since the last win in 2005. Garry was Chairman when I started. He has now moved on to be Head Judge.
Anyhow, back to Mercedes and the 2022 show. The Club will have a great Club display for this show. We will create a German beer garden on our Club Display area, also showing off the versatility of the marque with eight beautiful classic Mercedes. Yes, you did read that right – a beer garden! Yes beer! real beer! Ok, we will probably start with apple juice in the morning – well it looks the same, and you won't all be asleep by midday… We will switch to real beer later on in the day. Don't tell anyone or they'll all want some…. Hahaha. Lederhosen & Serving Wench outfits will certainly be welcomed and rewarded. I hope you also appreciate the 8 beautiful Mercedes we will be showing off. Built solid to cope with the drive home from a German beer garden.
The other exciting news is we are entering the Concours teams' competition again. This time we are entering 2 R107's. For the less Merc minded that is the SL series that began serious production 50 years ago. Hooray another reason to celebrate, where was that beer garden again? Anyway, we have arranged for two newish members to enter their babies – Andrew with a lovely 500SL from 1987 and Grant with his equally gorgeous 1988 300SL. I asked them to tell me about their journey to SL ownership and their tales are below.
We are planning a cleaning working bee the weekend before the show to clean the cars with cotton buds. Yes, that what I said. Judging will be checking the inside of the exhaust pipe with a white glove, among other things. It is all about the cleanliness. Daryl is coordinating that if you'd like to help.
Really looking forward to seeing you at the Ellerslie show on the Sunday or on the fun run on Saturday 12th February (entry link here: https://www.concours.org.nz/tours-delegance.html)
Barb
Grant Hunter's 1988 R107 300SL
I found this SL after searching over a couple of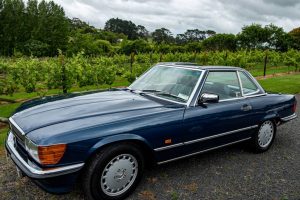 years for the most authentic car I could find. I hadn't been committed to any particular model or year but was pretty happy when this late model, low mileage 300SL turned up for sale in Hastings in 2017. I had always liked the straight six engine and the galvanised body protection that the SLs got after 1985. It's a four-speed auto with ABS. As far as I know there are only eleven 1986-1989 300SL examples in New Zealand.
FSU58 is in very good condition with just 35,000 original miles (56,000km) from two previous owners and myself. First registered in the south of England, the car was purchased in 2005 in the UK at 12,000 miles after the first lady owner sold it. Clearly a little-used car, it was bought by a Kiwi finance guy who had lived in the UK for some time but was returning to New Zealand later that year.
He landed it in New Zealand in 2006, registered it and left to work in Australia for a few years with registration subsequently lapsing. It was re-registered in 2010 after his return and he enjoyed it until its sale to me at 32,000 miles.
Apart from a couple of minor touch ups under my care, it has original Nautical Blue paint with grey leather interior and navy soft top in great condition. After it arrived back in Auckland, it got a thorough going over by Peter Gawn and his team, receiving sub-frame bushes, a replacement fuel divider and repairs to the vacuum system, clock, and original Becker radio cassette as well as complete servicing.
I've replaced under bonnet insulation, the battery tray and looked after a few other bits and pieces but it really has only been details – everything was in very good original condition right down to the unmarked alloys and first aid kit still in its shrink wrap. Of course, it does have some inevitable minor wear and tear.
My appreciation of the Mercedes of this era began with our first one back in 1990. It was a W123 200T that we got at 17,000 miles and kept for 12 years. What a car – despite its pauper grade engine! As with a lot of people my age, there has always been a huge attraction to the W113 Pagoda and R107 SLs so I'm very grateful for the opportunity to get my hands on such a good R107 survivor.
I really enjoy the driving experience even though it's nowhere near that of anything new, but I think that's the point. There is a nostalgic element of both design and experience from another time that is so unique with classic cars, and especially those with Mercedes DNA. And of course, that exhaust note out on the open road is so cool too!
Andrew Stone's 1987 R107 500SL
My wife and I have always loved Mercedes SL's.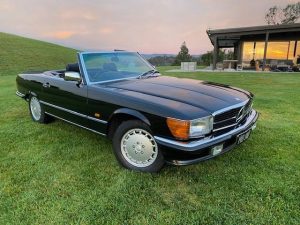 In the early 1990's we bought our first one. It was a R129 300SL in white. As I liked black cars, I had it repainted in black (not great for stone chips!). We owned it for a few years then sold it to invest in a business. Our next one was a 1971 NZ new Pagoda bought from an old guy in Palmerston North. It was very original including the crazed paint, but it drove superbly with real balance (like the R107 300SL). We owned it for over a decade then sold it as we weren't using it that much.
We then had a number SL's including two SL600's, one highly modified SL600 with 750BHP (sold back to the original owner after a few fun years), then a new SL63. We had always wanted an R107 but never had one so a few years back I started my search (watching each month as the prices kept rising).
I looked at a few in NZ, came close to buying a few from Australia (there are still some good value 560SL's that pop up) but I was never sure whether I was about to buy a disaster, so I kept walking away from what I saw.
Eventually I settled on the best one I could find in the spec I wanted. It was being sold by The SL Shop in the UK. It was a 1987 in black, with less than 40,000 miles on it. It had a full-service history (every year even if it had only travelled only 200 miles…) and came with some refurbishment and a 2-year warranty from The SL Shop. Previous owners had clearly looked after the car, and I had huge confidence in the way The SL Shop does business. Travel restrictions meant we couldn't travel to view it so we bought it sight unseen.
It landed in May of this year and compliance was brilliantly handled by Zlatko from VSS compliance (027 597 4090). It didn't need much but it sure was a complicated process, so it was great to have an expert to deal with the bureaucracy and get the right specialists working on the car. My wife found the MB 107 number plate was available so bought that for me. We finally got the car in July and have loved it ever since. We never bought it as a concours car, we just drive it to the pub, take our dogs out in it and visit friends. It feels so solid and well-constructed and we love it. The only thing we have replaced is the under-bonnet insulation (the original one crumbled). My only disappointment is the non-standard stereo so I'm on the hunt for a mid-80's Blaupunkt unit (any leads, please let me know).
We are building a luxury B&B in Matakana so may allow the car to be rented for the day to drivers who will cherish it like we do.
Our other Mercedes obsession is G-Wagons with my wife having owned a G55 and now has a 1999 NZ new G500 SWB with 60,000 km's on it (in black, naturally). They feel very similar in quality. They are two of Mercedes longest running models which is testament to their great design, durability, and solid feel.