We assembled at Drury truck stop, bought coffees at Makkers and then set off on our trip. There were 17 members, in 10 great Mercedes cars, all heading to Pirongia to see the latest projects in Lloyd Marx's garage. Harold's 190SL is being totally restored by expert Lloyd, in his professionally presented workshop. The other restoration ongoing as well is Gary's 300SL.  It is incredible that new parts are still available for this era of vehicles. This visit took a while, but finally we moved the men on to lunch at a café in Pirongia.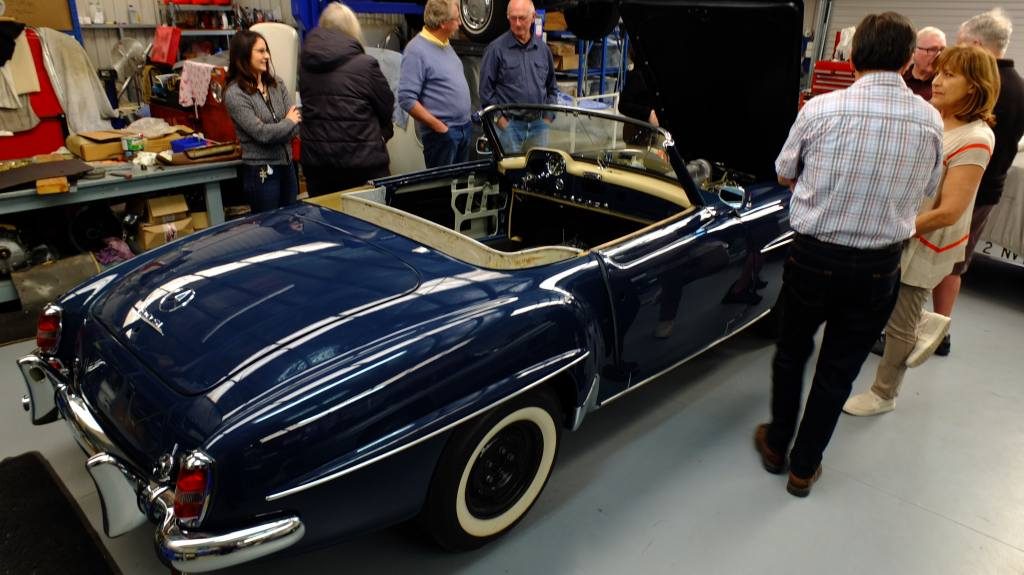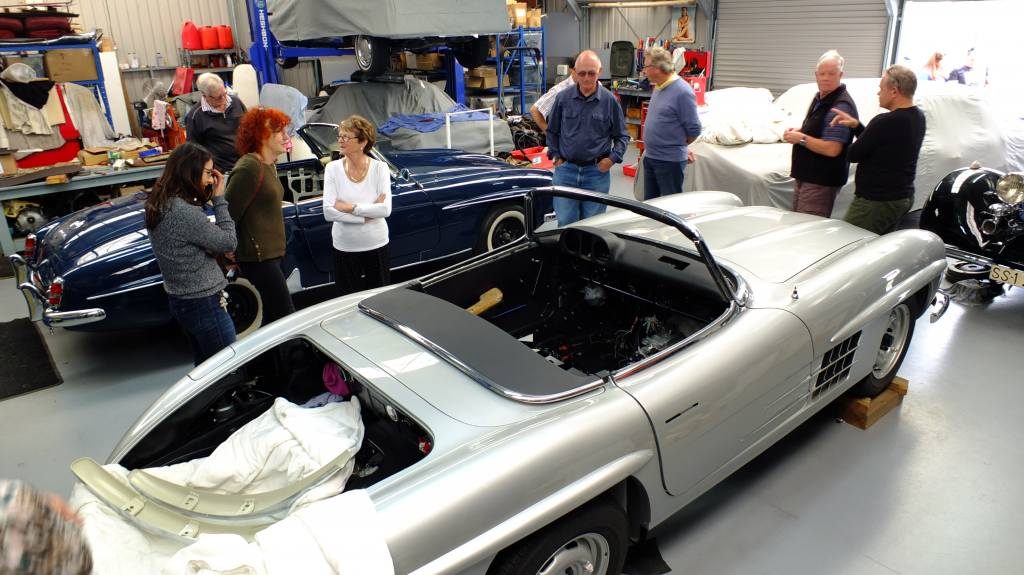 It was suggested we go to Te Kuiti to see the newly erected statue of Sir Colin 'Pinetree' Meads. This we did!   It was a fitting tribute, a powerful statue for a humble rugby man.
Driving down the less frequented roads is lovely.  The sun was shining, and the trees had a hopeful fresh green tinge, which heralded spring.
We would have swept up to the Chateau, (I mean we had the cars for it, didn't we?) only to find the hotel car park was full of day skiers and the front door driveway was 'exit' only.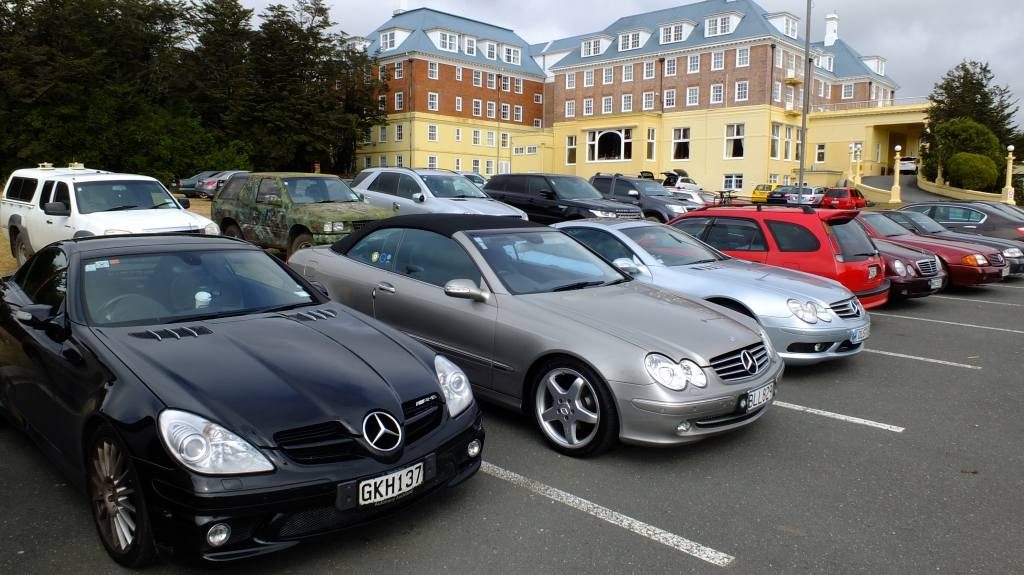 The Chateau is a fantastic building in the Georgian style, with an interior of high ceilings, spacious stairs, chandeliers and open fires. Constructed by Fletchers for £78,000 and opened in 1929, it is now a Category I heritage building of timeless elegance. The interior has been renovated a couple of times and so is still impressive.  It attracted fabulous people to fabulous parties in its early days, and of course we were all just carrying on that 'fabulous' tradition.  Our room was on the third floor, spacious, with a spectacular view of the mountain.
We joined the other Auckland Club members for drinks in the downstairs lounge.  We were amused when one helpful Auckland member decided our group needed an extra side table, which promptly disintegrated as he picked it up!  Laughing, we all quickly disassociated ourselves from that!  In the Ruapehu Room we enjoyed a very elegant dinner, tasty, and probably not of portion size to increase our girth, which is good!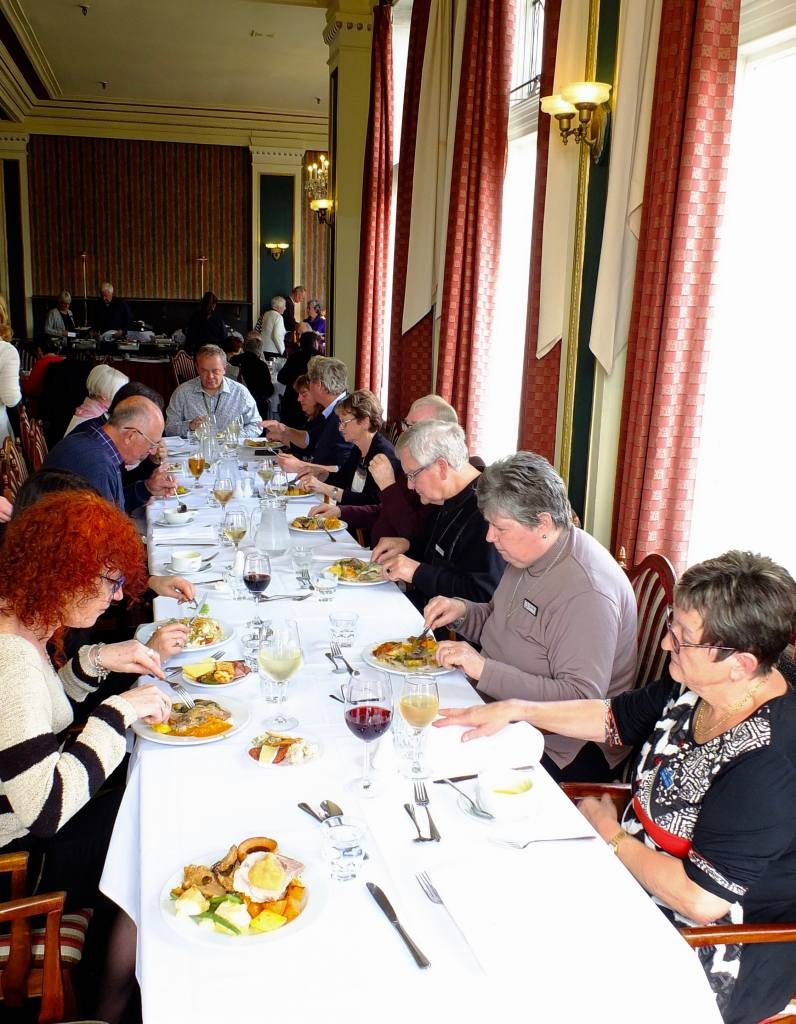 On Sunday we gathered in the lounge before lunch for a chat with members of the other clubs.  The lunch was delicious with plenty of food, unquestionably the Chateau chef had done us proud.  I don't have an exact number, but we filled the dining room's entire splendid space.
Frances Baxter, President of Manawatu Club, welcomed everyone to the lunch.  Kevin Burt, New Zealand Club President said a few words, and then bunches of daffodils were distributed to lots of lucky ladies.
There were nine Auckland members who stayed over on the Sunday night.  We yarned, ate at the casual dining area, and eventually went off to bed. There were lots of children staying in the hotel for a School Skiing Competition, and their happy laughter and footsteps echoed around the stairs and landings. (Probably not all guests would agree with that comment).
We drove off on Monday morning, with the mountain sulking behind mist and drizzle.
A great weekend.  Thanks to Daryl and Janine for organizing the trip down, and to the Manawatu Club for organizing the lunch, which they have done annually since 1988!  A fine club tradition, if ever there was one!
Marianne Hobson
Click here to view more photos on our Gallery page.