A fine August night saw 32 of us turning up to Sal Rose restaurant where we had booked the upstairs room. A great space with room for us all to mingle and examine the numbered photo's displayed on a large black board.
There were voting papers where you had to match up the first cars with their owners – a lot harder than you might think! Rachel Bogue displayed great journalistic skills extracting telling information out of various people and saw her get the highest correct number 8 out of 16, matched by Bill Bray who wouldn't give away his winning formula.
Between entree and the main course we cleared the board getting everyone to identify their first car and to tell us about it. Some hilarious stories were told, I will never look at Harald unlocking his car in quite the same way!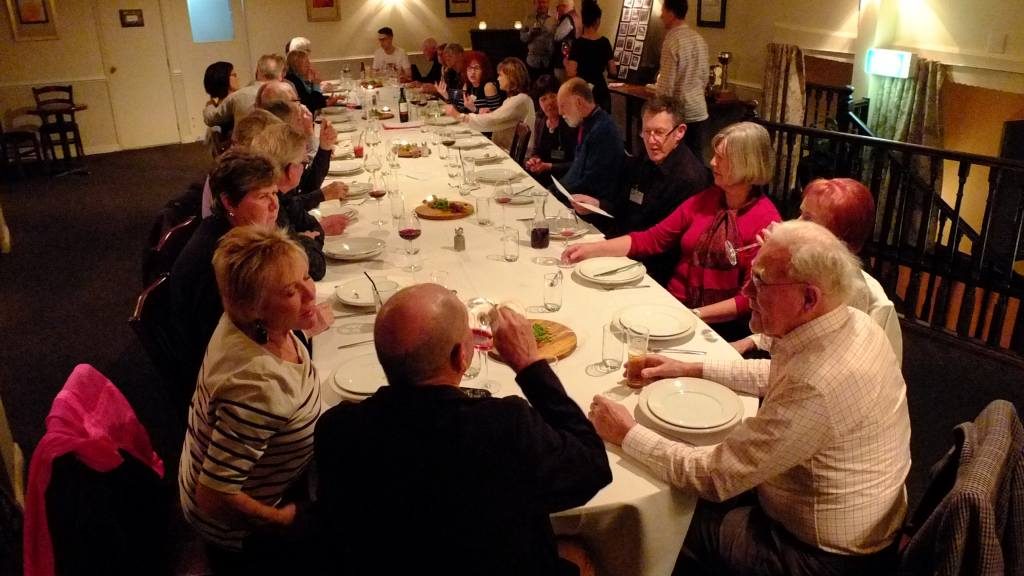 After the main course was devoured, yummy food, we got to the main point of the evening. This year we had three new trophies which had been donated by the Deckers, the Lokes and the Jefferys – many thanks! This meant we awarded 14 trophies.
 Trials Trophy – Wendy Page for the Top Down Tour (Peter R Braun Trophy)
 Grass Gymkhana Winner – Classic Car – Ken Williams (Linda Johnson Trophy)
 Ladies Grass Gymkhana Trophy – Janine Jeffery (Jeffery Trophy)
 Grass Gymkhana – Modern Car – Daryl Jeffery (Decker Trophy)
 Concours d'Elegance – Ken Williams – Brit & Euro Pre 1980 People Choice (Eric Brook Trophy)
 Best Concourse Car – Teena Bray – Brit & Euro Post 1979 People's Choice (Lloyd Marx Tray)
 Best Article – Garry Boyce for the Inca Rally Blog (Fleming Tray)
 Best Event Report – Annabel Moodie for Lili & the Intermarque (Lokes Trophy)
 Hard Luck Piston – Brian Hood for car incidents at events, too many to count (Ken Williams Trophy)
 Clubman Family Member- Barbara Lokes awarded on Points (Queenin Trophy)
 Clubman Trophy – Greg Lokes awarded on Points (AD Organ Memorial Clubman Trophy)
 Committee Discretionary Award – Barbara Lokes for being a busy little beaver keeping everything running smoothly (Vankan Cup)
 Committee Merit Award – Colin Carran – Making a great location affordable for our 40th Anniversary event (English Tray)
 Millennium Trophy, Presidents Award – Greg Lokes for his hard work and enthusiasm (Mr & Mrs H Vankan Cup)
Then we celebrated with dessert before people drifted off home. A very enjoyable evening, even if I do say so myself!
Barbara Lokes
Click here to view more photos on our Gallery page.