The tale:
After a period of seven years living between Dunedin and Auckland, my partner Cally and I decided it was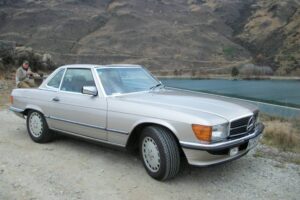 time to drive from Dunedin to Auckland rather than fly, which was our normal commute. We would take two weeks over the trip, and stay in motels and with friends along the way, and rather than follow SH1 we would cross the island and motor up the West Coast, cross at Picton and then dodge SH1 as much as possible to get to Auckland.
Our chosen car; a 1986 R107 300SL which we bought seven or eight years ago.
After a health check and a new set of plugs (both for the car), and a car fully laden, we set off on 17thJune on a beautiful still Dunedin day.
Day one: Took us across the Maniatoto, through Middlemarch, Ranfurly, Clyde, and on to Wanaka, where it was just starting to rain.
Day two: Dawned to reveal a snow-covered car, and so we decided to hunker down and wait for a better driving day.
Day three: Clear blue sky, snow covered mountains, and a fantastic drive to Fox Glacier where we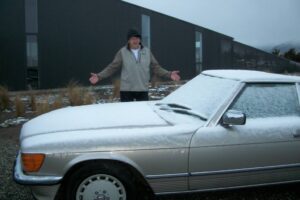 checked into our motel.
Day four: Walked around Lake Matheson, renowned for its relections of the Fox Glacier and Aoraki Mt Cook and Mt Sefton behind. Don't miss this walk if you are at Fox; it's an absolute stunner. We also drove the 50km return trip to Franz Josef, where we walked as close to the glacier as DOC allowed, (both Cally and I remember being able to walk on the Glacier as kids) and visited kiwi and tuatara at the Wildlife Centre. Even though we were planning to drive through Franz Josef on day 5, I am so pleased that we drove the twisty hilly road between the glaciers three times in total. The car loved it too! We counted the oncoming traffic: One car every 3kms, so 8 or 9 vehicles each way.
Day five: Setting out from Fox, straight through Franz Josef and on to Hokitika where we stayed in the old Hokitika Fire Station, now a swept up accommodation. 880kms covered so far. Fantastic sunset view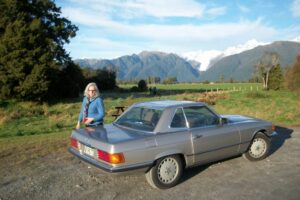 ed from the beach covered in driftwood sculptures.
Day six: A stay put day in Hokitika with clear blue sky, so we walked the 11km circuit around the town.
Day seven: Hokitika to Westport with stops at Punakaiki Rocks and blowholes and Shanty Town. There are very few petrol stations on this stretch, and none at all on the 100km stretch between Greymouth and Hokitika. As Cally's father was born in Westport, some time was spent finding the family home and speculating on which pubs he drank in as a young Westcoaster..
Day eight: A day trip to Karamea and back to Westport, through Granity where the best pies in New Zealand are made and sold at a little roadside caravan. Karamea is the jumping off spot for the Heaphy Track.
Day nine: Leaving the sunny and warm West Coast. Westport to Picton. A rainy trip, and heavy rain in Picton, but a lovely apartment overlooking the harbour.
Day ten: Picton to Wellington on the Interislander. Fortunately only 2m swells as the car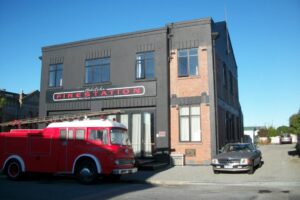 was in the open area at the stern of the ship
Days eleven and twelve: Two days with friends and rellies, enjoying the crowds in Cuba St enjoying their post lockdown freedom.
Day thirteen: On the road again to Napier, via the Southward Car Museum (of course), then turning right at Levin, through Woodville and on to Napier.
Day fourteen: Napier to Taupo late in the afternoon after a look around Napier and the now trendy Port Ahiriri.
Day fifteen: Taupo to Auckland via the back road to Mangakino which eventually pops out at Kihikihi, through TeAwamutu, and up the western road to eventually hit SH1 at Rangiriri….bedlam. Crazy drivers, too many trucks, but our home in Auckland now quite close. We had pretty much driven the whole way, except for the piece from Wellington to Levin and Blenheim to Picton on secondary roads, with very little traffic and great surfaces.
One of the biggest criticisms of the 107 body is of its rather tight cabin space. I have to admit that as a rather creaky 74 yr old, that getting in and out is not as easy as getting in and out of our ML500 for instance, but once in the feeling is glove-like. Tons of headroom, the woven fabric seats have just the right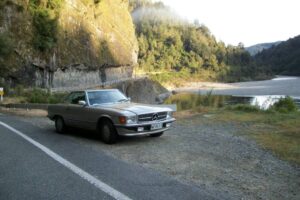 amount of squish and firm, the side bolsters are supportive, and legs can be nicely stretched out. Cally admitted that she had not been looking forward to a 2,500km journey in a 34 yr old car, but she has completely changed her thinking. She was able to stretch legs out fully and found the seats really comfortable and supportive. These cars were, after all, intended to be used as long range cruisers. I have to say that we have not managed to master the heater controls. No matter what we did the heater pumped hot air. Even the handbook didn't explain things well. Winding down windows didn't help as this only sucked in exhaust fumes. The car has only done 90,000kms from new (NZ new) under 3,000kms a year over its life, so we did expect a few problems to surface on such a long journey, but there were none. The engine started first pop every time, and was very eager to rev beyond 5000rpm when we had to kick down to pass or on the lovely windy hill sections we encountered in the South Island. Petrol consumption was just under 10 litres per 100km and I topped up the oil with 500 mls in Napier. I suspect that due to lack of use over the years that the valve stem seals have hardened as if the car has not been started for a week or so, a slightly embarrassing cloud of smoke is blown out on start up. This did not occur on the trip however.
One of the astounding attributes of the R107 is its boot and back seat luggage capability. Cally saw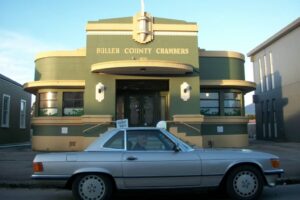 this trip as an opportunity to relocate stuff that we would normally not be able to take on the aeroplane. She packed in a stereo system, a coffee machine, a mini fridge, an ornate mirror, a 4wd tent, several rocks collected along the way as well as our personal luggage. I have driven many cars long distances over the last sixty years, many of which I was barely able to hobble away from after a long trip. Not so with this 300SL. No stiffness, sore back or limbs. What a car. What a drive.
This car is the epitome of a usable classic. No wonder they made this model for 18 years. I could quite happily jump in it and drive back to Dunedin tomorrow, but it probably deserves some r and r.
Lloyd Williams and Cally McWha, Auckland/Dunedin