As I sit here writing, and now reading, my first President's report I reflect back on th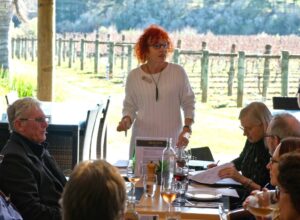 e last 12 months. It has certainly been a challenging time for everyone, personally, professionally and socially.
The club were lucky to manage to hold 12 events since the last AGM, 2 with Covid19 lockdowns following within a few hours. Because of Covid19 we actually had 2 top down tours and they have proved to still be one of our greatest events. The latest saw 52 people attend. Other events were Ham for a Hamburger, a cruise down to Hamilton for lunch and to view a Bugatti Atlantic being restored, a Scavenger hunt, Kaiaua fish & Chip run, Piha Sunset run, and Warkworth cement works run. We also had our annual Grass Gymkhana, always a great day and 2 car shows. The first of which, Ellerslie Classic Car Show, saw a beautiful Pagoda winning the Masters Class and the People's Choice award. Non driving events were the prize giving dinner and the Christmas lunch. I hope you all enjoyed these events as much as I did and if anyone has any ideas, secret places or would like to organise an event, please, please volunteer. You don't have to be on the committee to help.
National Club events were more of a mixed bag with the Chateau run & lunch cancelled. The National Rally went ahead though, as did the AGM in Rotorua. The National Club committee is still being run by Auckland and work is underway to simplify the commitment so it can be more easily managed by the smaller regional clubs.
Financially the club is in great shape. We are looking to upgrade some of our equipment and will subsidise more events in future drawing on some of those accumulated funds.
I would to take the opportunity to give a big thanks to the Auckland committee for their commitment and for making the meetings fun and productive. Special thanks to Daryl – on paper he is the Vice President but in reality he is more like my co- President. Also heartfelt thanks to Garry Boyce, stepping off the committee after a great many years. Garry is an inspiration of automotive passion, when you listen to him tell of an adventure (and there have been plenty) or explain how something works (or doesn't) the enthusiasm comes to the fore and the knowledge imparted stays with you. Garry, your presence will be missed but I know we can always call on you if we need.
Finishing up with looking forward, we have some great events planned for this year. Hopefully something there to interest everyone so come along, join us and have fun.
Barbara Lokes