It all started with a call from Bill Bray. "Do I have a deal for you" got me excited and even got my heart racing when I found out I would get Janine's beloved black car onto the track, again. The Lotus club was organising a driver training day at the Pukekohe racetrack and Bill had arranged for Mercedes-Benz club members to register.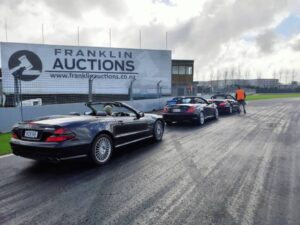 After a long wait the day dawned. Unfortunately, it was wet and stormy, but that did not stop six excited club members from turning up. Although standing in the rain there were a few words like "hope for a delay". By the time the driver briefing started the rain had stopped and the track was starting to dry. The morning consisted of 4 training sections on the track where we were taught how to drive the track and how to test the limits of your car. I loved power sliding the SLK, as she does it so easily and predictably. It was great that the Merc team was all in the same group so we could play together.
In the afternoon we were split into 4 groups, based on how fast you wanted to push it on the track. We then rotated the groups on the track in 15-minute session. Giving us time to put the morning's lessons into practice. Luan set the pace for us and really got his Alfa around the track in short order. While Ken was fast in a straight line, he got a hurry up in the corners from his son Patrick. Joanne put her SL through its paces.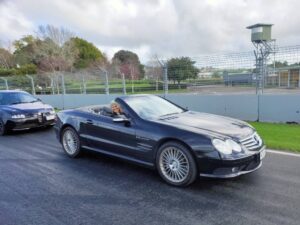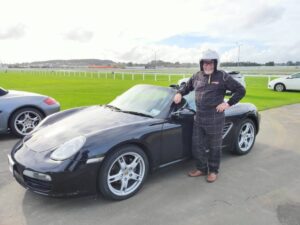 Thanks to Bill for getting us in on the day. We had great fun and even learned something. Roll on next year.
Daryl Jeffery