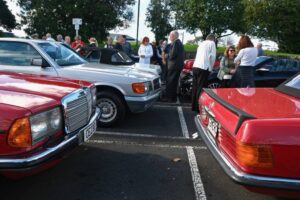 The day dawned fine, if a little Autumn chill.  This was soon forgotten as we headed to our gathering point – in our case Macca's in Manukau. A superb collection of cars and good to see some removing those soft-tops.Coffees and a chat while we waited for the rest of the cars to arrive from points north and west of the City. There were some lovely cars there – our day almost ruined when Ken William told me what he paid for that gorgeous red CLK350. What a bargain. The silly thing is that he bought it from a chap living in his quite short street. And he didn't know it was there!! Great to see also, the number of new members who popped out of the woodwork for the day. They added colour, friendship and some great cars to the occasion.
Our Club Captain had the sniffles and I suspect that was why he was not forthcoming with any directions, so we relied on the modern GPS system to navigate to the event. The motorway from Manukau to Papakura would have looked quite a picture to the sharp observer travelling in the opposite direction. They could have rightly claimed Merc's for Africa. There was one of our number seen crossing a major intersection (Gt South Rd) with nothing showing other than a red light (matched the car, at least) as we headed via Opaheke Rd to Hunua Rd and up through the gorge. An eagle eye would have spotted Stuart Howard in one of his big Mercedes trucks heading towards us before we wound our way up the hill to John Hill Road, wher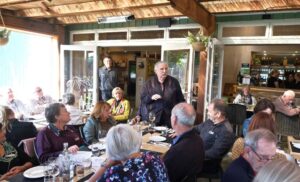 e we enjoyed refreshments and a convivial chat at the ever popular John Hill Estate winery and function centre before Mrs President called the gathering to order and garnered our undivided attention for the AGM.
The existing Committee was largely returned, the exception being a new Treasurer being installed in his own absence! I sincerelyhoped that he was aware of his elevation to the heady heights of financial control. Good bloke for offering, I thought. A sad omission from the Committee was Garry Boyce who after God knows how many years has decided to throw in the towel. Garry has input into the Committee in so many ways and it would be difficult to explain to a new member the huge influence, knowledge and work that Garry has put into his involvement, including the very significant financial benefits resulting from his long time chairmanship and membership of the Intermarque Concourse Committee.
The lunch was tasty and ample. Just when one could claim to be replete, the pizzas started arriving and seemed never to stop. Great mix of flavours too. Just as well there was ample liquid refreshment to wash it all down. Some even partook of an oversized desert!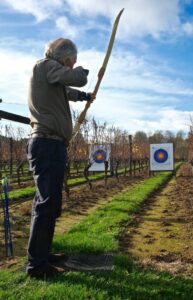 Started missing a few faces, only to find they were strolling the gardens and the vines. Some were even testing theirarm – and aim – with bow and arrow.  Very casual, charming outdoor atmosphere helped enormously by the lovely weather and of course those attending, what could really only be described as a huge success. Congratulations to all involved.
Click here to view more photos on our Gallery page.
Bill Bray