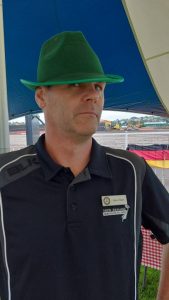 As I reflect on my first year as Club President, it strikes me that over time the club has evolved into an entity where our members enjoy driving, displaying and competing with their cars and having fun socialising with each other, as opposed to a membership who prefers more technical and mechanical workshops.
I put this down to the complexity of our more modern cars and the specialists required to restore our older cars. And that maybe we prefer driving our cars and socialising with others to fixing them (largely on our own in a cold dark garage!).
Our committee is guided by our membership and their event preferences so, please, if you have any ideas as to what type of events you would like us to organise, please let us know.
Sadly, this year has seen the passing of Brian Hood, a club member of some 40 years and an active committee member for most of those. I'm sure most of you will have had some interaction with Brian and his wife, Lyn, over the years and, from my point of view committee meetings have not been the same without him. Without Brian's initial encouragement to join the committee, I wouldn't be standing here today.
I'm pretty sure Brian wouldn't want us to remember him with a potentially awkward silence so please join me in a round of applause to celebrate him.
As a committee, our main efforts centre around maintaining an active membership and ensuring there is at least one event for our members to participate in each month.
Over the past 12 months we have organised or attended 18 events as well as 3 national events.
We kicked off July last year with a very well attended visit to Warbirds at Ardmore, followed up with a very wet track cruise at Hampton Downs (where some of our members discovered the boy or girl racer in them!).
August saw three events – our annual prize giving, a Dawn Breaker at Bastion point (where some members subjected us to their sleep attire!) and a club attendance at our first Meguiar's Coffee & Cars at Mount Smart Stadium (which was followed by a Presidents Run out to Clevedon).
September was our National Club's 50th anniversary bash in Taupo, where the highlight for many was the gate-crashing of the much younger Avida Car Tour participants of our own gala night. Apparently because we were having much more fun than them (and they did bring copious quantities of wine with them which was graciously accepted!)
Our Economy Run to Hamilton Gardens was our next event in October (personally, something I just can't get my head around but it was great fun!).
In November we hosted a Driver Skills Event in the North Harbour Stadium car park which was an immense success, despite (or maybe because of) the fact that we basically made the competitions and rules up as we went along!
Little did we know what the weather had in store for us over the rest of the Summer…
We also had a Fun Run out West in the same month, dodging showers, which included a visit to a lookout over Muriwai Beach which was stunning.
Our Annual Christmas Function was held at the Brigham in December where we had an evening meal as opposed to a lunch and it was well attended.
And then the rain really set in…
A week before the biblical rains over Auckland Anniversary Weekend, we had a run to Sculptureum in Matakana – where some people managed to get caught in a downpour while they were exploring the amazing Sculpture Garden (which turned out to be a precursor to what was coming!).
We still managed our second ever Ladies Run in February where there were some last-minute route and destination changes caused by road and access closures. I'm sure our third Ladies Run will be much easier to plan!
The road closures in and around Auckland certainly curtailed some of our planned runs but we still managed to be active with a good club turnout to the Brit & Euro Car Show in Pakuranga and a Caffeine and Gasoline at Hampton Downs in March, where we connected with the American Muscle Car Group for lunch at a nearby pub. Well, those of you who could get their car started made it to the pub…
In April the Ellerslie Intermarque Concours was held after being postponed from February and we entered two R107 Mercedes SL's in the Teams Event. Or as I like to call it: The Ellerslie Inter-Cours.
That commitment saw a good number of members converge on Garry Boyce's garage the week prior to prepare both cars for the event. Most of us hadn't had exposure to the level of detail needed to prepare cars for judging and spent much more time than really is healthy cleaning and polishing areas of cars we didn't know existed.
Our club display on the day at Ellerslie had a German Beerfest theme, with some of our club members fully embracing things by dressing up in traditional German garb, including lederhosen!
I personally think we were robbed of a top three place in the club competition, but I may be biased…
Which brings us to last month and a Gymkhana for the ages. Anyone who was there won't forget the swamp that was waiting for us underneath the long, lush grass. Someone coined the phrase "Bogkhana" and it stuck – just like the cars that needed to be towed out of the mud, some of them more than once!
It is easy to overlook the fact we had a Show n Shine in the morning before the Bogkhana began.
In May we also attended a second Meguiar's Coffee & Cars at Mount Smart Stadium where we were the Club of The Month and given our own preferential parking in front of the café there.
And we end the year today with our AGM here at John Hill.
Which is a pretty full year!
In closing, I'd like to thank our club committee for their enthusiasm and time in helping to organise these events over the last 12 months – it's a real pleasure working with like-minded people who always have the best interests of our members at heart.
And, most importantly, thank you to our members – because without you and your support we simply wouldn't have a club!
Why?
Because Life's Too Short To Drive Boring Cars!
Mike Peters