McDonalds carpark at Manukau City was our meet & greet spot at 11am before heading off to our destination for the club AGM, being John Hill Estate out Hunua way. The weather was a bit dodgy looking but luckily stayed mostly fine, with just a few spits here and there. I think our cars knew the route off by heart this time (third time at John Hill now?), as nobody took a wrong turn or went for their own special tiki tour, and everyone arrived mostly together. Every table was filled by our members so there must have been about fifty people all-up. A good turn-out once again and it was good to see the regular familiar faces and some new members too.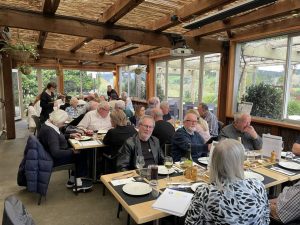 After being seated, we all had our favourite tipples delivered to the tables and had some friendly banter. Mike kicked proceedings off by welcoming every body and giving his Presidents Report for the past year's events and things to come later on. This was followed by Rod giving his Treasurer's Report, which produced some rigorous questioning from members in the gallery!
Next on the agenda was the Election of Officers for the Club Committee, with some being re-elected, some taking on new roles and some standing down from duties. We also had some new officers elected from our membership and it is great to have them join the committee team and bring some fresh ideas with them.
With the AGM proceedings done and dusted, it was time for lunch to be served. John Hill put on another fabulous feast for us all and we all wined and dined to our h
eart's contentment, or should I say our tummies contentment!
Unfortunately, the John Hill staff member who was to host the archery event was away sick with Covid, so we were unable to do that, but never the less, we all had a most enjoyable AGM and social get together.
Cheers everyone.
Trevor Ninness
Click here to view photos on our Gallery page.