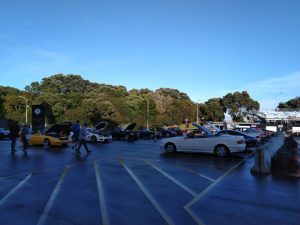 The Mercedes Club was "Club of the month" at Meguiars Coffee & Cars at Mt Smart stadium. This meant we had the prime spot to display our cars and promote the club. In return some of us assisted with marshalling and car parking.
The downside is that we had to be on site at Mt Smart by 7.30am. Arriving at the Greenlane McDonalds at 7am it was still dark! Fortunately, as dawn broke, we discovered there were other Mercedes in the car park, even if the owners were skulking inside McDonalds to keep warm. We formed up to drive down Great South Road to Mt Smart Stadium and park our cars for display. Having set up by 7.30 we were at the head of the coffee queue.
Donning high-viz some of the team headed out to assist on the gates and to direct traffic, while everyone else seemed to disappear to check out the other cars. It was pointed out that being on the gate meant that you get to see every car as it comes into the grounds! A few Mercedes cars were directed to join our display over the morning and we may have found some new members.
It was a great morning with clear skies. After the early start there wasn'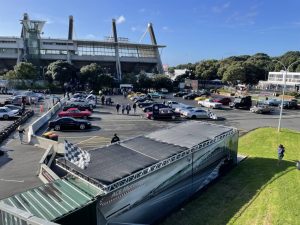 t much enthusiasm for a run to lunch, and maybe there were a few people (and one dog) that headed home for an afternoon nap.
Philippa West
Click here to view photos on our Gallery page.