It is not every day that a new Mercedes-Benz Dealership opens in New Zealand, let alone Auckland. So it was a big deal when Jeremy Spicer offered to host a club event at the newly opened dealership.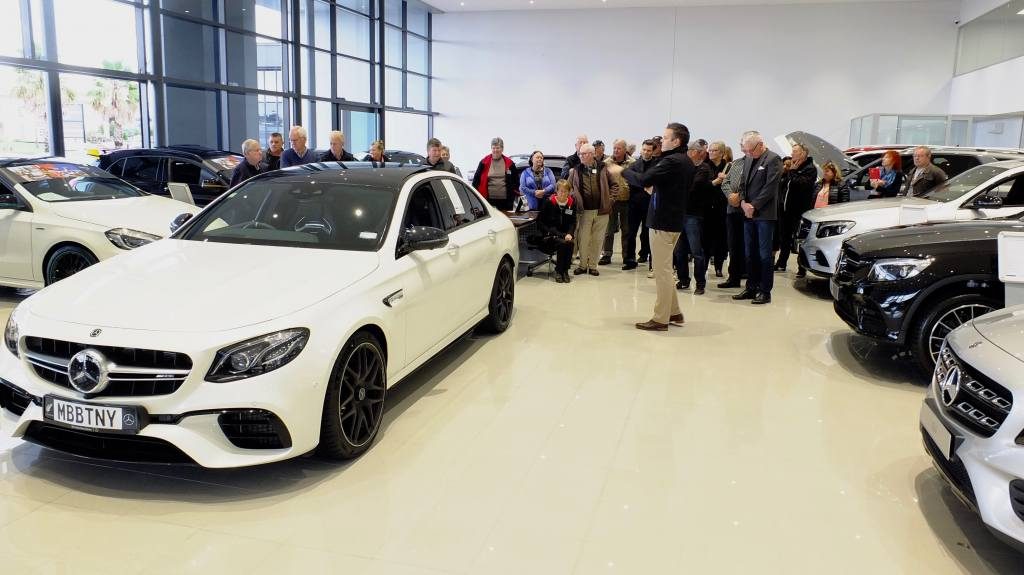 For those who don't know Jeremy, he is a Mercedes enthusiast (with an R107 280 SL as his Sunday drive), Club member and Dealer Principal at Mercedes-Benz Botany. Jeremy has been involved in car sales for many years, his first job in the industry was washing cars and selling the odd one at his cousins dealership in Wellington. His first involvement in new car sales was selling Mercedes-Benz vehicles in Dunedin. Previous to his current position Jeremy was Dealer Principal at Manukau Nissan. You could say he now has his dream job.
And so it was that forty-odd members turned up on a showery winters morning in July to have a guided tour of a brand spanking new Mercedes-Benz dealership. Jeremy welcomed us all and then gave us a brief rundown of the dealership. Sitting on 5000sqm of land it is the biggest MB facility in New Zealand. The showroom has room for 20 new vehicles and the yard has space for 40 pre-owned vehicles. Two years of research went into planning the best site for the dealership, "The Best or Nothing" as they say. They chose this site because Botany is the fastest growing area in the country and Ti Rakau Drive is one of the busiest roads with over 40,000 vehicles using it daily. The facility also boasts a 12 bay workshop that could easily be called a surgery, it is so glossy and clean.
Jeremy then proceeded to give us a rundown, not a sales pitch, of some of the new vehicles occupying the showroom. A veritable alphabet soup of models: A, B, C, E and S, plus GLA, GLC, GLE and GLS. Not to mention AMG. A special feature of the day was a three car display showing three generations of Mercedes-Benz coupes: an '82 W123 230E, a '93 W124 E320 and a 2017 W213 E200. The latter being capable of changing lanes by itself, if you so wish, simply by using the indicator.
Next up Jeremy took us out to the immaculate workshop where several of the workshop technicians had kindly come in on their day off. They showed the technically minded of us the latest in Mercedes-Benz computer diagnostics. The term 'grease monkey' was not applicable here.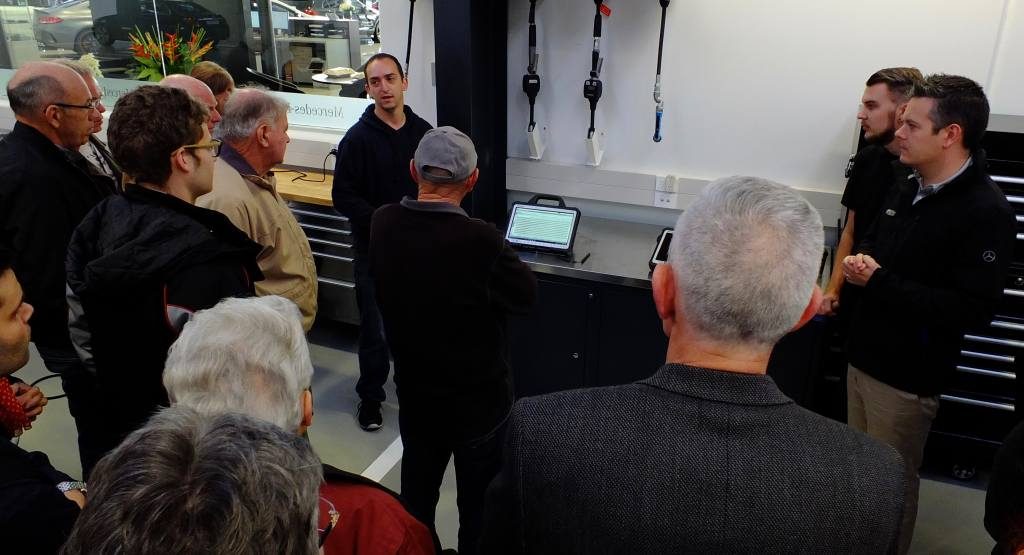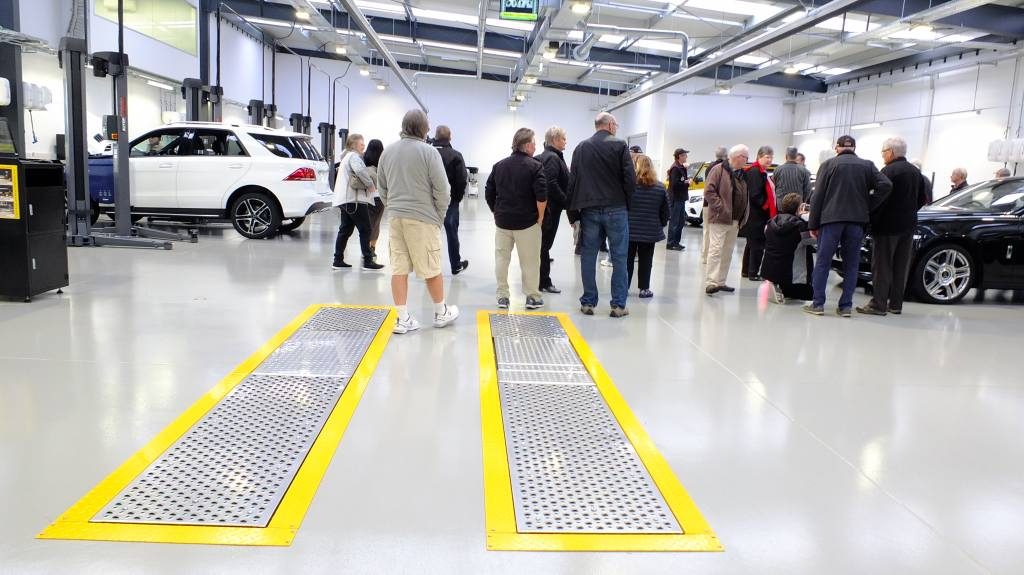 After all this talking and listening it was time for morning tea in the lounge. Club sandwiches, savouries and cakes soon had the gathering satiated and the receptionist/barista was rushed off her feet pumping out flat whites, lattes and hot chocolates. What a treat!
Soon it was time to take our leave and head off on the second part of the day, a half hour drive to Ciao Bella cafe for lunch. After negotiating the traffic clogging Ti Rakau Drive the 24 members who booked for lunch soon hit some great driving roads through Whitford and Brookby, including the winding 'up and over' that is West Rd. A right turn onto Papakura-Clevedon Rd and we were soon at our lunch destination. It was easy to see who had taken advantage of the free morning tea when the lunches were brought out, some of them were on the small side! We had the whole conservatory to ourselves where we enjoyed lovely food and great company. Ciao Bella also boasts one of the most colourful toilets you'll ever see.
Thank you Jeremy and your team for hosting such a great day at Mercedes-Benz Botany. Hopefully some of us will be back one day to make use of your facilities and services. Thank you also to club members Ken Williams and Damian Kearns for providing cars for the special display.
All members please check out the club's website for details of our next event in August, 'Pizza, Pasta and Prize Giving'. See you there.
Greg Lokes
Click here to view more photos on our Gallery page.