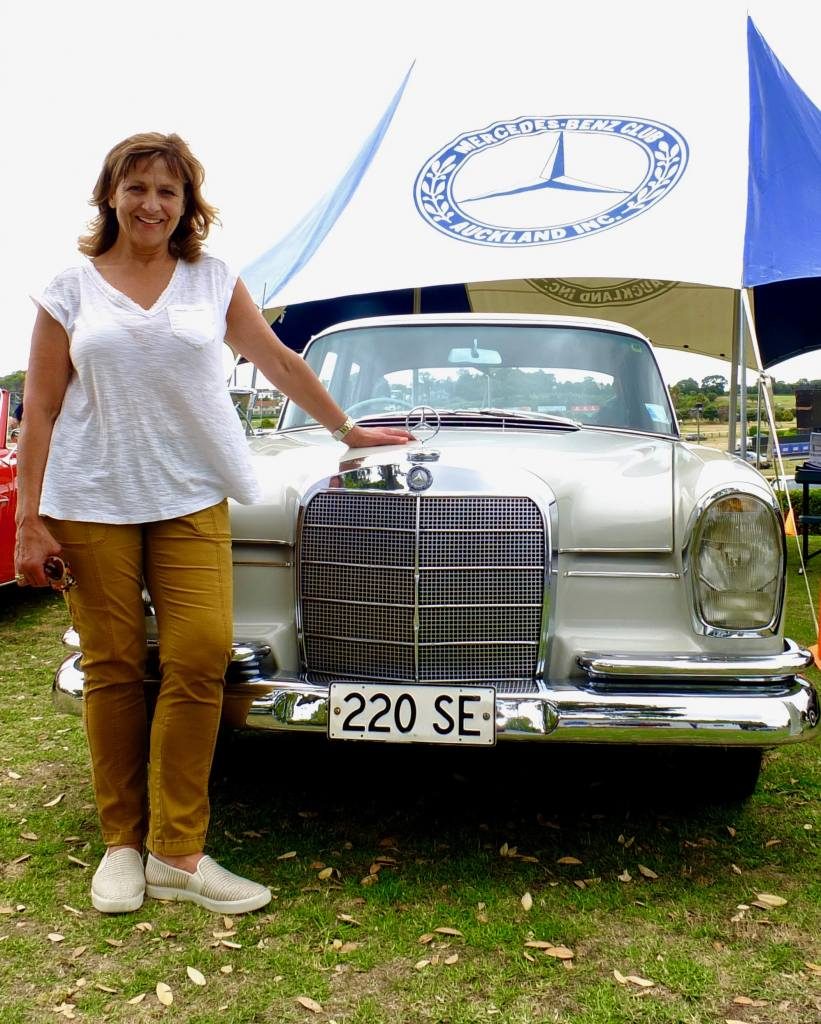 Greg Lokes called to ask if Lili 220SE (Miss 1963) could be part of the display for the Mercedes Club.
What a thrill, she doesn't get out much, so a great opportunity for the old girl to get tarted up for a day!
Initially I was very nervous about presenting Lili, as having many imperfections I wasn't sure if she was up to the mark, however, Greg assured me it was her 'original beauty' that was ALL that mattered.
After washing the car and polishing of the chrome I lifted the bonnet to assess conditions…. quelle horreur, a good water blast was in need, but alas too late for that! My good friend Carl sprayed the engine with Yuk Off and that was a good as it got in that department.
My slogan for the day became… whatever you do don't 'Lift the Lid'!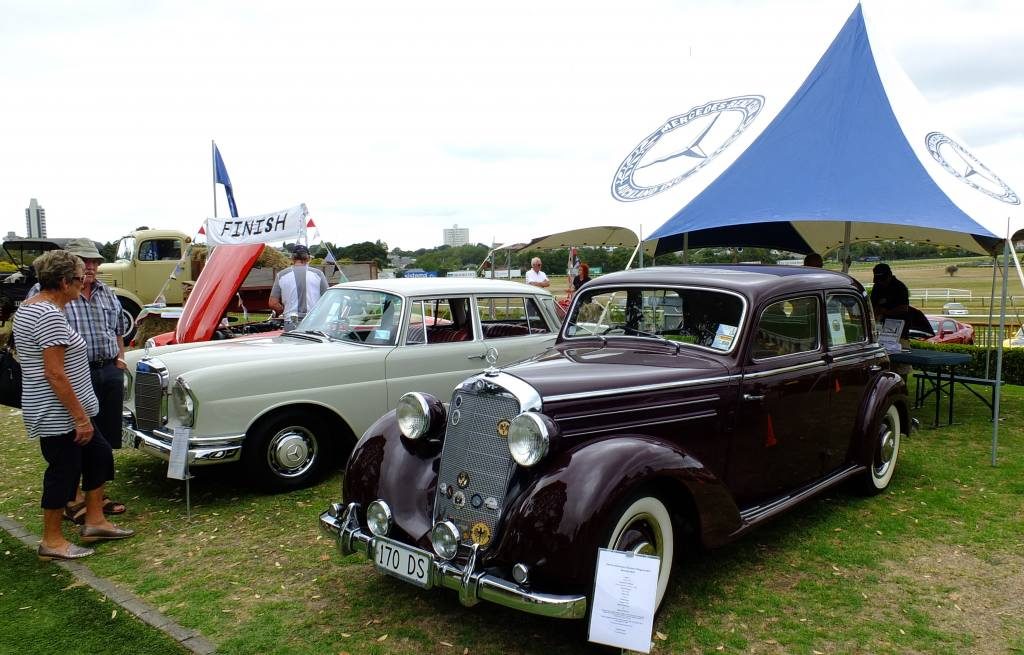 Lili and I arrived at Ellerslie around 9am and took our place in line with the four other stunning beauties parked up at the Mercedes site. On Lili's far right was Stuart Howard's masculine 1957 Mercedes-Benz L312 truck, also in original and unrestored condition. Colin Carran's gorgeous red 1960 190SL was snuggled up next to Lili on her immediate right, while Harindra Pilapitiya's stately maroon 1953 170DS flirted with Lili on her left.  Wayne Marmont's immaculate dark grey 1964 230SL was next in the line-up.  And last, but certainly not least, was Lloyd Marx's elegant silver 1971 280SE 3.5 coupe.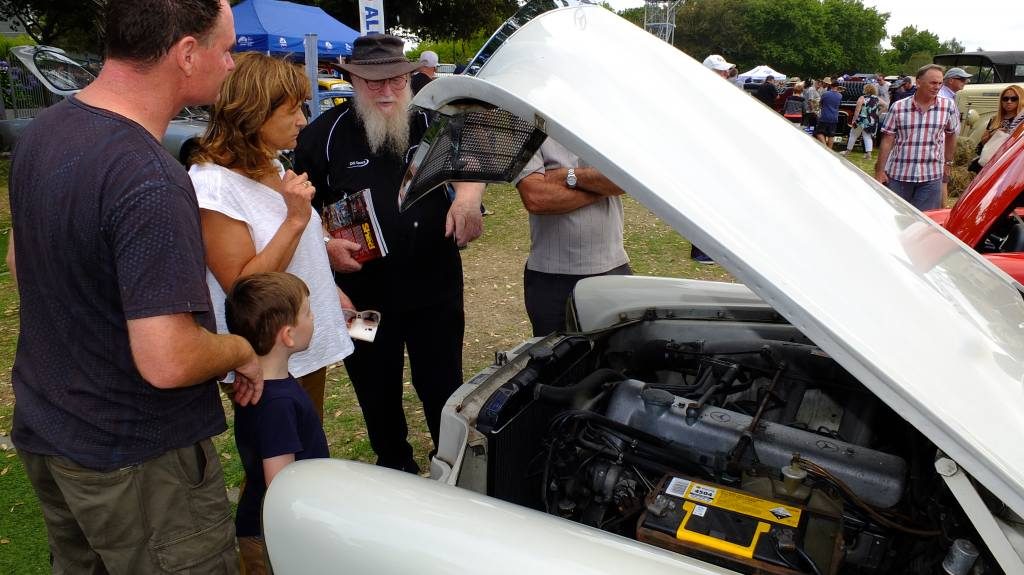 It wasn't long before the car enthusiasts arrived and needless to say one of Lili's first admirers wanted to see 'under the bonnet'.  I reluctantly conceded and then realized that 'show & tell all' was what the day was all about.
It certainly was an inspiring day in many respects, to meet so many people with extraordinary knowledge about my 220SE, or who owned one, used to own one, wanted to own one, or wanted to purchase Lili…. buyer beware!
I took time to wander amongst the other Club displays enjoying the wonderfully preserved vehicles of all makes. My favourite of the day was the baby blue BMW 3.5 CSI with pale lemon leather interior. Gorgeous!
Lili became part of the Moodie Family in 1963 when Lt. Col James F Moodie (my father) was serving in Malaya with the NZ Army (as the Medical Officer) and purchased her as a direct import from Germany. At the same time he ordered a fire engine red Fiat Bambina 500 for his wife Barbara. Incidentally, the Bambina vehicle surpassed the choice to that of the Mercedes and rapidly became the family favourite mode of transport for Col. Jim's four young children and black Lab Peggy (all squashed up in the back seat).
In 1965 the Colonel and family returned to NZ with both 220SE and the Fiat Bambina to continue family life. We lived our impressionable years in Waiouru and Burnham Military Camps, and as specialist mechanics were not available in such rural life dad maintained both vehicles, insisting that we learn to file the carbon off the spark plugs and change the tyres (god forbid that should happen).
After 20 years of family holidays, touring NZ in Lili, roof rack et al, and definitely no Ice-creams or arguing  in the backseat,  my father decided to sell Lili in 1984 and purchase 'The Smallest Fastest Car' a 190E.
At a negotiable price, I was shocked to say the least that dad was allowing me to purchase Lili, as teenagers were NEVER permitted to drive her. I certainly didn't waste any time, driving off at great speed from my father's driveway in case he changed his mind.
That was 33 years ago and the rest is history.
I felt honoured to be part of the Club display and look forward to next time.
Annabel Moodie
Click here to view more photos on our Gallery page.