The second British and European Car Show at Lloyd Elsmore Park Pakuranga was marked on my calendar months ago.
In the weeks leading up to the show, myself and other Club members on our Facebook page were posting shiny car photos and desperate cries for parts in anticipation of showing each individuals pride and joy.
So as Sunday came around I was keen to go and see some very cool cars. Alas, it was raining buckets… cats and dogs. A quick check on Facebook confirmed the event was still going ahead and after much debate and discussion with the six year old I was told we were going!
Picnic packed, seat belts on, off we went. The girls were so excited pointing out other notable cars as we drove up the Pakuranga highway. When we turned in it was pleasing to see so many marshals everywhere with smiles on their faces directing cars where to go.
Hoping that the field was still firm so as not to get bogged in the ground, we drove to our Club's spot up on the hill, and were directed where to park. The girls hopped out just as the sun came out and very quickly found the boxes of free cookies up by the Club tent and helped themselves to more than just one.
I joined in the tre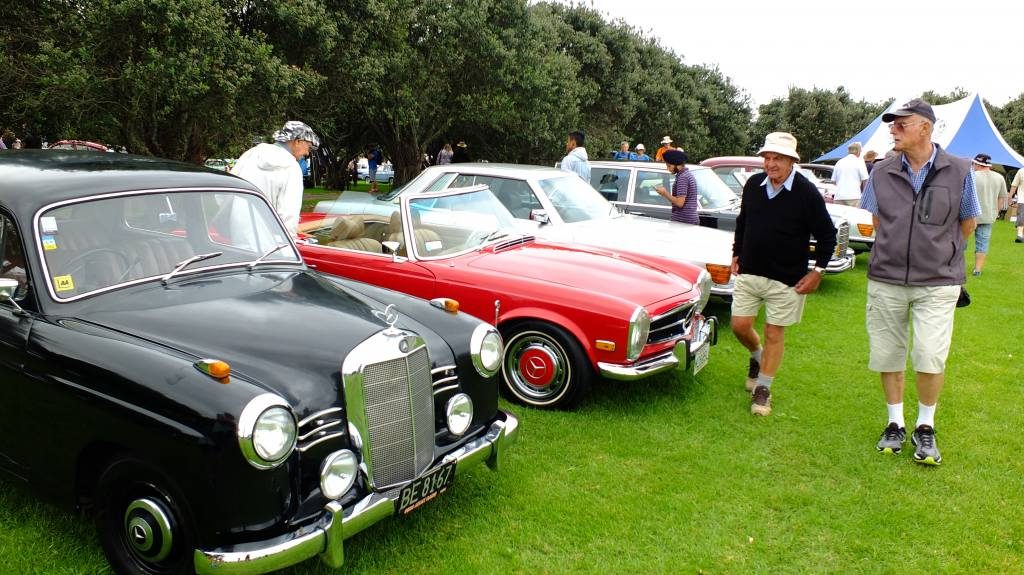 nd of everyone cleaning and polishing their cars to remove the grass and mud from the drive up, in hopes of getting the votes for best car. Really hard work if you are trying to keep little chocolate covered fingers from touching your clean car.
Next a quick catch up with others from the Club under the marquee, and it was nice to meet new members at their first club outing and get to know them.
I had a good walk around all the other cars on show with two girls in tow pointing out which cars they liked and wanted to buy. I think they have very expensive, albeit great taste in cars.
We then visited the Howick village and enjoyed the horse and cart ride and story time under the tree, before it was time to hop back in the car to head home with another successful car show done for the year.
Angie Rickwood
Click here to view more photos on our Gallery page.