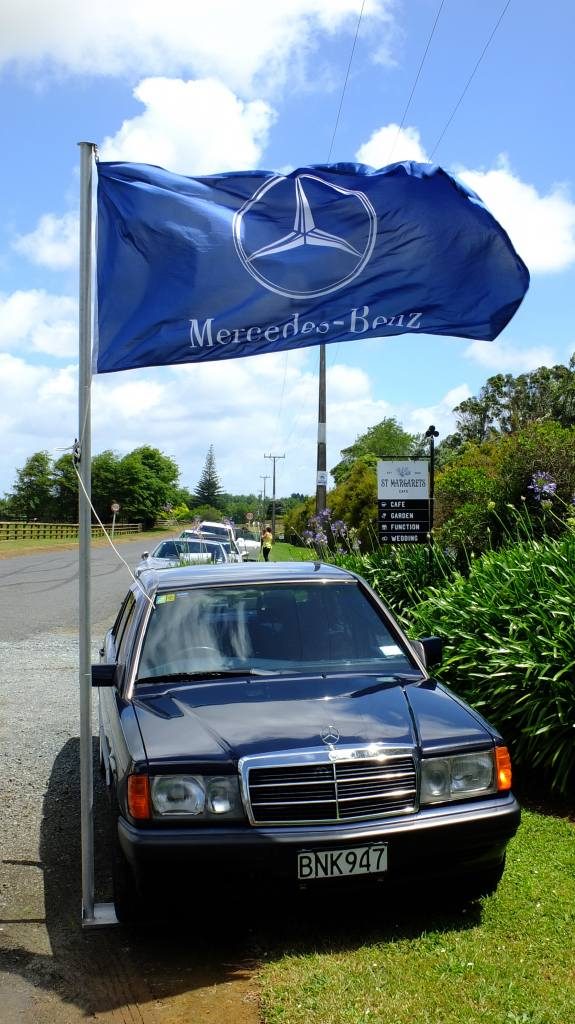 Hard to see where the year has gone as Christmas just rolls around so quickly.  It is also hard to believe that for Janine and me it is our 3rd Christmas lunch with the Club.
While I was looking forward to the Christmas lunch, the car was really looking forward to a clean.  It has been a few months since the last wash and the dirt was caked on.  The weather was forecast to be fine on Sunday, however, with showers on Saturday.  So I washed the car between the showers and dried her in the garage.  I now know how hard it is to polish a black car in a dark place.
Moving the lunch to Karaka meant that we had a nice drive (well stop-start) down the southern motorway followed by a picturesque run in the south Auckland countryside.  Driving along Karaka Road I couldn't quite remember where St Margaret's Cafe was.  Lucky for me I spotted Alan Minson's white SL in front of us.  So, I just followed him and hoped he knew where to go.  Turning into the side road I was greeted with the great sight of Mercedes cars lining both sides of the road.  While the car park looked full, I shot in there to drop Janine at the door and was rewarded with a recently vacated park.
St Margaret's Cafe was an inspired chose for a venue, with a beautiful lawn and gardens.  As most of us arrived well before the seating time, a pleasant time was spent mingling on the sunny lawn with drink in hand.  I enjoyed meeting the new members as well as catching up with old friends.  When it came time to eat, the food they brought out was delicious.  I particularly liked the desserts, but I do have a sweet tooth, or two.  Thanks to David Winn for arranging such a great place for us.
Have a happy and safe Christmas.  Make sure you use your Mercedes in the holidays.
PS: On the way home Janine's car played up and stopped on the motorway.  It then broke down two more times, before I got a friend to come and tow us home.  The top diagnostic award goes to Gerritt, who by just reading a Facebook post correctly identified the fault, which is now fixed.
Daryl Jeffery
Click here to view more photos on our Gallery page.