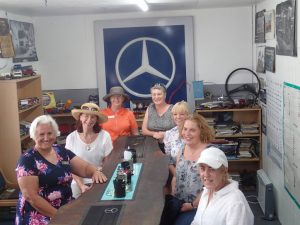 It was billed as a Ladies Run – we had 9 cars, 5 men drivers and somehow ended up in a "man cave" checking out Mercedes trucks.  I drove the B180 which must have increased the lady quota a bit and everyone got a lovely pink goody bag with water, chocolates, pink builders pencils and a handy tiger umbrella in case it rained. And Sue has promised to organise the Ladies Run again next year …
As ever, the day of a Mercedes Club run dawned clear and calm. The weather has not been kind to our roads and the original plan had to be shelved when part of the route became impassable. Debbie and Chris came up with an alternative plan to head west instead of east and we agreed to embrace the Kiwi Number 8 attitude, turn around if there were any road issues and be ready to wing it. Plan A was to stay together which seemed an easy prospect with only nine cars. However there might have been at least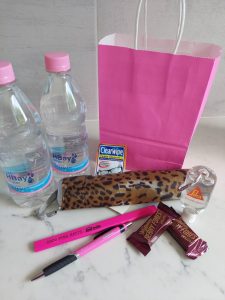 three different routes taken to the first stop and Sue reckons we beat the club record for U turns. Chris was navigating off his motor bike GPS and reckons he can't read it in a car!
We met up at the usual place – Drury service centre – amid the usual gathering of various cars and motorbikes. Going south we headed off the motorway at Drury in the "general" direction of Tuakau to visit club member Stuart Howard. Ken and I were at the back of the pack and thought we were following the route but didn't catch up with any Mercedes Club cars. After we passed through Tuakau taking the right turn to Stuart's, we met Karran and Lindsay coming the other way and were then passed by the missing bunch. All present and accounted for.
After our visit to Stuart we headed out again in a tight convoy to Glen Murray, turning left to Rangiriri and back up the motorway to Takanini, where we ended at the Botanical Gardens for lunch and further discussions about navigation. I think we all forgot to tour the gardens but they were looking lush from the terrace of the café.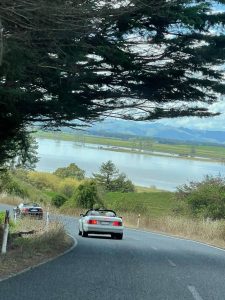 Thank you to Sue for organising again, to Debbie and Chris for a great route and Stuart for hosting some not very interested ladies and more interested blokes. Looking forward to next year.
Philippa Miller Moore
Click here to view photos on our Gallery page.