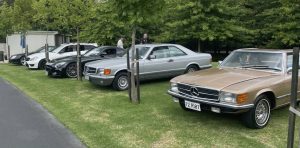 We started the year on a high note – a run up the west coast to Wellsford, then to Matakana for lunch at Rothko Restaurant and a tour of the Sculptureum galleries and gardens. To add to the show a select five club members had their cars on display in front of the restaurant (the rest of us parked around the back)!
Meeting up at 8:45am in the Westgate Mitre10 carpark, for a sharp departure at 9 am. Yeah right! – more like 9.30 after we chatted, looked for the coffee shop and then had to find the bathroom. It was a good crowd with many new members and some "new" cars finally on the road.
From Westgate we had a short trip on highway 16 before taking a detour on Old North Road and Peak Road to Kaukapakapa and back onto highway 16. We enjoyed a drive up the side of the Kaipara, before diverting to Port Albert.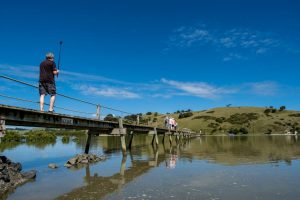 There was little snafu when it turned out the first road sign-posted to Port Albert was a D road with no tar seal. There is another, more main, road to Port Albert further on and that was fine for our cars.
We had a short stop to check out the facilities, walk the jetty and quiz the local fishermen. Port Albert had an interesting history as a non-conformist religious European settlement, originally Albertland. The settlement was thwarted by issues of isolation and access. It probably wasn't a great port even then.
Leaving Port Albert we passed through Wellsford, going through the Whangaripo Valley before joining Matakana Valley Road into Matakana. From there it was a short hop to the Sculptureum and lunch, after we had parked up.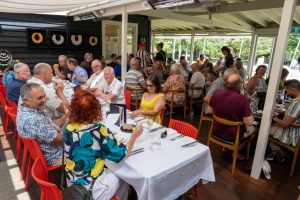 Greeted with a glass of bubbles, we had a three course lunch and then ventured out to visit the galleries and gardens. A few passing showers dampened some enthusiasm for the gardens. More dampening of the enthusiasm was the drive through Warkworth with the rest of the crowd on a Sunday afternoon and some heavier rain. We had at least left the top up for the trip home although given the speed of the traffic there wouldn't have been a problem putting the roof up en route.
Thank you to Trevor for organising another great event, and his detailed directions. It was an interesting drive and the chance to visit new places.
Philippa Miller Moore
Click here to view photos on our Gallery page.