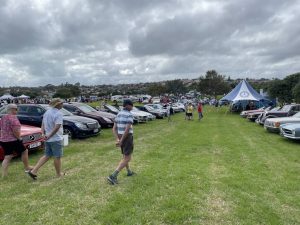 The incredibly popular Brit & Euro Car Show held at Sir Lloyd Elsmore Park in Pakuranga returned in March 2023 after the 2022 event was cancelled, and it was as big and well-supported as ever.
As I fuelled up my own Mercedes-Benz at the BP station opposite the park before I went in, there were numerous Lancias and Ferraris gathered in and around the forecourt which was a very promising sight.
Sunday morning was lovely and clear, with a nice breeze that kept temperatures comfortable all day. The settled weather allowed those of us with convertibles to leave the roofs down all day.
All Mercedes-Benz cars were scheduled to arrive between 9.15 and 9.25am on the day (a very precise window of time!) and some of us got there a little early so we could get the club marquee up and agree where we were going to place the cars that were already showing up.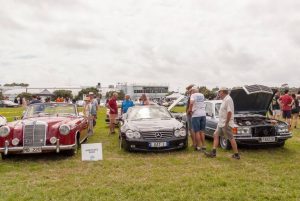 Chris did a great job marshalling the arrivals and by 9.30 we had two neat rows of gleaming Mercedes-Benz cars from the 1950's to the 20-teens on display. In fact we had 29 cars in total, with Mercedes-Benzes from non-members welcomed most warmly. There may have been a few new members signed up on the day as a result…
Our marquee provided shelter for all car owners and encouraged people to come in and regale those present with their own stories of their Mercedes-Benz ownership or those of friends and families. It never ceases to surprise me how much passion there is out there for the Mercedes-Benz brand!
There was a little bit of worry when a bbq was lit up in a small gap between our marquee and a tree but the only things in any real danger of being burnt were the sausages!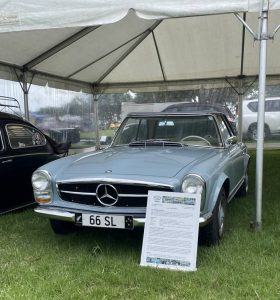 The representation of our marque didn't stop in our dedicated club space. A few Mercedes were spotted in the public car display area and we had the Ellerslie Car Show Concours Master Class winning 1966 230 SL and our 1928 replica Mercedes-Benz SSK featured in the "Brit & Euro Revival Display" showcase.
Those Mercedes that were seen in the public display area and in the carparks in and around Lloyd Elsmore Park soon had a club flyer attached to their windscreens thanks to our dedicated committee!
The rest of the day was spent wandering around the entire show and finding some real highlights from other British and European marques. Everything from vintage cars and motorbikes to the latest customised, wrapped and lowered modern cars were on display. My personal favourites (apart from the Mercedes-Benzes on display!) were a genuine Lancia Stratos in the Revival Display, a Morgan Aero 8, two gorgeous Aston Martin DBS's and an unfinished "replica" Ferrari GTO. Talking to owners of the cars on display and seeing their passion for their own cars affirms that maybe I'm not the only car geek around…
A fly past of several Warbirds vintage aircraft just after lunchtime was pretty cool and the highlight for many people was the Spitfire flyby shortly afterwards.
This was my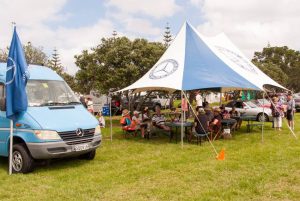 third time at the show and it's great to bring along your own car and be part of the experience. If you haven't been to it yet, come along next year and park your car in the club display and wander around all the others!
Mike Peters
Click here to view photos on our Gallery page.