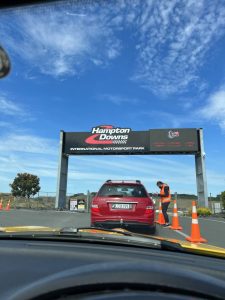 This was our first experience as "organisers" for a Mercedes Club event. Mike Peters did the hard work with Hampton Downs but he was called away for the weekend and asked Ken to be the contact on the day. Ken's morning didn't start so well when Trevor contacted him to say that his car had a "catastrophic computer" problem. It wasn't going anywhere that day.
Then Noel called looking for a late booking or place in a car as passenger. Good news Noel – you can have Trevor's booking. Even better news as when we met Noel back in January his S500 wasn't roadworthy.
We headed down the road to Hampton Downs. Instructions from Hampton Downs were a bit confusing – enter at gate 2 but gate 2 was closed for entry access from the road. The instruction should have been enter from the road at gate 1 and come down to the internal entry to gate 2. We convened in the car park, 12 Mercedes of varying models and ages. After some discussion on whether the roof should be up or down, we lined to have our vaccine passes checked and enter the track area – 11 cars, with two women drivers.
Once inside we registered, had various colour bands attached to our wrists to denote time and driver status, and had a track briefing. Key points were avoid hitting the side barriers – they will win – and have fun. This was to the background hum of cars on the wet skid pad.
To our cars and we headed out on to the track, a small group of Mercedes in what felt like a sea of Holdens and EVOs. A "slow" lap to get the feel for the track and then we were able to let loose, limited by the Lexus safety car in front. It was all over fairly quickly – less than 15 minutes on the track.
Reconvening afterwards we commiserated with Stuart whose SL55 developed a gear box issue on the first lap. He was towed from the track and had to have his car transported home. We hope that the fault is easily fixed and he will be back on the road soon.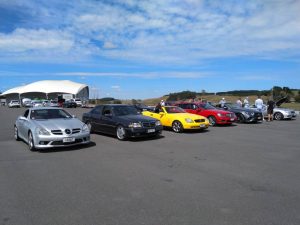 A verbal poll of participants indicated nearly everyone wanted to do the track cruise again*. Discussions over lunch agreed that booking for two sessions on the day would be good for those that wanted to improve on the first session or to swap drivers. There is a discount for booking two sessions at $75 over $50 for one. It would be good to have more Mercedes in the group or combine with a club that had similar cars.
Having made sure that Stuart did not need further assistance we set off down the road to the Rangiriri pub for lunch. Another stonking feed before heading home up the motorway.
Thank you to Mike for setting up the event. We look forward to many more!
* I am the dissenting view. A reluctant driver on the race track I have confirmed to myself that I am an open road cruiser. This is good news for my passenger and co-driver, who gets to be driver on the track ever after. And I was the second to last car off the track.
Philippa West
Click here to view photos on our Gallery page.