Garage I – Alan Minson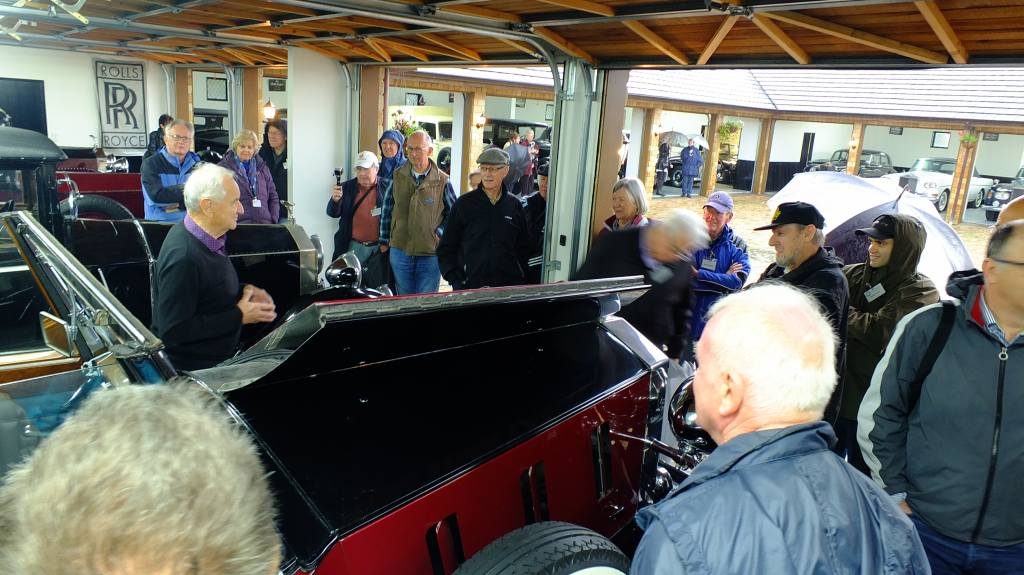 It was a soggy spring Sunday at 9am when a good turnout of members congregated at Brookby School in south Auckland. Poor Bill Bray, our capable organizer, had a most difficult job registering everyone in torrential rain in his sodden shoes and with a pen that didn't like wet paper!
It was a short drive to our first garage. Those of us who hadn't visited before were blown-away by the size and quality of Richard's collection of magnificent European vehicles, predominantly Rolls Royces from the 1920s to 1980s. All were registered warranted and driven at least monthly. The cars were dramatically revealed by the simultaneous opening of 26 garage doors around the brick courtyard.
Richard had an interesting story associated with every one of his beloved vehicles. His one "non-car" was an Alvis Saracen military APC and its story was that Richard used it to stage a mock attack to frighten the hell out of some outsiders fishing for eels in the Farm's stream!
While we were viewing Richard's later cars in the garage under the homestead, we were firmly challenged by Max, the Japanese police dog on the balcony above.
Richard was thanked profusely for his time and generosity in presenting his collection for what proved to be a most memorable event for the Club.
The rain had stopped by the time we left and traveled in convoy to the Clevedon Pub for lunch. Bill demonstrated his skills by coordinating the arrival with the live screening of the ABs versus Argentina.
Garage II – Neil Rose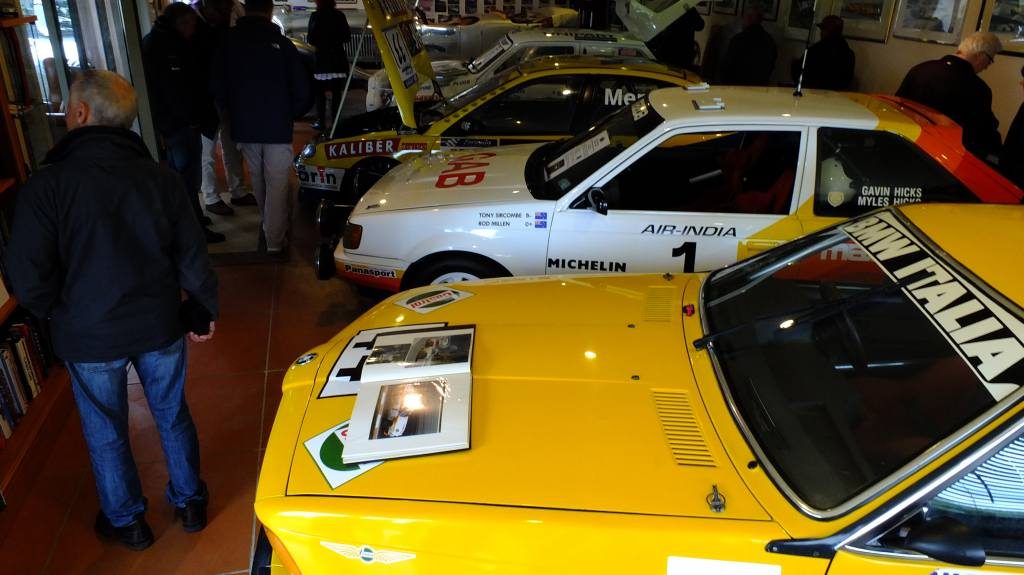 Lunch at The Clevedon Pub …you never know what to expect at a pub. The pre-ordering earlier in the morning was brilliant, it meant there was no waiting in a long line to get served. The burgers looked fine as did most everything else that our club members had. As other meals were tabled you could look around and think, gee I wish I had ordered that. However when my Calamari and salad arrived I had ordered right; it was delicious and the salad was just the best. It was a proper salad with lots of ingredients and dressing, not the unchewable cow's fodder that so many restaurants dish up these days! Top marks to The Clevedon Pub.
The visit to Gavin's garage was a surprise for me. I didn't expect another courtyard, in fact I wasn't sure what to expect. So starting with the kit car 'hot rod' was an eye opener, as we then went from one fabulous car to another in each of the sheds, all being vastly different from the other. The Mazda race cars and their history were of particular interest to me as were the Euro rally cars in their original stunning colours and pristine condition… along with all the memorabilia.  And then there were the stately Bentleys, dating back to the 1920's, one of which had been repowered with a rotary aero engine.
To be able to sit in the lounge and have those cars almost beside you, one must have a very understanding Lady of The House!
All in all it was a great Mercedes club day out! Huge thanks to Bill Bray for his organisation of the event.
Click here to view the photos on our Gallery page.