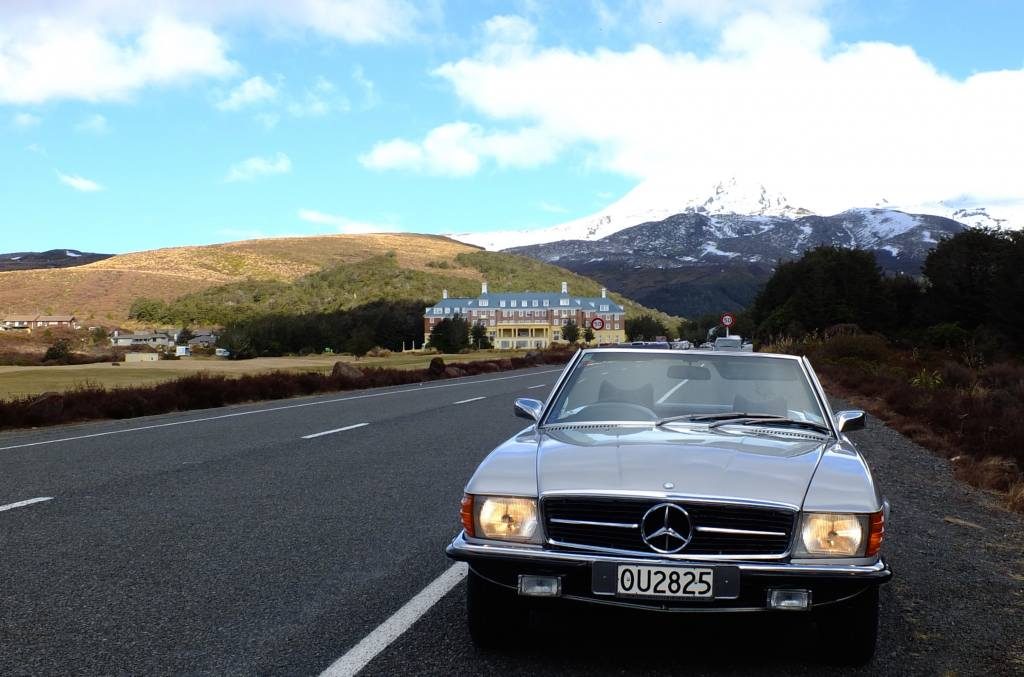 We were all ready for an amazing 'Wacky Whatever Weekend' exploring Waitomo and surrounds before coming together at the Chateau Tongariro for lunch with our friends from the Manawatu Club.
For me, there was much anticipation and preparation before this last weekend of August arrived and with it the time to start celebrating spring. A small group of Aucklanders teamed up to head off in convoy on the Friday, including me, Daryl, Janine, Greg and Barbara. It was a nice drive with moderate traffic from Auckland to Waitomo, where we met in the local pub for our well-deserved dinner and beers, and a beginning of a fabulous weekend.
After a lovely first evening together we went to the Otorohanga Kiwihouse the next morning, where we caught up with more Auckland Club friends.
After watching the Kiwi feeding and learning interesting facts about its habits, we enjoyed the Kea and Kaka feeding as well. Walking through the area, photographers (like our Greg) had many opportunities to get beautiful pictures of our native birds and other native inhabitants. It was a really interesting visit followed by the Thirsty Weta restaurant for lunch. Lovely decoration, service and food rounded everything off perfectly, and of course meeting Harald, Vivian, Bill and Teena there to complete the Auckland crew was very pleasant.
By the time the day finished everybody had done their own choice of recreational activities in the area, and were ready to enjoy the NZ vs AUS rugby game later on the evening. It was a great group atmosphere watching the rugby at the local pub, where we also made our plans for the final trip of our journey.
Sunday came and we all met for breakfast at Te Kuiti. Then off we headed for the final run south, leading our convoy through the windy roads of the central north island towards the Chateau Tongariro. Weather-wise we couldn´t get it better with no rain or snow, and mild temperatures that made it a perfectly enjoyable run on the road. Beautiful scenery and good weather conditions made it particularly pleasant for the convertibles.
Once we all arrived together at the Chateau, the buffet was opened and a beautiful variety of food was ready for us. My personal highlight was the fish, the pavlova and the tiramisu.
An impressive 100 Club members in total enjoyed coming together. Harald and Vivian Decker, and Lloyd and Trish Marx, were presented with their 25 years membership pins – congratulations, we were very happy to see that.
It is always nice to meet new people and have interesting conversations. Especially if someone tells you how awesome the Mercedes Museum in Stuttgart is, and myself being from Germany and living so close, and a Mercedes enthusiast who hadn't managed to get there, feels very odd. I will definitely go there on my next trip.
As the afternoon went past and our meet up came to an end we said our goodbyes and everybody made their way home or stayed another night. I hope everyone had a good drive home. Despite running on only 5 cylinders my car brought me safely back after a long and tiring drive.
What an awesome weekend. Special thanks to Janine, Darryl, Barbara and Greg for the awesome time with you guys, and the amazing organisation. Also a big thank you to everybody who was there to contribute towards the wellbeing of our beloved Mercedes Club. Thank you all.
Gerrit Kutschmann
Click here to view the photos on our Gallery page.