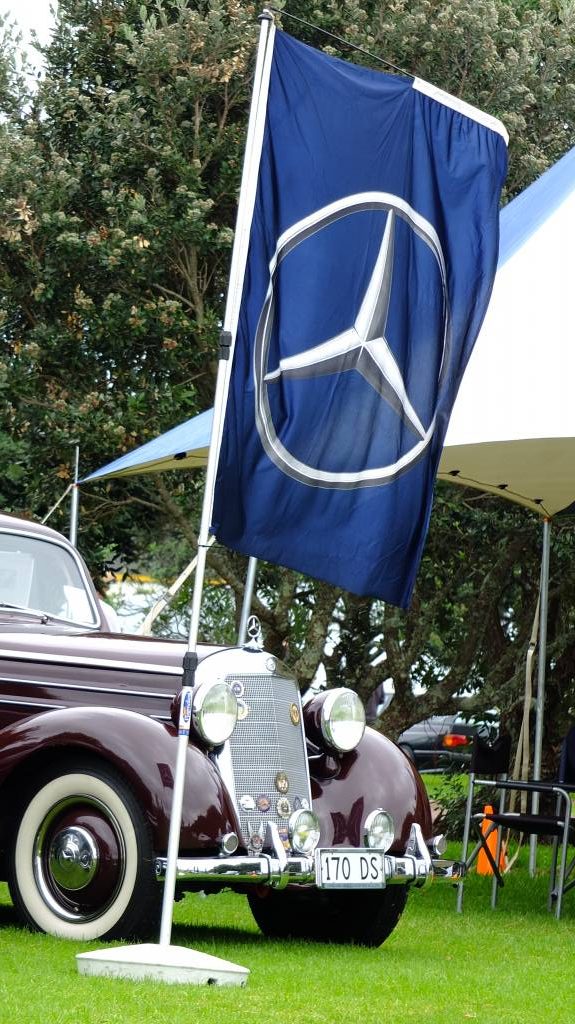 Brit & Euro Classic Car Show day unfortunately dawned cloudy and showery. Barb and I had decided weeks ago to take both our Mercs to the show, a first for us. As we motored down the southern motorway, heading towards Pakuranga and Lloyd Elsmore Park, it was gratifying to see hundreds of water beads scurrying across the bonnet before leaping to their death onto the rain-soaked road. But like T-1000 from Terminator 2 they soon formed up with their friends to create puddles on the asphalt, only to be dispersed again by the cars behind. All those hours with the clay bar and rubbing compound, polish and wax, now seeming very worthwhile.
On arrival at the show grounds I spotted a group of middle aged men (I'm being generous) from our club seemingly perplexed as to what to do with the cars, "You look like you're waiting for a woman to tell you what to do," I called out as I came to a stop.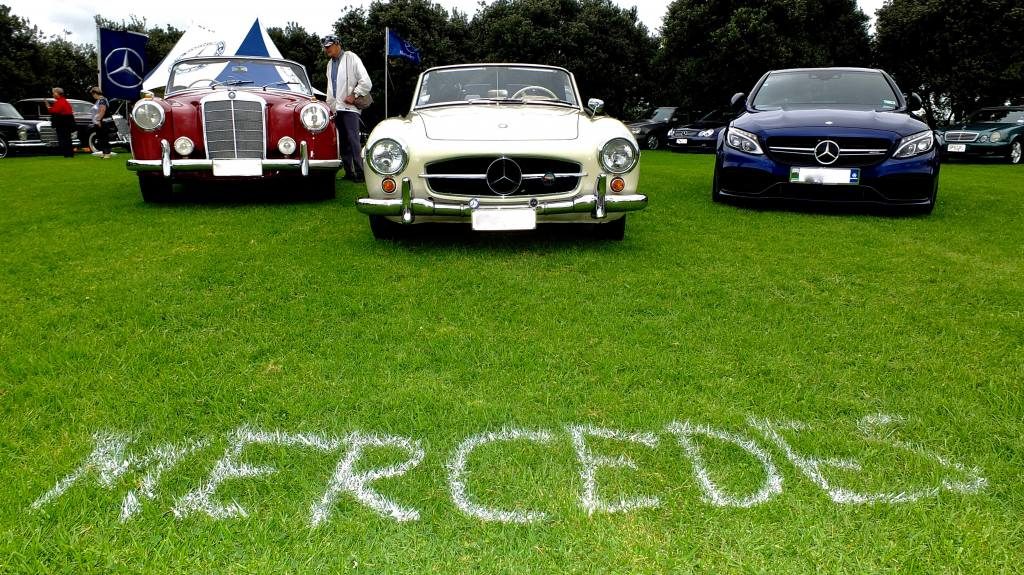 Right on cue, Barb pulled up and things began to happen. It can be a difficult thing organizing cars at a car show. Firstly we had two eras to divide cars into, Pre December 1980 and Post December 1980. It was under these two classes that our two 'Show 'n Shine' trophies would be awarded at our annual prize giving. You never really know how many cars of each era will turn up until the gates are closed and the public are let in. Further confusing the matter is the amount of space you have and the colour of the cars. Like the fruit and veges in your local supermarket, car displays look best if cars of similar colour are interspersed with cars of different colours. After much toing and froing we had all the Mercs displayed in a wide arc either side of our marquee with a small arrow head of cars in the middle. No boring regimented rows like most of the other car club's displays. While all this was going on David Winn proved a winner on Bill's barbeque, producing bacon & egg rolls and sausies-on-bread for the early birds.
At 10am, ju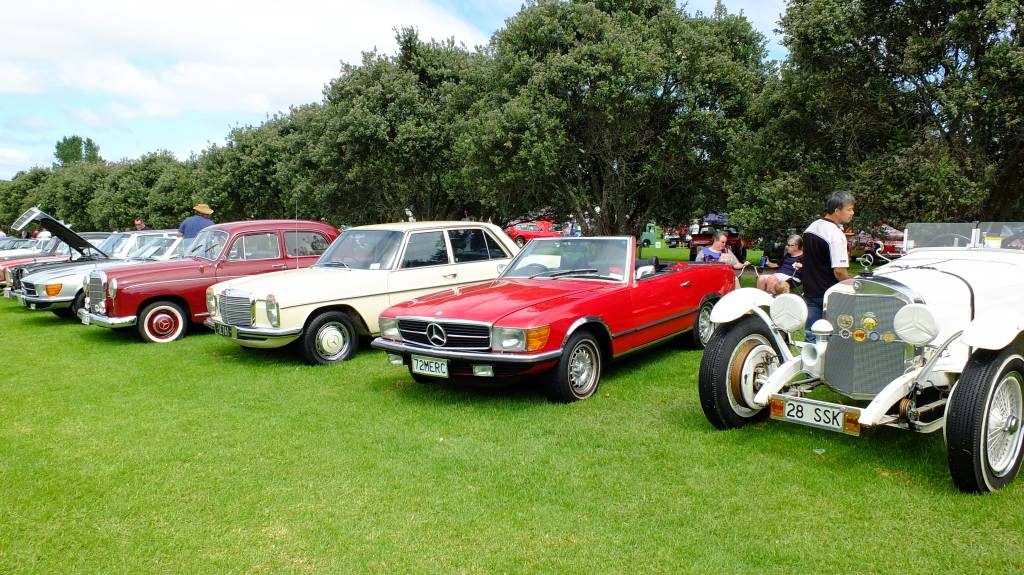 st as the crowds rolled in, the clouds rolled out and the sun took centre stage
over the amassed cars. A veritable A to Z of British and European marques, but sadly not a single Trabant was seen. Our club had 27 cars on display, a very good turn-out given the damp start to the day.  28 if you include the never-before-seen Mercedes model on which the three pointed star had become twisted and contorted into a stylized 'T'; it was quickly banished to the back of the display and hidden from sight. We had everything from Graeme Collie's 1928 Replica SSK, the 1957 190 SL of Garry Boyce and every decade thereafter, right through to the latest 2016 C63 AMG. During the day the host radio station had a 'roving mike' doing the rounds of car clubs. Roy Hobson, Graeme 'aka Alan' Collie and myself were lucky (?) enough to get to talk about our club over the PA system.
As the afternoon rolled around and closing time loomed we drummed up votes for our 'Show 'n Shine' awards. After careful vote counting and last minute votes, the winners were declared. Congratulations to Teena Bray with her ravishing red 2012 B200 for winning the Post December 1980 class, and to Ken Williams with his 1958 220S cabriolet, also in ravishing red, for winning the Pre December 1980 class. Sadly, yet again, no awards for me. All those hours with the clay bar and rubbing compound, polish and wax now seeming not so worthwhile.
This is only the second year that the Brit & Euro Car Show has been run and the organisers should be congratulated on a marvelous event. Lloyd Elsmore Park is a great venue, a large space but with tree lined avenues that make this car show seem more intimate than others. The trees also provide cooling shade for public and car club picnics alike. Nearly 650 cars were at this year's show. If you've never been make sure you bring your Merc next year, and while there enjoy all the other exotic and classic cars on display.
 Greg Lokes
Click here to view more photos on our Gallery page.