Almost as much as every exhibitor, I was pleased as punch to wake to a fine Sunday morning for all the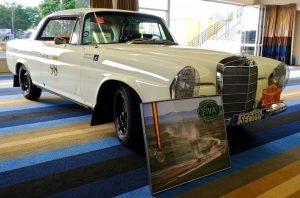 Concours cars.  Of course, we'd had the informal Tours the day before and I'd leapt at the opportunity to join new member, John Abbott, on his first event with Club members in his SL 500.  Yes, of course I got sunburnt!  These tour routes have been updated and with a choice of 4 you couldn't go wrong.  Only failure to follow the instructions causes that!  But it was nice to all start (Ellerslie) and finish (by the vines at The Hunting Lodge) at the same places regardless of route chosen.
And Sunday was such a wonderful day to come out and view lots of beautiful cars.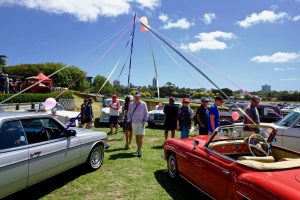 The Display Theme was Car-nival.  Some of the Clubs had gone to a lot of work and others were there for the pleasure of a day out.  Our own Club Display was up to its usual high standard and beautifully staged but sadly the judges must have gone the wrong way round the displays and missed it completely.  Which is a roundabout (Car-nival?) way of saying we didn't win the Display.  It was a well-deserved win for the Mazda MX5 Club.  We had on display a number of models that you no longer commonly even in Mercedes circles.  Undercover in the Pavilion were display cars like Garry  & Ken's International Warrior 220SEb Coupe from the P2P, and the Wonder-Lokes' 350SL that had been out on the Tour just the day before.  It's good to see cars getting used and then cleaned and on display.
In the Masters Class, John Higgins with a lovely 230SL placed third with 538 points out of 590.  Just 10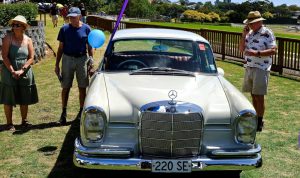 points behind the orange Boss Mustang of Paul Hilderbrand, the winner.  The Teams event, which as we know, involves a lot of work in car preparation, had only two entrants this year: Mustang and Thunderbird.  It was won by Auckland Mustang Owners Club who therefore won the right to organise next year's event which will be the 50th running of the Ellerslie Car Show.  Looking forward to that already!
Click here to view more photos on our Gallery page.
Stuart Rowe