Brit & Euro Classic Car Show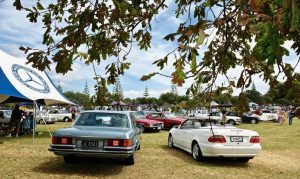 It was a hot day with a warm breeze. Perfect conditions for a car show. But not just any car show: it's the British and European Classic car show. The largest car show in New Zealand, possibly in the Southern Hemisphere. This year's show attracted over 1100 classic cars all polished to within a millimetre of the undercoat. A field of envy!
There was a respectable number of 45 Mercedes on display, attracting a lot of interest for dreamers and enthusiasts alike.  There were a lot of Merc owners who expressed interest in joining the club, so we look forward to seeing new members at our upcoming events.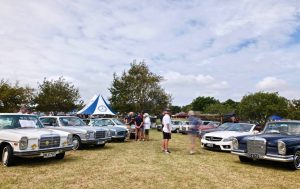 The judges (all honourable persons) were roped in to select the Judges' Choice for Pre- and Post-1980 vehicles. It proved to be a difficult mission as there were many fine examples, but eventually the winners were selected.
Congratulations go to Phil Henley for taking away the Pre-1980 with his beautiful 1979 450 SEL 6.9.  And Mike Peters for his sexy 2010 SL63 AMG that secured the Post-1980 prize.
A big thanks to all who helped make this a memorable day.
Click here to view more photos on our Gallery page.
Chris Haliday