It's hard to believe, but the R129 series Mercedes-Benz SL has become a CLASSIC automobile, as it was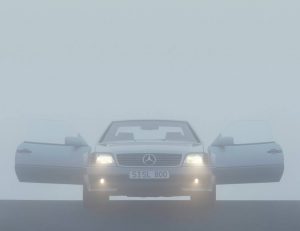 launched more than 30 years ago and presented to the world back in March 1989. The successor of the R107 series had some large shoes to fill and very high customer expectations to meet when the curtain fell at the 1989 Geneva Motor Show, where the model was first presented. Bruno Sacco and its design of the new generation SL knew not to disappoint: Its timeless styling has kept it fresh and attractive in the eyes of many generations of Mercedes-Benz enthusiasts since then, including those returning their thoughts and memories to the time, when they proudly owned one when they were still available new at the dealerships.
Knowing the achievements and the love this model brought to quality sports car enthusiasts around the world in its 12 years of production until 2001, I couldn't imagine not to dedicate the R129 a tribute article to celebrate this milestone in its history of becoming a classic. In 12 years of production, Mercedes-Benz released almost 205,000 examples over three production periods with two face-lifts, split into 2.8L, 3-3.2 L, 5L as well as 6 Liter 'beautiful beasts' with 12 cylinder engines. A range the Mercedes' SL-series had not ventured into before the time of the release of the first SL600s in 92/93.
With many wonderful, looked-after and cherished examples still in existence today, it is incredible that this former outrageously expensive sports car, that sold for more than a quarter of a million dollars in New Zealand at the time, still is a great option for newbies to get their foot into the car collectors' world today. A modern classic that offers the capability to be a Sunday sunshine fun-run classic, as well as being a year-round daily driver convertible to enjoy the full length of a summer season as well as these beautiful crisp winter days.
Even Diana, Princess of Wales couldn't resist the magic of the R129 when she sold her Jaguar XJS to lease a metallic-red 500 SL back in 1991 to become the first member of the royal family to use a foreign car. Honestly – who could blame her for choosing a Mercedes-Benz to break this long-term tradition? Media pressure finally forced her to return the car in 1992, with the original car still being viewable at the Mercedes-Benz Museum in Stuttgart.
I am sure I am speaking not just for the Auckland Club R129 owners, but for so many more members in our other clubs around New Zealand, that this model has not only won much attention for its revolutionary design features like the first automatic collapsible textile roof within the SL model range, a removable, breath-taking glass hard top roof option, the highest safety standards the 90s would produce including the introduction of the automatic roll-over bar technology, but MORE IMPORTANTLY – it won our hearts.
I would like to share with you the wonderful stories of some of the R129s and its owners we are proud to have driving on our New Zealand roads today. Thank you so much to everyone that spared the time to tell the tale of their special relationship with their SL – many of them as exciting as the model itself.
Cheers to the next 30 – so many exciting years to come.
Quality is prone to withstand the test of time. The R129 proves the point.
ROY HOBSON
From 1989 two events come to my mind regarding West Germany. One was the introduction of the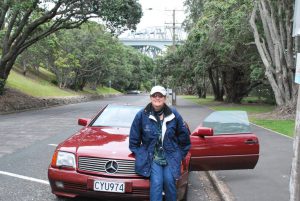 glamorous Mercedes-Benz R129 to an eager market. At that time I was working for the MB Division of Cable Price Corporation Head Office in Wellington and was invited to the MB factory in Bremen to attend the November introduction and the "train the trainer" course for the new model.
Arriving at the factory training school and workshops we were fascinated by the sight of six R129's which had been used for developmental crash testing, when we hadn't even seen one whole. The six were destined to be repaired and then crash tested again. A busy life for the crash test dummies! No photos were allowed!! Verboten!! We then got to familiarize ourselves with the R129, the dismantling and re-
assembly of the cars' state-of–the–art electronics, remembering that this was the first car to be interrogated with a laptop computer.
Back in NZ it was my job to train all the technicians as well as ensuring that all R129 owners were happy with their new vehicles. The second world-shaking event was that the Berlin wall started to come down!
Our German minder was not allowed to borrow from the car pool so we could visit Berlin, because of security reasons. Later on when I retired from DaimlerChrysler I was lucky to be able to buy two second hand R129's from Japan. One I used for parts, and the other I kept for my own driving. The mileage on my driving car was very low, only 48,000 kms and I know the hard top had never been removed.
The Classic Car Club gave me a couple of awards in their Concours d'Elegance at Rallies in 2005 and 2006. We have enjoyed much good driving in the car, and hope to have many more years with our 500SL.
PAUL MARCHANT and JULIE ZHANG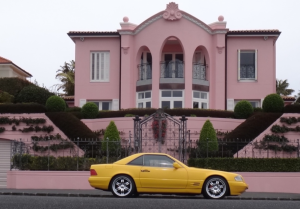 Hi I first came to buy my 1991 SL500 about ten years ago now and always liked this model and drove a few being tied up with the car industry over the years so when an opportunity arose while looking on a receivership auction site spotted the SL. After two rounds of auction watching nobody had bid. I went to look at the vehicle more closely and paint was like chalk and tyres were flat and couldn't start or drive it as the battery was nonexistent as it had sat for four years. I eventually spoke to the auction rep and offered them an amount and after about three hours wait was told it was mine. I loaded up my van with my compressor and a battery and went to pick it up and after pumping up the tyres and fitting a battery it started fine and drove it home. The boot had a bit of clear coat peeling which got painted but the rest just got a good clean and with a lot of polishing the rest came out fine. After obtaining a WOF and registration, I took it for a long drive and was pleased with the way it drove. My original plan was to clean up and sell it on as I have other interests in another brand but liked it so much I decided to keep it and enjoy it which Julie and I do. It does have a few niggles as cars of this age do have but I'm gradually getting sorted as much as I can. I still have the original wheels and have another three sets now and I know some don't agree with my 19" chrome wheels.  I like them and find it sets off nice with the yellow paint and as it is never going to be a pure car because of colour a bit of bling is ok. Where ever I take the car it always gets good comments and regularly gets offers to buy but my answer is we are still enjoying it.
LLOYD WILLIAMS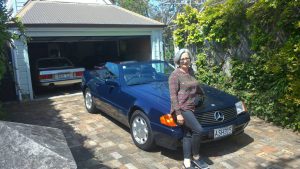 Our SL600 is actually owned by Cally, my partner. She loves her car though she hardly drives it. Only 28,000km, it was owned by the Sultan of Brunei. We bought it with only 1000km on the clock. I will admit it is one of five SLs in our garage and so it probably doesn't get the love it deserves. We did take it up north for a spin last weekend and though its 12 cylinders gobbled copious amounts of fuel, it performed amazingly for its age. I believe Pagani used the same motor in its first iteration of the Zonda. I do know that these V12s were $365k new in 1992 which is more than you could pay for a reasonable house.
PAUL EAGLEN
This SL500 was initially purchased by Commander Vladimir E Kulbida, the Commodore of the St Petersburg Yacht Club. He came to Auckland to challenge for the America's Cup and no doubt thought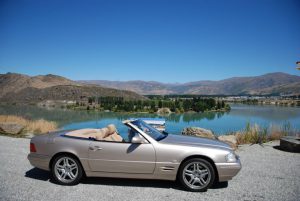 that while he was here it would be nice to treat him and his lady to a nice way to get around and see the sights.
Suzanne McFadden of the NZ Herald reported: "Cup officials say they know nothing about the yacht, which is sitting in a yard in St Petersburg, and it could be illegal under cup rules. The commodore of the challenging St Petersburg Yacht Club, Vladimir Kulbida, was in Auckland yesterday with the syndicate's first container-load of gear, looking for somewhere to set up base. Mr Kulbida said the syndicate's yacht had been built and equipment was being installed on its deck, ready for a launch within two months. He is also building a 100m ship to transport the yacht to Auckland in September, a month before the challenger series begins. But their trip may be stonkered by protocol. Ken McAlpine, the technical director of the International America's Cup Class, said the Russians had not contacted him about their boat. A sail number must be issued in the early stages of hull construction. 'We needed to have the line plans provided to us to define the shape of the boat', Mr McAlpine said from Perth. 'This hasn't happened. Obviously it would be a concern.'  The yacht may have grown from the skeleton of an aborted Russian entry in 1992, but Mr Kulbida insisted this was a new boat.
In a last-ditch effort to conform, core samples could be drilled from the boat, but the other challengers would have to agree to it. Mr Kulbida was yesterday looking to set up base in the America's Cup Village. Although the village is full, operations manager Grant Davidson said some syndicates were having problems paying for their bases, and a space could yet come up. Little has been heard from the Russians until now, although Mr Kulbida was in Auckland for a challengers' meeting in March."   
So after a bit of touring, the SL500 was packed into a container ready to be shipped home, but after many months it was decided that it would best be sold in NZ, especially since it was RHD.
It went from dealership to dealership and ended up at McLeod European in Hamilton. When Ian McLeod sold the dealership, apparently one of his conditions was that he was to keep the SL500. According to his son Grant, he just drove it on the odd fine Sunday and eventually put it up for sale. We purchased it with only 23k on the clock and on giving it a thorough clean found a diamond earring under the seat. We checked with the McLeods and determined that it must have been from the Russian girlfriend.
FERNANDO BOTTARI
I have owned my R129 for three years. I have been captivated by the SL class since I first saw the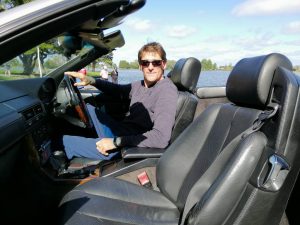 promotional video for it when I was in my mid-twenties. It became a personal goal to own one and I am very happy to be able to say that I do.
I love the sleek lines of the car, to me the cars profile is the epitome of Mercedes-Benz styling. The soft top mechanism is a wonderful example of German engineering making the transition from open convertible to closed top smooth and simple.
I enjoy driving my car, its road performance at all speeds and smooth handling through curves make it a pleasure to drive. I hope to be able to continue to enjoy it for many years to come.
STEPHEN GROENEVELD
Hi all I've been asked if I would like to say a few words about my experiences with my R129 1994 SL500.  Yes I would! What a magnificent vehicle – the quality has remained long after the price has been forgotten for those of them that purchased the vehicle new.  My first experience with the R129 was in the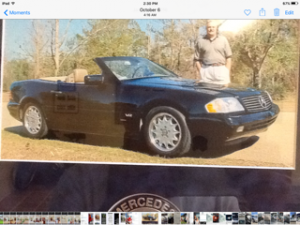 USA. My weekender back then was a 1992 Jaguar XJS; the car had won best in show in New Orleans. it was now time for me to upgrade to the next level.   You know how that goes …Jaguar was not making any more V12's and there is just something about the V12 (it must be a pilot thing), so while doing my research, I found out that Mercedes-Benz was still in the V12 business. I found an R129 1998 SL 600 black on tan in Florida with 22,000 miles.  The car was pristine, which made it a previously enjoyed vehicle, not a used car. I was in – it was my first Mercedes-Benz! What a missile and the quality of the build was so impressive, I've had Mercedes-Benz cars ever since and joined the Mercedes-Benz Club of New Orleans.
Note how well-engineered the engine and the engine bay is; Mercedes-Benz states that the SL600 had the least amount of warranty call backs.  They got it right the first time: that's why we love our MBs.
So, when I finally arrived back in New Zealand (I left for the USA for two years and stayed thirty-two), I started looking for an R129 SL500 and I found one in 1994 in Christchurch. It was a clean tidy car with good maintenance history and I paid $11,000 for it. I flew down and drove it back via most of the tourist spots, which confirmed that in a beautiful country like ours, it's the only way to travel in my opinion: The top down, me smelling the wild flowers " what a country "    
Something of interest for some: I fitted the Chrome rings in the instrument cluster, which is a nice finishing touch, the rings I purchased in the USA for NZ$22. And it takes less than thirty minutes to install. With the driver's seat I swapped the bottom part with the passenger's side, which is also a thirty-minute job.  By doing so you take the worn bolster from the driver's side, which is the first thing you see when you open the door.  When it's now placed in the passenger's side it's up against the center console out of sight, The passenger's bolster has been up against the center console and has never been used now that it's on the driver's side when you open the door, which means the seat looks brand new. The two Phillips screws at the base of the seat are in easy reach.  I removed the screws and lifted the seat base up and forward. If the car has heated seats, just disconnect the wire at the plug under the seat – it's the same plug on each seat. Have fun in enhancing your pride and joy. In 1989 the R129 was determined to be the most advanced GT sports coupe in the world.
If you are lucky enough to own one, then enjoy it now as the prices have turned and are increasing. Remember situation awareness on the road, drive safely, happy motoring, I'll see you all at our next event while we are out to enjoy our time with our pieces of art.
CLAUDIA SCHOUSHKOFF
I arrived in New Zealand as a 31-year old in 2010 with two suitcases and a dream. To find a nice place to live, a great place to work and an easy-maintenance car to drive around in. All of that in the space of a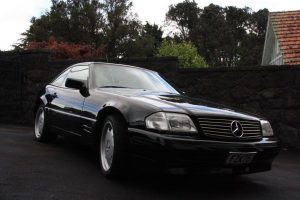 couple of weeks. I was lucky – I found much more than that … including a husband, a GOLDEN Nissan March (that this particular husband sold to me as he was my car dealer), a job that kept improving myself every moment in time for the next 9 years and a great place to live in this wonderful country, that I now call home.
But there were clouds on the horizon: My soon-to-be husband's approval of my newly purchased little March faded quickly once he shared the Mercedes-Benz bug with me, that he had been living by for the last 20 odd years. He got me to look at a few R129s on TradeMe – I remember though, how hard it was to meet his expectations on the specs of the car: He said, it's gotta be black, I am tellin'ya – it's got to be black AND face-lift AND Kiwi-new AND not too many kms on the clock AND you don't want a 5 Liter or hell-no a 6 Liter V12. I ready didn't understand very much of these details then. I was rather day- dreaming of all the test-drives I would soon be doing in some fabulous looking Mercedes sports cars.
I was impressed to the core from the moment I saw the first R129s we went to look at, even though they were sad examples of their class – heavily used and uncared for. Finally though, we found the perfect match. My black on grey SL280, 1996, Kiwi new, with about 130,000 kms on the clock. Always serviced on the dot at Coutts Mercedes and owned by a couple of previous owners from Remuera and Parnell. I remember the moment I sat in the car for the very first time very distinctly: I wondered what I was doing in a car like that – I knew I had no million Dollars to spare, but it felt like the car was worth exactly that. I think it was the first day in my life that I felt like a superstar. Especially after trying out the roof and driving around Takapuna with the top down. If it had been dark then, I can for sure say that I would have been glowing in the dark from excitement.
Since then, I couldn't resist purchasing a panoramic glass hardtop in Christchurch a few years back and driving it all the way back up to Auckland in a campervan, that I relocated between the islands for work. Amazing moments I will not forget! The panoramic roof transformed the car again. These sleek lines and the wonderful inside view that brings the outside in are priceless. No wonder this was such an exclusive and very expensive option to add at the time. I love my SL through and through – a car that still turns heads everywhere I go .. and I guess I know why… IT's GOTTA BE BLACK GUYS, IT'S GOTTA BE BLACK.
GEORGE MARR
The R129 chassis is a pleasure to drive. The only fault I can find is that if you ever let someone else drive your car you have to tell them not to try to adjust the rearview mirror by hand. The model is specifically designed to be used on the German Autobahn and cruises at 260 km per hour all day long. It has the ability to cruise at 50 km per hour and this is why unlike some of the other very fast cars need to be tuned every week if you want to use it around town. This is why most of those very fast types are sold with very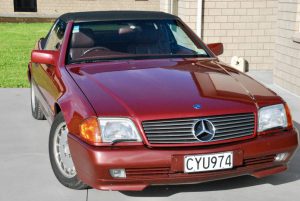 low miles because their owners have quickly found out that what they bought is only practical on the track. Having said that my 1993 500SL is fine but if you do not drive it for several weeks it becomes grumpy and needs to be taken to the nearest motorway and driven at speed for a while. It then goes back
to being the best car I have ever owned. The 1993 model was the first version to have a diagnostic plug. In this day and age, most of these plugs are fitted with a bespoke plug that was designed by the maker. The first year it was fitted with a military spec plug that could be bought off the shelf. After that it was an OBD2 plug.
Happy Birthday R129!
Claudia Schoushkoff