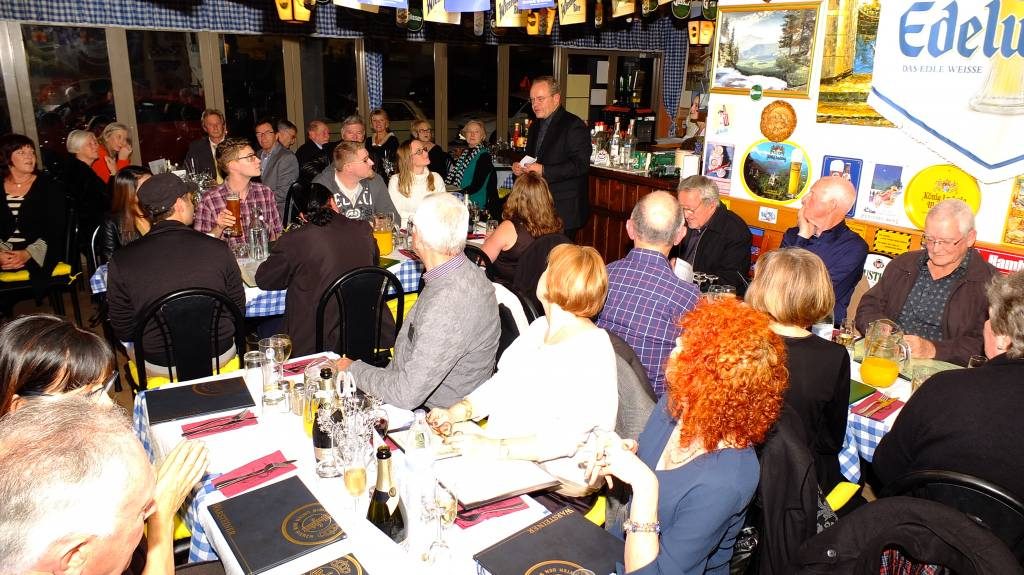 Our Midwinter Dinner at the Der Metz German restaurant in Kohimarama, was a full house and it was a real treat having a private dining venue to ourselves.
MC's Bill Bray and Daryl Jeffery kept the evening going smoothly with running commentary and spot prize draws keeping us fully entertained.
The awarding of cups and trophies to those who have distinguished themselves in the last year was as follows:
Special Award: Ken Williams for 40 years continuous committee service.
Concours d'Elegance Grey Trophy: Garry & Alison Boyce for their MB 540K
Club Points, Clubman Trophy: Greg Lokes at 159 points
Clubman Family Member, Queenin Trophy: Barbara Lokes and Daryl Jeffery, equal place for highest family member points at 139.
Ladies Attendance, Philomena Organ Cup: Barbara Lokes
Committee Award: Brian Hood for his constant services, input and advice as our membership secretary.
Committee Award: Hein Vankan, for his valued assistance housing and moving our Club assets around the city, and managing our marquee.
Committee Award: Gerrit Kutschmann for his sheer enthusiasm to be involved
Economy Run Award: Ken Williams, least fuel used in his E320 CDI
Trials Award, Peter Braun Trophy: Angela Hardgrave
Best Article, Flemming Trophy: Janine Jeffery for 'The Economy Run'
Hard Luck Piston: Leigh Jackson for his beautiful but what became costly C63
Grass Gymkhana Trophy: Ken Williams, seemingly unbeatable.
Wooden Spoon: Harald Decker, stirrer of the year for almost solely turning the national body of the MB Club on its ear.
People's Choice (Pre 1970) Brit-Euro Classic Car Show: Garry & Alison Boyce 300SL
People's Choice (Modern) Brit-Euro Classic Car Show: Janine Jeffery SLK55
Click here to view the photos on our Gallery page.