Hampton Downs Race Day (I mean Cruise, really!!)
I was running a bit early to get to McDonalds Manukau for the 8:45am meet-up, so was happy to cruise down the motorway from West Auckland with the music turned up on this nice sunny morning. Surprisingly there wasn't much traffic around. By 9am, 11 Mercs had arrived and we all stood around and had a good natter about our cars. Then it was time to make tracks, so it was off down SH1 to Hampton Downs Motorsport Park. My right foot was itching to stomp on the accelerator and I was hard pressed to hold back, eager to get on to the race track. I don't think I was the only one with that issue!
Coming down the Waikato side of the Bombay Hills I saw in my rear view mirror, a few cars back, those dreaded blue and red flashing lights – "where the heck did he come from?!!" Checked the speedo – yikes, 112kph. "Is he coming for me?" Next thing Mike pulls off onto an off-ramp followed by the copper. Hard luck Mike I thought. Turned out the cop slowed but went passed him – phew, no ticket!! He m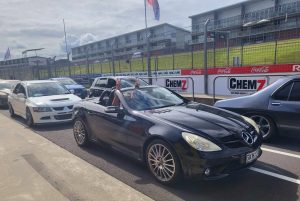 ust have been late for breakfast!!
So we got to Hampton Downs without any casualties. Parked-up to display the Mercs amongst the many other cars, some of them barely legal I thought.
Anyways, after more chatting and a coffee, it was registration time for the track cruise and a safety briefing, with a short break before lining up behind the safety car. Hearts beating fast, engines revving and exhausts back firing, it was time to lay down some rubber. Ducking and diving, overtaking – cars everywhere. Awesomeness. 5 laps is hardly enough, so some of us went around a second time. I know – speed junkies. There were a lot of very fast cars of all makes out there and the Mercs held their own. I know my CLA45 AMG pushed some of them, hahaha!
After we had all settled down again, we made our way down to the Te Kauwhata Tavern for lunch and a refreshing drink, where we met up with some of the American Muscle Car Club folks. Nice bunch of people, had some laughs with them.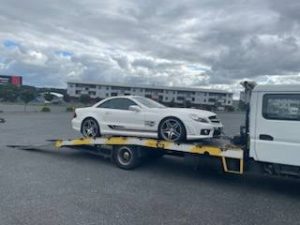 BUT hard luck for Mike, as we were all leaving Hampton Downs, his car wouldn't start and after several attempts to get it going again, without any luck, the Merc ended up on the back of a towie's transporter. Bugger!! That's no place for a Merc to be.
Trevor Ninness
Click here to view photos on our Gallery page.