We were excited and organised, the cars were checked, packed and then there were three cars ready to leave Auckland, bound for Christchurch and the National Rally.  Chris and Debbie were already in the South Island on holiday; sharing snaps of glorious weather and open roads and ready to meet us just north of Christchurch so we could convoy in together.
Tuesday m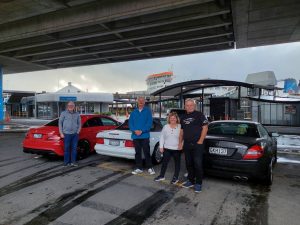 orning saw us leave Auckland in a loose convoy with a spacing of 90 minutes between each car, Daryl and Janine leaving first with a plan to do a little shopping in Tirau while we caught up.  We left in the height of rush-hour traffic, forgetting that irritating and baffling detail that traffic is always awful on a Tuesday morning. Trevor was leaving at 10 and the theory was he would be faster due to the traffic dying down to a dull roar.  We planned to meet in Turangi for a late lunch before pushing on to our motels in Wellington.
As it turned out Daryl and Janine waited for us in Tirau and we decided to travel down the western side of Lake Taupo as there were serious road works on the main road.  Turning off somewhere near Tokoroa we travelled on small winding back-roads, even down to one with no centre line at one stage, coming out and crossing the Whakamaru Damn.  Trevor was doing a sterling job of catching us when he experienced a flat tyre near Tihoi, did you know there is no cell-phone coverage in that area? We do now.  Did you also know there is no spare tyre in the 2017 CLA45 AMG? I also know this now.  Luckily a passing motorist picked Trevor up and took him to a local cafe to call us, and luckier still a passing tow truck collected his car and brought him into Turangi where we were enjoying a leisurely lunch at the local pub.
The service at Turangi Auto Centre couldn't be faulted.  They found a matching spare tyre in Palmerston North and towed Trevor down to get his tyre fixed. We, his team-mates, left him there and carried on into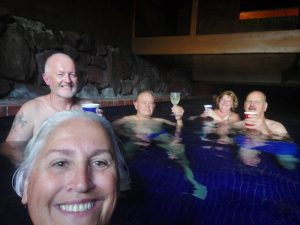 worsening weather for our first scheduled photo opportunity at the Tukino Skifield turnoff.
Trevor finally caught up with us on Wednesday morning just as we all got the message that the Interislander was cancelled and there would be no spare berths for weeks to come.  After a quick trip to the ferry terminal for a team photo we made a plan and headed for Whanganui and the road through the Paraparas. This is a stunning piece of road full of sweeping curves and windswept trees.  Waka Kotahi has done a great job of fixing one stretch of road where an entire hill fell on it in the recent storms.
We spent the night at Powderhorn Chateau in Ohakune. This is built in the style of a giant log cabin with doors that self-open as you walk towards them.  But the best feature was the indoor heated pool with a button on the wall to summon a waitress bearing beer and cocktails. The food in the restaurant was stunning.
The next morning Daryl and Janine headed straight for home so we became a convoy of two cars and headed for Rotorua where we enjoyed a lake-front walk and a quick meal on Eat Streat.  On Friday morning we headed through the Fitzgerald Everglades and enjoyed one last coffee before heading home.
As always,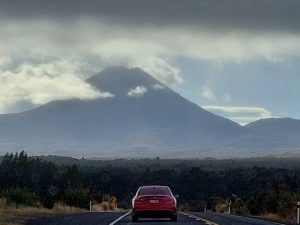 it was fabulous trip away in beautiful cars with like-minded friends.
Sue Iles
Editor's note: what happens on tour, stays on tour!?