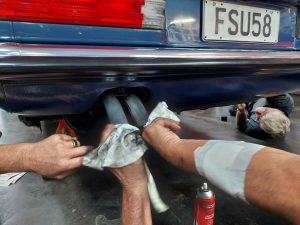 Saturday 15th saw us at Garry's garage ready to polish two R107's for the Ellerslie Car Show to Concourse D'Elegance standards.  What an amazing and inspiring venue in which to shine two already immaculate cars. Surrounded by pictures, trophies and memorabilia from a lifetime of racing, touring and showing some of the finest cars that I have seen.
Arriving at 8.35 to find a cheerful group of people polishing the cars I thought "well this shouldn't take too long".  Andrew and Grant had already done most of the hard work and the two cars looked clean and shiny, or so I thought.  Wheels were removed, wheel lugs polished, inside the wheel arches were painted and all surfaces, whether visible or not were polished, we even cleaned inside the exhaust pipes.  We vacuumed, brushed the carpet pile in one direction and cleaned all the glass and chrome to a sparkling finish.  Don't even get me started on the engine bays. Those were so clean I would have gladly eaten my lunch off them.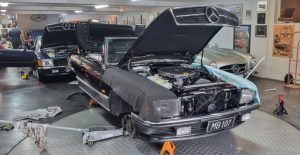 Eight hours later and the cars were declared ready and we packed up for the day.  I was so ashamed of my car that I went home via the carwash.
I just want to say that the two Mercedes looked amazing in a circle of equally shiny cars and it was such fun to be involved with both the cleaning day and the Ellerslie Car Show.  So much effort by so many people made the event truly memorable.
Sue Iles
Click here to view photos on our Gallery page.