Gymkhanas! What a spectacle! What an experience! What a chance to learn!
They said it might rain, but it didn't. They said it would be breezy and warm, and it was.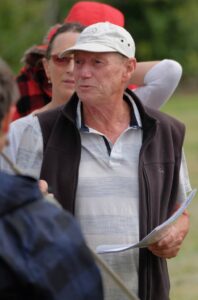 The North Shore Vintage Car Club had thoughtfully mown the acres of lush grasses that is their yard and the venue for our annual gymkhana. Great surface for power slides, spins, wheel lock-ups and slides. And other stuff. Aspiring drivers of all shapes and sizes, from teenagers to 80ish, grandparents, sons and daughters and grandchildren all assembled with hope in their hearts. And hopes were indeed fulfilled, times being about 6 seconds faster this year than last, indicating an improvement in skills, or was there more traction in the surface, or could the tests have been a little shorter? I like to think we were more skilful, certainly times improved throughout the day as we came to grips with our machines and our tasks.
Brian Hood arrived with the Club Trailer full of gear, having backed up the motorway and exiting through the Bus Station. Unfortunately for him the motorway can be observed from the NSVCC premises. Was he submitting to youthful exuberance, or does he suffer from delusions of grandeur? We may never know. Under his supervision all hands rallied around and erected the Marquee and Chris Haliday produced a newly purchased Webber BBQ and with the help of the total assemblage got it assembled with but a few bits left over. This was put to great use at lunch time, Chris cooking up the ubiquitous sausages and bacon etc.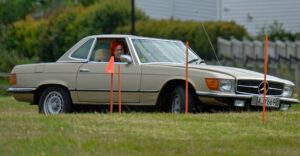 Ken and the Lads set out the first of three tests, a wriggle down the hill through a slalom, a quick U turn and wriggle back up to the top. What an eclectic fleet we had, sports cars, saloons, coupes, convertibles, an estate car, a truck, front wheel drive, rear wheel and 4 wheel drive, mainly automatics but one or two manual, all petrol driven I believe, no diesel, electric or hybrid. I wonder what we will see in the future and how the new technologies will compare. Ken Williams's 350SL got a great workout having 3 drivers, Ken himself, Brian and our flying president, Barbara Lokes. Greg her husband did not compete having suffered a leg infected by a twig, but manfully fulfilled his role as official photographer. Jon Tomlin also had a bad leg, bitten by a spider some days previously necessitating a short stay in hospital, but hey that did not prevent him displaying his skill as spin master. He sure can rotate that 500SL with aplomb. Again and again! Several of us did likewise, and of course as we all know, if you do not spin out at least once you are not really trying!
On to the next test, the Cloverleaf. Quite simple really. 4 posts set out around a central one at 3, 6, 9 and 12 o'clock. One starts at 12 o'clock, rounds the central post, then the 3, back round central, the 6, the central, the 9, the central then back to the 12. All rotations clockwise. Can't understand how so many got lost.  Stuart Howard's 4 wheel drive G Wagon Truck was spectacular, spurting out debris from all 4 wheels and only 1/2 sec. slower than me in my nimble MGB! There was one other unofficial vehicle, Patrick West in his Porsche 944, these cars giving variety and something to compare with. Mention must be made of the flying William Morton in the A250 Sport, a devastatingly swift combination demonstrating the abilities of front wheel drive.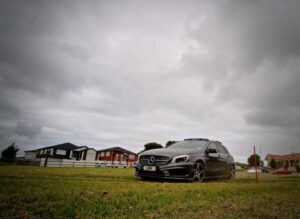 Third and final test of the day, the Snake, another wriggle down the hill, U turn at the bottom and wriggle back up the snake to the top with some hard turns in there and some faster open ones. Power slides were continual here, great fun to do, I thought I was Jeremy Clarkson but I should really have been driving more smoothly like the Stig! I am sure we all learn so much with this alternative driving. The Halidays bought 2 cars along, the black C300 with the super crackling exhaust note [big hp, marvellously tail happy] and Casper, the white CLK 320. Holly, young Tom's friend put up a sizzling 3rd fastest time in this car, and she was a 1st time pilot! Move over Lewis Hamilton!
The results are here – 2021 Gymkhana results  Check out who was the fastest on the day.
Click here to view more photos on our Gallery page.
Graeme Collie