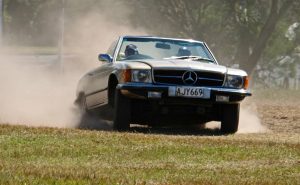 Sunday 15 March at North Shore Vintage Car Club.
The club's annual gymkhana has been well attended in recent years as ladies and gentlemen have produced a variety of vehicles aimed at performing at maximum revs, maximum noise and maximum speed. Some drivers have turned up with lowly four cylinder cars that have a wolf under the bonnet. Others have tried six cylinder vehicles, V8s have been popular and a few have produced V12s. The odd diesel vehicle has been thrown in and a scattering of 4WD speedsters have been seen. The one aim behind all this profusion of German quality is to beat Ken Williams; master driver, very skilled at pulling a rabbit out of his cap at the last possible moment. And so it was once again in 2020.
We quickly discovered that Ken had turned up with a 1972 350SL and this was considered ominous as one year he had cleaned up everybody driving a nondescript station wagon. Young (17) William Morton produced a very tidy looking 2014 A250 2.0 litre turbo 4 cylinder and was thinking a lot about the driving test he would encoun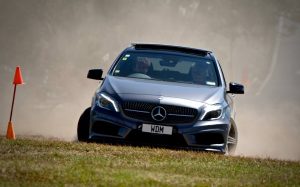 ter on Monday when he hoped to qualify for his full licence. He was also looking forward to seeing if he could get anywhere near Ken on the grass track.
Contestants were not as numerous as in previous years as the full impact of the Corona virus was just starting to assert itself. However 16 cars reported to the starter in perfect conditions of radiant sun and a light breeze. "Beware the bright day which brings forth the adder and craves wary walking". Some wary driving started the day's activities as the course was both steep and slippery, the track held up for a while but it wasn't long before spinning wheels and wide tires began to produce dust storms normally only experienced between Alice Springs and Darwin.
Run one was a slalom which Ken completed in 36.13. William was close behind in 36.37 and Daryl roared home in the SLK55 AMG in 37.49. Ken could see that be had a fight on his hands and then found himself .02 of a second behind William in run two with Daryl clocking 63.39.
One more run to go. One win each for William and Ken. The Old Master scorched around leaving a trail of dust floating off towards Albany, the clock read 69.7. William came through in 70.05 and Daryl completed his day in 72.35.
For a bit of fun Ken & William drove each other's cars around the circuit and

everyone went home happy.
The club's super marquee once again proved its worth providing cool shade and Brian Hood is to be congratulated on restoring the trailer to as new condition with new silver paint, freshly blackened new tyres and restored lights and trim. The electronic timer is a very useful tool with complete (and re-assuring) accuracy.
Many thanks to the team who produced this enjoyable day.
Click here to view more photos on our Gallery page.
David Winn