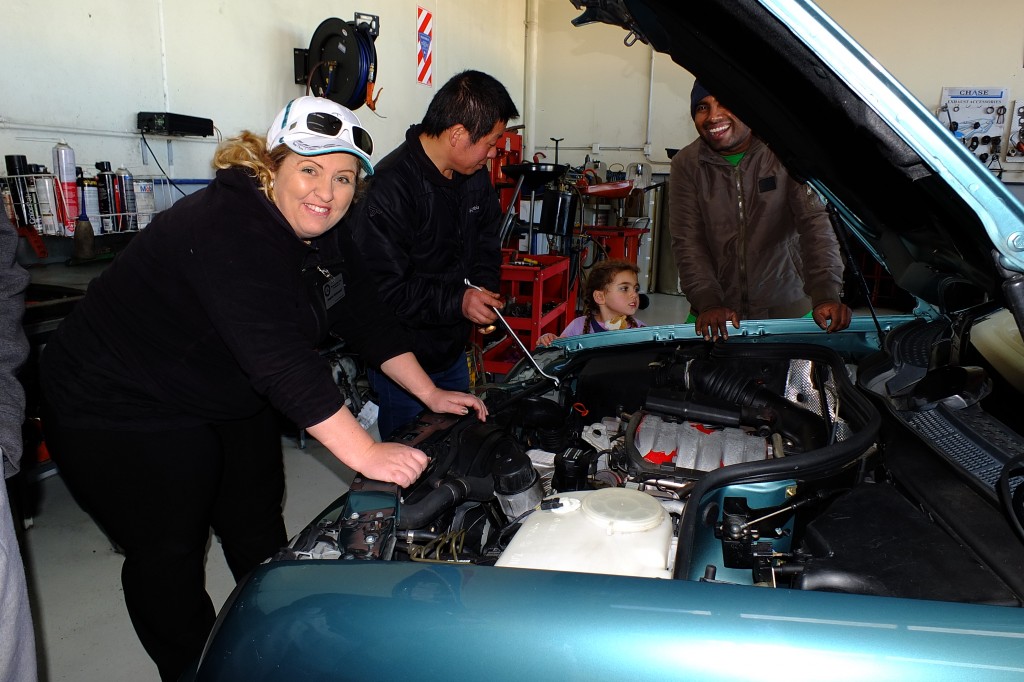 Another sunny cloudless sky in the beautiful City of Sails played host to a warm welcome from the North Shore Car Clinic for our clubs 'Wine & Grease' event.
Our committee lovingly put on a yummy spread of gourmet cheeses, direct from Mercer, to have with our wine, although most drivers drank fruit juice being mindful of the new drink driving limits. To top this off our host Harindra Pilapitiya and his team laid on a fabulous BBQ of winter warmer ribs… we were certainly well fed and watered!
This event was set up to bring some focus back on our technical needs as owner/drivers of very nicely engineered cars. So by popular demand we all parked up together and talked about our cars with each other but most importantly with the very talented Mercedes-Benz technicians and mechanics at North Shore Car Clinic.
The three technical "learning" highlights of the day for me personally were seeing the experts conducting their professional diagnostics. For each of us that had their vehicle inspected or worked on, the experience was priceless.
Harindra's team listened to every individual concerns about their "babies", looked under the hood and discussed the options honestly, then demonstrated with speedy diligent precision and accuracy the correct action to remedy the problem.
For me, I finally found out where the tiny drip was coming out of my block. Truly relieved it was just a leaky gasket under the oil filter housing which is easily accessible. I was also thankful for the suggestion to replace my belts as they are now covered in oil and dangerously ran the risk of slipping off. Super scary! And another thing, is that my CLK320 has 12 spark plugs not six even though there is only one lead for each pair of plugs. Wow! You really do learn something new every day.
Ken William's put in his 420 SEC to check out a timing problem. It was running too rich and he was knowingly concerned the ratios weren't quite right. Harindra used emission and timing diagnostic systems to help fine tune the car within half an hour. Interestingly enough, first of all he listened to the engine and manually fiddled with the accelerator cable before even touching the carburettor. Not a manual in sight!
Everyone was terribly impressed with the supremacy of the mechanics knowledge and confidence. I'm secretly sure all the guys helping liked getting their hands dirty too.
A guest club member, Chris Houghton-Allen visiting from the Hawkes Bay, had his lovely new SLK350 clock checked out. Being a fairly late model his clock could not be manually or electronically changed within the cars system. So they had to use an external diagnostic computer that allows for system resets and diagnostics just to correct the clock, much to the owners relief!
We had a great turnout of 28 members for the day. Everyone I spoke to was happy to have time to catch up and chat. There was lots of poke nosing and scrutinising of all the vehicles, and no doubt a bit of envy and bragging with some good old fashioned banter.
Belonging to the Mercedes Benz Club has made me a better owner and saved me money easily above and beyond the cost of membership. I have also learnt the most expensive hourly rate Mercedes-Benz mechanics in Auckland are not the best. It is the most passionate Mercedes lovers that make the best mechanics and extend that love to all our member's as loyal customers.
So on behalf of the Auckland Club I would like to thank Harindra and his team for opening up their workshop. Thank you!
Angela Rickwood
[huge_it_gallery id="23″]