1972 Mercedes Benz W108 280 S
Specifications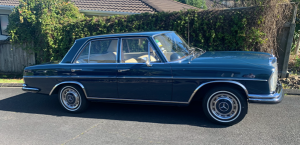 The W108 Mercedes Benz 280S was built by Mercedes Benz from 1965 through to 1972 as an update of the famous W111 and W112 Fintails. These W108 Benzes were large comfortable sports saloons that offered luxurious interiors and powerful touring capabilities. The 280S was powered by a 2.8 litre straight six naturally aspirated engine which loved to rev, and the 280SE which came as a V8 with fuel injection.
Recently I met with one of Mercedes Benz Club – Auckland's newer members Trevor Ninness, who joined the club in June 2021. He is an active member of the club and was elected onto the Auckland Club committee at the last AGM.
Trevor told me he got the bug for owning Mercedes (yes plural) after a cousin in Australia owned a Mercedes Limo, and a friend, who was a member of the Midlands Club owned a CLA45. He got Trevor interested and he bought his own CLA 45 AMG 2.0P 4WD/7AT in June 2021. He loves the car, but is a keen off roader so he acquired a 1993 G Wagon 300GE which he will take on a tour of the South Island next year to do some tag along tours after attending the Omaka Air Show.
And then, the 280S came available and he could not resist it, purchasing it in June 2022.
Its already attended several Club meets including the recent Dawn Breaker Run. It's a stunningly preserved car painted in a Dark Navy Blue with Ivory coloured MB Tex upholstery, and just quietly I think it might be his favorite.
Trevor says the car lives in the garage during the week and it sees the light of day at the weekends. He says it gets a lot of comment from people when he takes it out for a drive.
Rod Philson