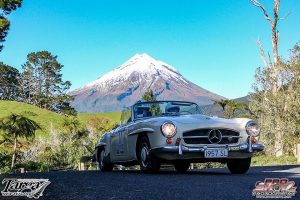 Auckland Club member Garry Boyce completed the Vintage Car Club's Targa Rally this year in his beautiful 190SL. Garry's regular offsider for these challenges was unavailable so Garry invited a mutual friend to be his navigator for the adventure.
Simon belongs to the Jag Club, but we won't hold that against him because his wife does have a Merc and Simon confesses it is a very enjoyable car to drive.
I caught up with Simon to hear how the rally went and his experience of the adventure …
You will likely all have heard of the Targa Rally and maybe the Targa Tours, where you can follow the course in your normal car. You might not have heard of the Vintage Car Club Targa Time Trial. The roads that are used for all the sections of the rally are closed a few hours prior to the actual rally going through and so the Vintage Car Club (VCC) in conjunction with The Targa team, run a 'Regularity Rally' along the same route.  It covered 2000kms from New Plymouth to Havelock North via Wanganui and included 760km of special stages on closed roads. A Regularity Rally is a timed event where the point is to maintain a specified average speed that is set for each special stage.  It is worked out to the 10th of a second. Say a particular special stage is to be driven at 80.2kph. In this case you have to maintain 80.2kph for the whole distance. You couldn't drive fast for the start and then cruise slowly to the finish either as there were random hidden infrared speed traps on each stage with serious time penalties for going over 130kph or under 30kph.
Simon admits he was was both really excited and quite nervous prior to the start so once he got the tulip directions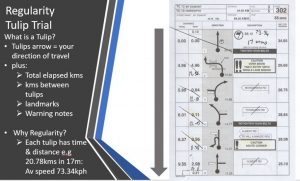 he created spreadsheets – one for every section! 500 hundred pages of tulip directions for him to absorb and fix in his head the time between every turn and intersection.
Eventually the big day arrived, and they started off. Simon confessed he was worried that maybe he hadn't packed enough underpants at this stage. He also became aware that he was a bit tall for the 190SL which has no roll bar and Simon's helmeted head was the highest point in the car.
Day one covered 459kms with 170kms of special stages. Garry & Simons' best stage was 5 seconds fast and their worst were 1 minute & 10 seconds slow.
Day two started with the boys having moved up a place to 10th. The route was 449kms in total with 157kms of special stages. Simon was more relaxed by now and even smiling in the photos.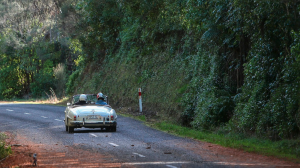 Day three was 'round the Mountain' day, 382kms and 117kms of special stages. They were 5th best on the last stage of the day. Definitely finding their groove.
Day four and they were up to 9th place. The rallies are joined by the 2-day entrants. 312kms and 143kms of special stages.
Day 5 – last day – 397kms and 173kms of special stages. The final stage of the whole event and Garry & Simon nailed it. 29 minutes to the second! They were both absolutely stoked.
Of the 30 VCC cars that started the 5-day event, 22 finished and paraded into the main street of Havelock North, closed especially, and lined with well-wishers. Garry and Simon's final place overall was 10th. Pretty good going for the little 65-year-old Merc with 90bhp and drum brakes. The only other Merc entered was a 1994 500S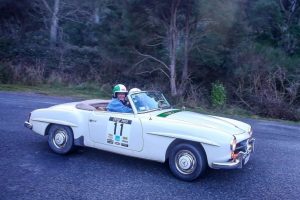 L with cruise control and disc brakes. Unfortunately, it suffered a broken front strut leaving them in 17th place and driving "cough cough" … a replacement Jag. The winning car was a '70's MG B with a 'improved' engine followed by 2 MX5's.
If this interests you, entries for the South Island Rally are now open -https://targa.nz/vcc/
Barbara Lokes